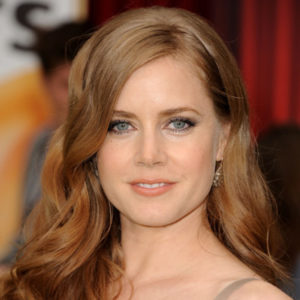 By Geoffrey Huchel
Since making her screen debut in 1999, six-time Oscar nominee and Golden Globe winner Amy Adams has proven herself to be one of the most versatile and sought-after actresses working today, achieving success in both film and TV. No matter what genre-comedy, drama or thriller, you can expect Amy Adams to deliver a brilliant performance. My question is: Why hasn't the Academy given this underrated actress an Oscar yet?
Amy Lou Adams was born on August 20, 1974 in Vicenza, Italy and raised in Castle Rock, Colorado. At an early age, Adams trained to be a ballerina, but she found musical theater a better fit. From 1994-1998 she performed in dinner theater. This ultimately led to her feature film debut in the 1999 satire DROP DEAD GORGEOUS, in the supporting role of Leslie Miller, a pageant contestant. The film starred Kirsten Dunst, Ellen Barkin, Kirstie Alley and Denise Richards. Following her role in GORGEOUS she guest-starred in the TV series ZOE, DUNCAN, JACK AND JANE (1999) and THAT 70S SHOW (1998).
She was cast in her next feature film, the comedy/horror PSYCHO BEACH PARTY (2000), a spoof of 1960s beach party and surfing movies mixed with slasher horror films. Adams kept busy throughout the year 2000 winning roles on TV shows such as PROVIDENCE (1999), CHARMED (1998), and BUFFY THE VAMPIRE SLAYER (1997), as well as playing bad girl Kathryn in CRUEL INTENTIONS 2, a prequel to the hit CRUEL INTENTIONS, starring Sarah Michelle Gellar, Reese Witherspoon and Ryan Phillippe. Adams made guest appearances on SMALLVILLE (2001), which would have ties to an iconic role she would later play, and THE WEST WING (1999). Adams next film was in the comedy SERVING SARA (2002), playing Kate.
The film starred Matthew Perry and Elizabeth Hurley. She followed up with a role in the comedy/drama PUMPKIN (2002), with Christina Ricci, and then co-starred as Brenda in the Oscar nominated CATCH ME IF YOU CAN (2002), starring Leonardo DiCaprio and Tom Hanks. In 2004, she provided her voice for 4 episodes on the popular animated series KING OF THE HILL (1997) and made a 5 episode appearance on the drama DR. VEGAS (2004), with Rob Lowe. Adams co-starred in the romantic comedy THE WEDDING DATE (2005), with Debra Messing and Dermot Mulroney and the ensemble comedy/drama STANDING STILL (2005), with Jon Abrahams, Ethan Embry and Colin Hanks. Adams' next film, JUNEBUG (2005), earned her her first Oscar nomination for supporting actress.
She guest-starred for three episodes on the hit television series THE OFFICE (2005), playing Katy, the love interest of Jim (John Krazinski). She played Susan in the sports comedy TALLADEGA NIGHTS: THE LEGEND OF RICKY BOBBY (2006), starring Will Ferrell and John C, Reilly. She provided her voice for the action/adventure UNDERDOG (2007), opposite Jason Lee. Her next film was one she would be most recognized for: Disney's ENCHANTED (2007), the live action and animated fairy tale set in modern- day New York City. Adams played Giselle, a young maiden in a land called Andalasia prepared to wed, who is sent away to New York City by an evil queen (Susan Sarandon). The film also starred Patrick Dempsey, James Marsden and Idina Menzel. In this film Adams gets to showcase her wonderful singing ability. She was nominated for a Golden Globe for her performance. Her next film was the biographical drama CHARLIE WILSON'S WAR (2007), with Tom Hanks, Julia Roberts and Phillip Seymour Hoffman. She starred opposite Emily Blunt in the comedy/drama SUNSHINE CLEANING (2008) and two-time Oscar winner Frances McDormand in MISS PETTIGREW LIVES FOR A DAY (2008). Her next film, DOUBT (2008), paired her with the incomparable Meryl Streep, in their first film collaboration. Adams received another Oscar nomination as well as a Golden Globe nomination for her performance of Sister James. The film also starred Oscar winners Phillip Seymour Hoffman and Viola Davis. Adams portrayed Amelia Earhart in the sequel NIGHT AT THE MUSEUM: BATTLE OF THE SMITHSONIAN (2009), starring Ben Stiller and Owen Wilson. For her next film, Adams portrayed Chloe, a coat check girl at a jazz club with the voice of an angel in the little-known musical drama MOONLIGHT SERENADE (2009). Adams' last film of 2009 was the biographical drama JULIE & JULIA, reuniting her with her DOUBT co-star Meryl Streep.
Adams' next film was the Oscar winning biographical drama THE FIGHTER (2010), based on the story of Micky Ward (Mark Wahlberg), a fledgling boxer who tries to escape the shadow of his more famous but troubled older boxing brother and get his own shot at greatness. The film co-starred Oscar winner Christian Bale and Melissa Leo. Adams received her third Oscar nomination for Best Supporting Actress and a Golden Globe nomination (also for Best Supporting Actress). In the romantic comedy LEAP YEAR (2010), Adams starred as Anna Brady, a woman who plans to travel to Dublin, Ireland to propose to her boyfriend on Leap Day, because according to tradition, a man who receives a marriage proposal on a leap day, must accept it. The film co-stars Matthew Goode and Adam Scott. Adams entered the world of the Muppets when she was cast as Mary in the adventure comedy THE MUPPETS (2011). Adams co-starred opposite Jason Segal and of course, Kermit The Frog, Miss Piggy and Fozzie Bear. Adams was given another opportunity to sing in this film.
In 2012, Adams starred in the sports drama THE TROUBLE WITH THE CURVE, as Mickey, a daughter who tries to remedy her dysfunctional relationship with her ailing father (Clint Eastwood), a decorated baseball scout by helping him in a recruiting trip which could be his last. Also in 2012, Adams starred in the drama THE MASTER, opposite Phillip Seymour Hoffman and Joaquin Phoenix. Adams received her fourth Oscar nomination for her role of Peggy Dodd. Her next role was one she wanted to play for a long time, Lois Lane. The opportunity to portray the iconic character in past Superman productions didn't present itself for the actress, but for THE MAN OF STEEL (2013), she was determined to win the role to put her stamp on it. She starred opposite Henry Cavill's Clark Kent/Superman in the action film. She reunited with her THE MASTER co-star Joaquin Phoenix for the drama HER (2013). She co-starred with Christian Bale, Bradley Cooper, Jennifer Lawrence and Jeremy Renner for the crime drama AMERICAN HUSTLE (2013), playing Sydney Prosser, a cunning and seductive British con woman. The film was nominated for 10 Oscars, including Best Performance by an Actress in a Leading Role for Adams. She portrayed artist Margaret Keane in Tim Burton's BIG EYES (2014), winning a Golden Globe for Best Actress in a Motion Picture- Musical or Comedy. She followed up with the drama thriller NOCTURNAL ANIMALS (2016), opposite Jake Gyllenhaal and Michael Shannon. She reprised her role of Lois Lane in BATMAN V SUPERMAN: DAWN OF JUSTICE (2016), with Henry Cavill and Ben Affleck. Her next role was in the mystery drama ARRIVAL (2016), as Louise Banks, a linguist who works with the military to communicate with alien lifeforms after twelve mysterious spacecraft appear around the world. Adams was nominated for a Golden Globe for her performance, however failed to get an Oscar nomination for a role I thought was deserving of one. She returned to play Lois Lane for a third time for THE JUSTICE LEAGUE (2017), with Ben Affleck, Henry Cavill, Gal Gadot and Jason Momoa. She starred as Lynne Cheney in the biographical film VICE (2018). Adams reunited with her AMERICAN HUSTLE co-star Christian Bale, who played former Vice President Dick Cheney. Adams received another Oscar nomination for Best Actress in a Supporting Role for her performance.
Adams was cast in the eight-episode TV Mini-Series SHARP OBJECTS (2018). She plays Camille Preaker, a reporter who confronts the psychological demons of her past when she returns to her hometown to cover a violent murder. The series also starred Golden Globe winner Patricia Clarkson. Adams received a Golden Globe nomination. Adams has several projects in the works including THE WOMAN IN THE WINDOW, OBJECT OF BEAUTY, HILLBILLY ELEGY and DISENCHANTED, the sequel to ENCHANTED.
Essential Adams:
THE FIGHTER (2010) THE TROUBLE WITH THE CURVE (2012) BIG EYES (2014) NOCTURNAL ANIMALS (2016)
ARRIVAL (2016) SHARP OBJECTS (2018)
Contact the Feature Writers