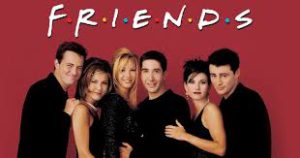 By Geoffrey Huchel
They'll be there for you.
On September 22, 1994 FRIENDS premiered on NBC, introducing us to six singles living in Manhattan: Monica Geller, Ross Geller, Chandler Bing, Phoebe Buffay, Joey Tribbiani, and Rachel Green. For ten seasons we've watched these characters maneuver through many events in their lives, such as romantic adventures, career issues, and children, in the most outrageous and hilarious ways.
In September 2019, FRIENDS will be celebrating its 25th Anniversary, with a special airing on TBS, as well as an immersive pop-up experience from September 7 to October 6 in New York City. The pop-up experience will let fans enter the world of Rachel, Monica, Phoebe, Chandler, Joey and Ross for themselves. Each character will have a separate space dedicated to them, complete with props and costumes from the show, as well as a re-creation of the gang's hangout spot Central Perk. Could we BE more excited?!
In celebration of FRIENDS' upcoming milestone, here's a look back at the series that has become a massive pop culture phenomenon.
Characters and Cast:
Rachel Green (Jennifer Aniston): The spoiled daddy's girl and fashion enthusiast is the childhood best friend of Monica Geller. Rachel moves in with Monica after leaving her fiancé on their wedding day. Rachel takes a job as a waitress at Central Perk, but later becomes assistant buyer at Bloomingdales, moving on to buyer at Ralph Lauren. She and Ross have a daughter Emma.
Monica Geller (Courteney Cox): A chef and the mother hen of the group. She is known for her perfectionist, bossy, competitive ad obsessive-compulsive nature. Monica was overweight as a child, which is mentioned several times throughout the series run. She marries Chandler and is the adoptive mother of Jack and Erica.
Phoebe Buffay (Lisa Kudrow): A masseuse. Phoebe lived in upstate New York as a child with her mother, until she committed suicide and Phoebe took to the streets. The eccentric Phoebe writes and sings her own strange songs, including her signature Smelly Cat. She uses the alias Regina Phalange in certain situations.
Joey Tribbiani (Matt LeBlanc): A struggling actor, womanizer and food lover who becomes famous for his role on DAYS OF OUR LIVES, as Dr. Drake Ramoray. Despite his womanizing, Joey is innocent, caring and well-intentioned.
Chandler Bing (Matthew Perry): An executive in statistical analysis and data reconfiguration for a large multinational corporation. (That was a mouthful!) Chandler is known for his sarcastic sense of humor and bad luck in relationships. Chandler has a peculiar family history being the son of an erotic novelist mother and a gay cross-dressing Las Vegas star father.
Ross Geller (David Schwimmer): Father to Ben and Emma, and older brother to Monica. A paleontologist who works at the Museum of Natural History and later a tenured professor of paleontology at New York University. Ross is involved in an on-again, off-again relationship with Rachel, who he's been in love with since they were teens. He has three failed marriages. His divorces become a running joke within the series.
The principal actors had an undeniable chemistry, which made the show work as well as it did, especially Schwimmer and Cox, whose pairing as brother and sister is so comically brilliant and believable. We mustn't forget the recurring characters that interact with the six friends, who each add their own brand of humor to the show. These include: Gunther (James Michael Tyler), a barista at Central Perk who has a secret crush on Rachel, Janice (Maggie Wheeler), the annoying and nasally voiced ex- girlfriend of Chandler, Jack and Judy Geller (Elliot Gould and Christina Pickles), the parents of Ross and Monica, Ben (Cole Sprouse), Ross's son, Carol (Jane Sibbett), the lesbian ex-wife of Ross and mother of Ben, Susan (Jessica Hecht), Carol's wife and frenemy of Ross, Mike Hannigan (Paul Rudd(), Phoebe's husband, Estelle (June Gable), Joey's chain-smoking agent, and Ursula (Lisa Kudrow), the estranged identical twin of Phoebe. Honorable mention to Ugly Naked Guy, the next-door neighbor the friends spy on during the first five seasons.
FRIENDS had no shortage of famous guest stars. In fact, as the show progressed, it became part of the norm to bring in Hollywood's big names to play characters who intertwined with the principal characters' storylines. Stars such as Bruce Willis, Susan Sarandon, Winona Ryder, Tom Selleck, Reese Witherspoon, Christina Applegate, Charlton Heston Brooke Shields, Jeff Goldblum, and Brad Pitt have all made memorable appearances.
Popular Episodes:
As mentioned above, FRIENDS was known for its many famous guest-stars, but it's also known for its iconic episodes, and there are plenty of them that are described as fan-favorites. Each episode title starts with the famous "The One Where…", or "The One With…", which is a staple to the show's history. With a total of 236 episodes, it'd be very difficult to go through all of them and choose my favorites, because there are so many great ones. But for this article, I will highlight a few.
Season Five, Episode 14: The One Where Everybody Finds Out. When Phoebe finds out about Monica and Chandler, she and Rachel attempt to get them to confess their relationship. This episode is special because it's the moment we've been waiting for- Chandler and Monica, can finally be honest and open about their relationship. This episode also features a brilliantly comedic performance by Lisa Kudrow, as Phoebe pulls out all the stops to convince Chandler to admit his feelings for Monica, and the payoff is priceless.
Season Four: Episode 12: The One with The Embryos. Phoebe's uterus is examined for implantation of the embryos. Meanwhile, a seemingly harmless game between Chandler and Joey against Monica and Rachel escalates into a full-blown contest where the stakes are raised higher and higher. This episode is simply one of the best of the series. A fan favorite for sure. The characters personalities really shine here, especially Monica's competitive nature and the friendship between Chandler and Joey. The subplot with Phoebe and the embryos brings a lot of heart to the episode.
Season Four: Episode 24. The One with Ross's Wedding. Phoebe tries to warn the gang that Rachel is coming to London to tell Ross she still loves him. Meanwhile, Monica and Chandler sleep together. Nothing can go wrong with the wedding. Can it? This episode is full of surprises, which is why it's one of the series best episodes. And who doesn't love a good cliffhanger?
Season Two, Episode 14: The One with The Prom Video. The gang watches a home video from the night of Monica and Rachel's prom. Some unknown footage of Ross surprises the gang, especially Rachel, whose reaction is just as surprising. This is the episode where we see Ross, as a teenager, express his feelings for Rachel, as well as the devoted friendship between Monica and Rachel. Fans adore this episode because the payoff at the end is something they had been waiting for.
The Thanksgiving episodes are in a group all by themselves. FRIENDS wouldn't be the same without them. Each season featured one and they are all nothing short of iconic. And of course, any episode that features the complex relationship between Ross and Rachel are stand-outs, as their love story was the anchor of the show.
Quotes and Catchphrases:
Rachel: I mean, isn't that just kick-you-in-the-crotch, spit on your neck fantastic? Chandler: I'm not so good at the advice. Can I interest you in a sarcastic comment?
Monica: I know!! Joey: How you doin'?
Phoebe: They don't know we know they know we know. Ross: I'm fine! Rachel: Hey, just so you know: it's NOT that common, it DOESN'T happen to every guy, and it IS a big deal! Chandler: Gum would be perfection!
Monica: And remember, if I'm harsh with you it's only because you're doing it wrong.
Joey: Joey doesn't share food! Phoebe: My eyes, my eyes!
Ross: Pivot! Rachel: I got off the plane. Chandler: You stop the Q-tip when there's resistance. Monica: That's right, Mom and Dad, your little harmomica is hammered!
Joey: You hung up on the pizza place? I don't hang up on your friends.
Phoebe: That is brand new information! Ross: We were on a break!
Bonus: Janice: Oh…My…God!!
Awards and Reception:
The series received acclaim throughout its run, becoming one of the most popular television shows of all time. The series was nominated for 62 Primetime Emmy Awards, winning the Outstanding Comedy Series award in 2002. All ten seasons of FRIENDS ranked within the top ten; it ultimately reached the number-one spot in its eighth season. Jennifer Aniston won a Golden Globe for Best Performance by an Actress in a Television Series-Comedy or Musical and an Emmy Award for Outstanding Lead Actress in a Comedy Series. Lisa Kudrow won an Emmy for Outstanding Supporting Actress in a Comedy Series. Christina Applegate, who guest-starred in two episodes, won an Emmy for Outstanding Guest Actress in a Comedy Series.
Contact the Feature Writers