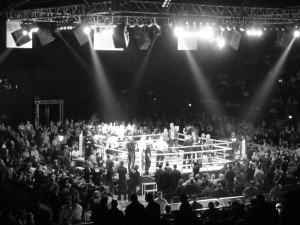 By Anthony "Zute" George
When a fighter carries a perfect knockout winning percentage into the championship level, it is an anomaly. More often than not, fighters find themselves going the distance early in their career. Two significant reasons for this are it is much more changeling to consistently stop opponents in 4 and 6 round fights, which is typically what a fighter fights early on, and, there are a lot of good boxers out there who specialize in going the distance. While knockouts sell, rounds mature, as well provide essential learning on the job that not even sparring can provide. As a result of this dynamic, most fighters hear the voices of the judges at least once before their first championship fight.
Even the all-time greats have gone the distance early in their career. Both Archie Moore and Sugar Ray Robinson have over one hundred knockouts on their record, but both fistic machines went the full length in their third professional fight. Marvelous Marvin Hagler, who has one of the best knockout percentages of all middleweight champions, went the distance in his second professional fight. Gennady Golovkin went the distance in his ninth professional match. Carlos Monzon went the distance a countless number of times before his first championship fight. Henry Armstrong is another all-time great with over 100 knockouts, was indeed knocked out himself in his professional debut, and won by decision for his first victory.
Therefore, when a fighter does win every fight by a stoppage for more than ten matches, it is news. It is even bigger news when that streak is snapped, as it almost always does get snapped.
Vergil Ortiz, JR. is the latest fighter with such a streak. For a moment, or two, it appeared that Vergil's streak was in jeopardy Saturday night against Antonio Orozco. Vergil did prevail in a dynamic fashion, keeping his streak alive, however.
With that said, the history of boxing does have a long account of perfect knockout records being snapped. Let us look at some of the more prominent ones.
Wilfredo Gomez- Bazooka might conjure up some disagreement because he did indeed go the distance in his professional debut, but that fight was a draw, and therefore not a blemish, technically keeping his winning streak intact. After his draw to Jacinto Fuentes, the Puerto Rican born Gomez went on to win an incredible thirty-two straight wins by knockout. His winning streak was snapped by the legendary Salvador Sanchez. In their epic battle, Sanchez, who was more proportionate with going the distance, stopped Gomez in eight exhilarating rounds. After the Sanchez disappointment, Wilfredo Gomez strung together another eight straight wins by stoppage. That streak was snapped when Bazooka won a twelve-round decision against the formidable Juan LaPorte. Overall, Wilfredo Gomez went the distance a total of three times in forty-seven professional fights. Exceptional for the lower weight classes.
John "The Beast" Mugabi- The Beast was a staple on network television and he never disappointed. Stopping robust competition in bone-crunching fashion such as Doug Demmings, Rosevelt Green, Gary Guiden, Eddie Gazo, Curtis Parker, James Green, Frank Fletcher, and Earl Hargrove along the way, Mugabi's streak of twenty-five consecutive wins by knockout earned him the number one contender spot at middleweight. Mugabi's winning streak was snapped when he faced undisputed middleweight champion Marvelous Marvin Hagler in 1986. A white-knuckle prize fight that saw a battle-scarred Marvin stop John in the eleventh round. Mugabi heard the scores of the judges only five times in fifty professional fights.
Mike Tyson- Iron Mike captured the public's imagination like very few have in boxing history. Not only did he knock his opponents out, he also did so in such brisk fashion. If you were waiting on the popcorn line during a Tyson fight, you were taking a tremendous risk. Tyson enjoyed a nineteen-fight knockout winning streak when he squared off against the veteran James "Quick" Tillis; with the most prolonged fight being six rounds. Going into the Tyson fight, Tillis's resume read of a who's who in the heavyweight division. Going the fifteen-round distance with WBA heavyweight champion Mike Weaver and upsetting power puncher Earnie Shavers were among the standouts on Tillis's record. However, virtually nobody expected James to take Mike the distance. While Tillis was dropped once in the fight and was hurt on other occasions, he more than held his own against Iron Mike and performing his best in the late rounds. When Mike Tyson had to hear the voices of the judges for the first time against Tillis it came as a shock to some, but given the experience James had, perhaps it should have been more expected. Mike Tyson's fights heard the final bell a mere seven times in fifty-six contests.
Deontay Wilder- The Bronze Bomber is the most polarizing figure in boxing today. His late start to boxing has sort of redefined the phrase 'learning on the job.' As a result, many of Wilder's wins have lacked the appeal of the sweet science but has indeed packed a lethal punch that has been equaled by very few who have ever laced up the boxing gloves. Going into his title fight with Bermane Stiverne, Wilder had won thirty-two straight battles by knockout. Despite this impressive feat, Wilder was seen as the underdog, and many boxing pundits were picking Stiverne. The consensus belief was that Bermane put more quality time in, as much of Wilder's knockout victims were not given much respect. Even though Wilder's knockout streak was snapped, he winning streak remained, much like Tyson against Tillis. Wilder controlled the pace and distance of the fight and won a lopsided decision. Deontay Wilder remains undefeated and has gone the distance only one other time in forty-two professional fights; as his fight with Tyson Fury was declared a draw.
The above examples have some differences. Only Mike Tyson was expected to win outright in the fights that snapped a knockout winning streak. Not many people expected Mugabi to beat Hagler, while both Gomez and Wilder were considered to be in more even fights, with their opponents having a slight edge from the public opinion. Of the four examples, Gomez lost a match that was, while dynamic, not really competitive, while Mugabi lost a competitive fight that earned him more accolades than all of his twenty-five knockouts put together. Mike Tyson won a very competitive match, while Wilder won a one-sided fight, although the suspense that Stiverne could crack Wilder's suspect chin remained throughout most of the battle. Of the four contests, only Wilder and Stiverne fought a rematch; Salvador Sanchez sadly died close to a year after beating Gomez, Hagler walked away from the sport in disgust a year after his fight with Mugabi, Tyson and his matchmakers put the dangerous Tillis in their rearview mirror.
Out of the four fighters cited, only John Mugabi never really got back to superstar status after their knockout winning streak was snapped. Sure, he went on to win more fights and capture another title, but they were victories that did not pack the same punch, and Mugabi disappointed in his most high-profile matches against Duane Thomas and Terry Norris. It was believed that the punishment he took in the Hagler fight ruined him. A debatable point, but indeed a point that oozes with merit
.
Boxing will have a big microscope under Vergil Ortiz, JR. and his impressive knockout streak, as most other top boxers and prospects do not hold such a dangling carrot. IBF light heavyweight champion Artur Beterbiev, 14-0, 14 KO's, is another pugilist who comes to mind that enjoys this distinct honor. If and when these boxers have their knockout winning streaks steps, it should be looked at through a critical lens where we can compare and contrast them with the examples of the past.
Footnote: Will there is a distinct difference between a knockout and a technical knockout, they are counted the same when citing a boxer's knockout percentage. For example, Mike Tyson's first fight with Razor Ruddock ended with a controversial stoppage, buts counts as a knockout on his record same as his destructions of Berbick, Spinks and the like. Ruddock's ability to go the distance with Tyson in their rematch shed even more doubt on referee Richard Steele's halt to the bout. Despite the doubt attached to the stoppage, it counts as a knockout nonetheless and enhances Tyson's knockout percentage. Is that fair? Perhaps boxing should revisit this. Maybe not. It is difficult to say.
Check out "Zutes Boxing Talk", which airs every Wednesday live from 7PM to 9PM ET. The show is dedicated to discussing the sweet science straight up with no twists. "Zute" has interviewed boxing legends such as Carlos Palomino, Mike McCallum, Pernell Whitaker, Jeff Fenech, Buddy McGirt, Mark "Too Sharp" Johnson, Marvin Camel and Eddie Mustafa Muhammad. As well as today's stars like Danny Garcia, Sergey Kovalev, Regis Prograis, Teofimo Lopez, Andy Ruiz, JR. and Gary Russell, JR.
Follow the link to listen live or catch archived shows
Contact the Feature Writers