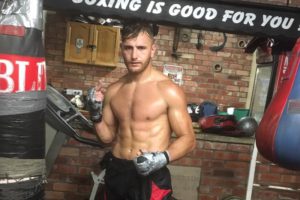 By Donald "Braveheart" Stewart
If you look up his BoxRec record, it's 7-0. His last fight was in 2016 and he has not boxed since. His actual professional record is 15-0 and his last fight was in 2019 in a unified world title fight at super middleweight.
Nathan DeCastro, 7-0, 5 KO's, is a world champion. It's a lesser belt but his record displays an issue in British boxing that has gone under the radar and does need a little bit of explanation.
In the United Kingdom professional boxing is regulated by the British Boxing Bard of Control (BBB of C) … and the British and Irish Boxing Association (BIBA). You don't hear much about BIBA because in comparison professional boxing is mainly the preserve of the BBB of C.
DeCastro is the World Boxing Union (WBU) world champion having won it against Daniel Adjei Sowah and then attempted to defend it (more of that later…) against the World Boxing Foundation (WBF) international and European champion, Tommy Jacobs. Their fight was a world title unification fight and it would have meant that DeCastro is a unified world champion… had it finished with deCastro winning…
You will not see his name on any list of British world champions anywhere. His bank balance will not be increased by headline fights in Saudi Arabia or streamed live on DAZN.
He will have the same or similar training regime. He will fight in the same type of ring, under similar rules and with the same kind of fervent small hall crowd cheering his every move. The sweat shall be the same and the pain when he gets hit shall be no different but the fact is that in the alphabet soup of boxing we keep getting new organisations filled with people who have issues with the old organisations and these new organisations find themselves out of kilter with the awarding bodies but never wholly in favour with the general public.
Boxing people like them a little because they have decent enough intentions – BIBA have brain scanners at fights unlike BBB of C – but there is little fanfare or ticker tape parades for the BIBA fighters.
DeCastro made his debut at the legendary York Hall in 2014 stopping his opponent, Paulius Butvidas, in the very first round. Another two fights followed in that year and he got the rounds in with 4 rounder points victories. 2015 saw another wins – all by stoppages and it must have got him some attention. It certainly seemed to demonstrate he had real ability as nobody could stay in with him longer than 4 rounds; his first 8 rounder, in 2016 lasted until he knocked Ebenezer Amedor out in the 3rd.
By June of that year, 2016, DeCastro had jumped ship and his record would no longer show up on BoxRec. Instead he fought for the Malt Boxing Commission (MBC) international super middleweight championship against Ishmael Tetteh. DeCastro stopped him, unusually, in the 5th round to win it.
The pathway was now clear – a BIBA boxer wanting BIBA sanctioned titles rather than a guy who has to fight on undercards; he wanted their limelight.
In 2017 it was a little quiet with only two fights, but he managed to only pack in 2 rounds of boxing as took both his opponents out with body shots in the first round; impressive.
Last year, 2018, saw him take the Professional Boxing Council (PBC) international belt against Phillip Kotay though Kotay tore his rotator cuff at the end of the second round and was unable to continue. He then had a fight for the PBC International and Commonwealth titles scuppered as his opponent, Agoe Ashong failed to get a VISA in time to travel to the Beach Ballroom in Aberdeen. DeCastro stopped his new opponent in one round. He only had to wait for a couple of months before his original opponent appeared and in Derby, he went the full 12 rounds and got the decision!
His world title fight followed against Daniel Adjei Sowah of Ghana. With Decastro 30-26 up on the judges' scorecards, Sowah was retired by his corner in the third round, which allegedly triggered scenes of absolute joy as it was fought in his home town of Lincoln. DeCastro had collected the WBU super middleweight title.
Following that win he called out Tommy "Sweet T" Jacobs, stating, to a local newspaper, "He had a lot to say about me, giving it the big one over social media behind a keyboard. He had a lad on my show Saturday and didn't say a word to me. The problem I had was he was selling a fight between us before it had even been signed and I had an upcoming fight to concentrate on, so very unprofessional on his part. June 22nd he will get his wish to fight me for my title, with that all side I'll leave that there and do my talking in the ring because once that bell rings talking a good fight means nothing and it comes down to who's the better fighter."
Trash talking is clearly not restricted to BBB of C sanctioned fights…
Then came that unification fight and what a fight it was. It ended in the 8th round. DeCastro was losing. For the first time in his career, the stoppage had nothing to do with his ability to knock an opponent out. DeCastro went over the ropes and out the ring. He was unable to continue, and the fight would have been decided on scorecards but, enter the bizarre. The top rope collapsed, and it was declared a no contest.
Nobody saw that coming and nobody wanted it. Jacobs can feel totally aggrieved that he was not anointed the unified champion and DeCastro gets to fight another day.
What the boxing fans get from this proliferation of boxing titles and organisations is choice. We avoid clarity though. BIBA has been doing some good things and there is clearly an appetite for their product as the shows they put on look no different to BBB of C shows up and down the halls of the UK. What happened between Jacobs and DeCastro in their fight though does not help their credibility but neither does confusion over a B sample…
DeCastro, prior to his fight with Jacobs was clear in his local press what he wanted. He stated, The WBU is a nice title to have but in the grand scheme of things, it's only a minor one."
The problem he may face is the route he wants to take may see him leave BIBA to get what he wants, " I want bigger ones and I think I can achieve it… the biggest belt out there is the IBF belt. That's what I'm aiming for. I want to get into the IBF rankings and challenge for the IBF world title… Obviously, we'd need to see if that's possible and I'd need to do my bit by winning the fights… I'm 28 and coming into my prime. If I'm not ready now, I'll never be ready… I think I've matured and I'm ready for it now. There are some massive fights out there and I want them."
What happens next is a fascinating question…
Contact the Feature Writers