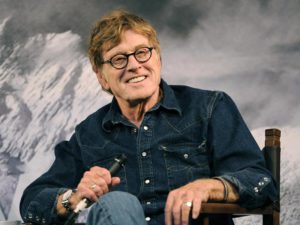 By Geoffrey Huchel
Happy Birthday, Robert Redford!
Ringside Report celebrates actor, director and producer Robert Redford's 83rd birthday by looking back at his remarkable career in television and film.
Redford began working in television in the 1960s, making appearances in such series as THE DEPUTY (1959), TATE (1960), PERRY MASON (1957), MAVERICK (1957), THE VIRGINIAN (1962), THE UNTOUCHABLES (1959) and THE DEFENDERS (1961).
His talent, All-American good looks and leading man quality led the actor to winning film roles in the mid-60s, making his feature film debut in TALL STORY (1960). Redford has over 50 film credits including THE CHASE (1966), BAREFOOT IN THE PARK (1967), the Oscar winning BUTCH CASSIDY AND THE SUNDANCE KID ( 1969), THE WAY WE WERE (1973), THE STING (1973), THE GREAT GATSBY (1974), ALL THE PRESIDENT'S MEN (1976), THE NATURAL (1984), OUT OF AFRICA (1985), INDECENT PROPOSAL (1993), UP CLOSE AND PERSONAL (1996), THE HORSE WHISPERER (1998), SPY GAME (2001), CAPTAIN AMERICA: THE WINTER SOLDIER (2014) and AVENGERS: ENDGAME (2019).
Redford's directing credits include ORDINARY PEOPLE (1980), A RIVER RUNS THROUGH IT (1992), QUIZ SHOW (1994), THE HORSE WHISPERER (1998), THE LEGEND OF BAGGER VANCE (2000), and LIONS FOR LAMBS (2007). Redford won an Academy Award and a Golden Globe for Best Director for ORDINARY PEOPLE. He received an Academy Award nomination for Best Actor in a Leading Role for his performance in THE STING.
Redford added businessman to his resume when he founded the Sundance Film Festival. The Sundance Film Festival caters to independent filmmakers in the United States. The name Sundance comes from Redford's SUNDANCE KID character. Redford also founded the Sundance Institute, Sundance Cinemas, and the Sundance Channel.
Contact the Feature Writers