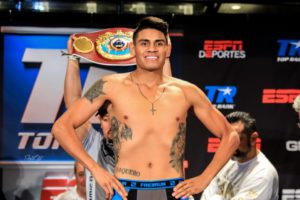 By Rich "Lite It Up" Lopez
One of the most dynamic and exciting fighters took center stage last night at the Banc of California Stadium in Los Angeles, California. The fighter I'm referring to is Emanuel Navarrete and he is looking to leave his mark in the super bantamweight division.
Emanuel "El Vaquero" Navarrete, 28-1, 24 KO's of Mexico City, Mexico, made a name for himself last year when he defeated the unbeaten Isaac Dogboe by unanimous decision for the WBO title. Dogboe, if you recall, was having a great 2018 and was a candidate for fighter of the year. However, Navarrete defeated him at the end of 2018 to derail Dogboe's run. Nobody knew much of Navarrete at that time, but if you followed his career in Mexico, you knew he was a threat to Dogboe. To prove his victory over Dogboe was no fluke, Navarrete defeated Dogboe in a rematch with an 11th round stoppage.
Navarrete is a tall super bantamweight fighter with a long reach. Added to that, he has punching power. This was one of the reasons Dogboe had a hard time with Navarrete in their fights.
Navarrete stayed busy last night and fought the undefeated Francisco De Vaca of Phoenix, Arizona. De Vaca came in with a record of 20-0, with 16 KO's. Though De Vaca was unbeaten, he was not battle tested and he did lack punching power. To De Vaca's credit last night, he did come to fight. He came after Navarrete with all he had. He did land some decent shots on Navarrete but the punches had no effect. After a slow start from Navarrete in the 1st round, he picked up the pace in the second round. Towards the end of the 2nd round as both fighters were trading shots, Navarrete landed a right uppercut followed by a right cross that dropped De Vaca. The gamed De Vaca got up and finished the round. In the third round, Navarrete came after De Vaca for the finish. De Vaca against the ropes stood and traded with Navarrete but was taking huge punches. The ref stepped in and stopped the fight. Navarrete made a successful 2nd defense of his WBO Super Bantamweight title. After the fight, it was announced that Navarrete will be right back in the ring next month on the Tyson Fury Vs Otto Wallin undercard Sept 14th for the Mexican Independence Day weekend. Sure Navarrete was matched easy last night but is doing the right thing and making a name for himself.
Now, can Navarrete take over the super bantamweight division? That remains to be seen but El Vaquero is on the fast track to get there. He is only 24 years old and already a world champion. In order to see how good he is, he would need to unify the titles in the division. Those fights are the ones that will matter as well and will be his most challenging. The WBC champion is Rey Vargas, 34-0, 22 KO's and the WBA/IBF champion is Daniel Roman, 27-2-1, 10 KO's. Both fighters are trying to prove they are the best too. Hopefully we get to see those fights in the near future.
So far, I like what I see in Emanuel Navarrete. I'm looking forward to seeing him fight again in the talented super bantamweight division.
Contact the Feature Writers