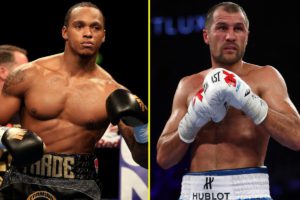 By Vinny "Glory Days" Lucci
Once in a great while promoters somehow get it right and flip the script on the standardized event where one or both combatants are so vocal they reach apoplectic rages of fury in dismissing their opponents yet rarely produce the promised knockout. In such cases oddsmakers when put to the fire to determine a handicapping line have a fail- safe known as "pick-'em." This figment of speech allows Vegas to cover their back in swing action bouts as the combatant's skillsets are so evenly matched in all areas of expertise as well as intangibles that the betting line becomes neutral. This safe pick leaves fans to ponder which for them is the smart pick and safer bet if so inclined.
The Event:
On August 24th WBO light heavyweight champion Sergey Kovalev defends his title for first time against mandatory contender Anthony Yarde. Bout to held in Kovalev's birthplace of Chelyabinsk Russia at Traktor Sport Palace and will be shown on ESPN+. Event triple promoted by Kathy Duva of Main Events, Frank Warren of Queensberry Promotions and German Titov of Titov/RCC Boxing Promotions.
The Stats:
The champion hails from Russia but now calls Fort Lauderdale Florida home. Known as the "Krusher" Sergey is 36 years old and has been the most influential 175 pounder over last eight years amassing a record of 33-3-1, 28 KO's. Fighting from orthodox stance he is 14-3, 11 KO's in title fights. Standing a lean 6' tall with a 72" wingspan he always enters ring in magnificent physical shape never having to wage last minute war on scales. Mentally there have been rumors surrounding his camp for years that he has trained as he pleases which may have contributed severely to his poor performances against Ward even though media thought he was robbed in first bout.
The challenger Anthony Yarde will see the champion eye to eye also standing an even 6' tall with mirror like reach of 72" also fighting from conventional orthodox stance. The glaring difference of the boxer who hails from Hackney, London England is his thickly built muscles. The British fighter at 27 years of age owns a stellar record over suspect competition at 18-0, 17 KO'S having never crossed the pond to fight out of England and has no recognizable names on his ledger.
Last Fight:
The champion last fought in February winning his belt back from too a patient Eleider Alvarez at Ford Center at the Star in Frisco Texas. The rematch produced a clear cut UD victory where Kovalev dominated every round out boxing his onetime conqueror. In first encounter Sergey was cruising first half of contest and inexplicably ran out of gas in seventh round where he was stopped by TKO.
The challenger looked every bit the contender last March stopping one Travis Reeves by 5th round TKO at the Royal Albert Hall in London England.
Styles:
The fans should be treated to a fast paced chess match until one decides measuring the pocket distance is pretty much like shadowing boxing in a mirror. Look for the challenger to be first to break free from protocol and try to catch the champion cold. Inside the gates the challenger may hold an edge in hand speed where he often delivers furious combinations from inventive angles while the champion remains nimble and looks to pick his shots while walking his man down.
The Vinny Factor:
There are two key elements to this bout that will separate it into a two act play. Kovalev's heavy handed power has been impressive for his era but it will never be mentioned in same breath with ring immortals Archie Moore, Michael Spinks and Bob Foster. Yarde is thought to wield same knock out power as the champion but the theory has yet to be proven over a bonafide contender with ring tested beard.
Act one, the gents get acquainted and start to gage the proper distance for calculated mayhem. Kovalev is the better boxer and has faced the very best the division had to offer over last decade including Bernard Hopkins, Isaac Chilemba, Jean Pascal and Andre Ward and will look to make adjustments accordingly. Yarde will seek to bring the fight to Sergey in hopes to exploit his nine year age disadvantage in wishful thinking those fights have finally caught up with him one time too many. Kovalev has gone 3-3, 2 KO's in his last six fights and was stopped twice in that duration.
Act two if there is no intermission for a press conference might play out like a Shakespearean tragedy that could unveil itself in either corner. Questions to ponder can the champion turn back the challenge of a young powerful tiger or out think his adversary if he can't slow him down? Will his new corner have him both mentally and physically prepared for such a contest with the added pressure of fighting in the land of his birthplace?
Juxtapose the challenger has his work cut out for himself if Kovalev's battle tested whiskers hold out in a war of attrition. Anthony has yet to go ten rounds let alone the championship distance of twelve. In fact he has never heard the bell ending the 7th round and every minute thereafter will be like a novice swimmer in uncharted waters. If you are a fan of this column you have read RSR emphatic position that all too often so called contenders are rushed into title opportunity without earning it and are ushered into canvass slumbers. Will Yarde have enough in gas tank to make a go of it in second half of bout?
Odds:
Vegas has made Kovalev the betting favorite at -244 with Yarde at +176.
RSR Prediction:
This is a "pick-'em" bout that equates to a coin toss. If it were pre-Ward days just three years ago the champion would be heavily favored to take the challenger into deep waters and drown him.
Stay tuned…
Contact the Feature Writers