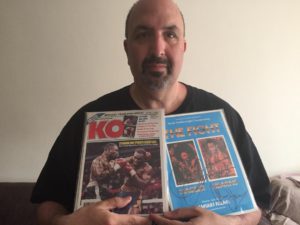 By Anthony "Zute" George
In my recent article that focused on the coveted knockout winning streaks, I left out Top Rank prospect Edgar Berlanga, 12-0, 12 KO's. Edgar not only has a perfect knockout record; all his knockouts have been in the first round. Indeed, he is one to keep an eye on. Edgar was not included in the original piece because at the time I wrote the article, I did not know the result of his last fight. With that said, while Edgar is an impressive prospect, a thudding puncher, he does not seem to be close to headlining fights the way Vergil Ortiz, JR. is. Top Rank Boxing typically brings along fighters a bit slower; they have a gem in Teofimo Lopez, and he just headlined his first card in his last fight. So Berlanga will probably continue to fight on the undercard for a while. But what an incredible talent.
Speaking of incredible talents and perfect knockout records, Edwin Valero probably does not get enough credit for what he did inside the boxing ring. Valero was undefeated and knocked out all twenty-seven of his opponents. Perhaps the slight on recognition has to do with the rip-roaring life and death of Valero, which was chock full of heinous behavior. But if that is the reason, why in the world do I always hear and read about the accolades of Carlos Monzon and Gerald McClellan? Things that make you go hmmm.
Speaking of rip-roaring, how crazy is this Andy Ruiz, JR. and Anthony Joshua rematch? It is on, it is not on, Andy did sign, Andy did not sign. Which is it? If Andy did indeed sign a contract to fight in Saudi Arabia, his rhetoric of not wanting to fight there is unjustified. If he did not sign, why were there so many reports stating the date and venue were set? Until we know those details, it is hard to speculate. And what is precisely Andy's beef? Is it wanting to fight in the United States; what happened to Mexico? Or is it the fact that AJ is set to be paid a lot more money? Not even that information has been consistent in the news. If it is the money, I could understand that because AJ does not deserve that much more money than Andy.
Speaking of Anthony Joshua, what in the world are you doing getting into a war of words with Lennox Lewis? It is great to see how focused you are on getting your belts back. It is never good when the story outside the ring is more significant than the story inside the ring.
Speaking of inside the ring, we have had a solid 2019 in boxing so far. There have been a ton of upsets, great one-punch knockouts and impressive fight of the year candidates. We have also had tragedies, which is never easy for me to talk about. So, I will stop there.
Speaking of great one-punch knockouts, has there been many better than Pipino Cuevas's run as the welterweight championship? A full article on Pipino soon to come at Ringside Report.
Speaking of soon to come, it looks like the super-fight between Regis Prograis and Josh Taylor is put on hold. Apparently, the World Boxing Super Series (WBSS) does not think it is important to pay their fighters. What a shame.
Speaking of the WBSS, they will go forward with their bantamweight championship between Naoya Inoue and Nonito Donaire. A fight that will feature two fighters with dynamite fists. One on the rise and one believed to be on the decline. It should be great for however long it lasts.
Speaking of bantamweights, why is Orlando Canizales not considered to be a top ten all-time bantamweight by a lot of people? In my humble opinion, he is in the top five. A true marvel inside the ring with excellent technique.
Speaking of the top five, while I never make a P4P list; it is not my thing, Errol Spence, JR. is clearly one of the most talented boxers today. For him to be considered an elite, however, he has to face stiffer competition. I knew going into that Mikey Garcia did not possess a challenge, he was just too small and not nearly as gifted as Spence, JR. In his next fight against Shawn Porter, he will indeed be fighting an elite fighter. I cannot wait.
Speaking of Shawn Porter, is there a fighter more willing to fight the best out there today? Porter has faced the best there is and will continue to do so when he faces The Truth on PBC pay per view September 28th. If Porter should happen to win, I think he is the one guy who would cross over and face Terrence Crawford. My guess is fighting the best would take precedent over PBC loyalty for Porter. Remains to be seen, and beating Spence, JR. is a gigantic if.
Speaking of loyalty, there was some social media buzz recently about how the great George Benton did not get a shot at the middleweight championship because of dedication to his people. And of course, fighters today do not show the same loyalty. Really? What about all the boxers who are loyal to Al Haymon? That is not a thing? Of course, when fighters are loyal to Haymon, they are not praised in the same way Benton is. More things that make you go hmmm.
Check out "Zutes Boxing Talk", which airs every Wednesday live from 7PM to 9PM ET. The show is dedicated to discussing the sweet science straight up with no twists. "Zute" has interviewed boxing legends such as Carlos Palomino, Mike McCallum, Pernell Whitaker, Jeff Fenech, Buddy McGirt, Mark "Too Sharp" Johnson, Marvin Camel and Eddie Mustafa Muhammad. As well as today's stars like Danny Garcia, Sergey Kovalev, Regis Prograis, Teofimo Lopez, Andy Ruiz, JR. and Gary Russell, JR.
Follow the link to listen live or catch archived shows
Contact the Feature Writers