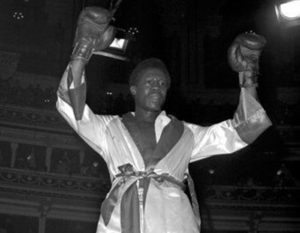 By Donald "Braveheart" Stewart
Being a hero in your own country can be a bit of a burden. For the likes of Anthony Joshua, in a rich homeland where there are choices for heroes, it may seem less so but the scrutiny under which you are put can be more problematic.
Having an entire nation, however, see you as their principle sporting hero when they live, mostly, in abject poverty, must be a massive challenge, especially if you fear not being able to live up to their expectations. Zambia's Lottie "Gunduzani" Mwale, 44-9, 34 KO's was, however, a worthy national hero.
Born into what was then known as Northern Rhodesia, he was a keen soccer player and drummer before boxing took over his life. Apparently taking the sport up for fun, people soon noticed that he was pretty good at it and a career was born.
Mwale began with an amateur pedigree that was not without some controversy as he was headstrong and in one tournament in Africa, having lost a fight he nearly ended up at the wrong end of an official investigation before apologizing and heading that off at the pass. His single mindedness did not stop once he left the amateurs.
He won Gold at light middleweight at the 1974 Commonwealth Games for his country, his amateur career had clearly started his star shining brightly; he was a national and international champion already. At the Games he had powered past an Englishman in the semifinals and a Scot in the final; Frank Hendry, the Scottish boxing team manager, at the time, claimed he was "the best operator at the Games"
Professionally, Mwale was to prove brave as he stood and faced the best across the ring in Africa, Europe managing to fight for a world title, not once, but twice.
His professional career began in 1977 as a middleweight, setting his sights firmly on getting his hands on African and the Commonwealth titles. He had been offered money and a five year deal to become a fighter based in the US but he had his heart set on being a beacon for Zambian boxing and that meant titles at home, on his continent and in the Commonwealth; headstrong indeed. After all his nickname, "Gunduzani" means shake them in the Chewa language of Eastern Province, and "Kaingo" meaning the leopard.
Within his first year as a pro he managed the Zambian national title when he beat Julius Luipa in only his second pro fight in 1977! We knew him in the UK because he beat by knock out the much fancied British fighter, Tony Sibson in 1978. That he managed that feat in only his 7th professional fight and it was abroad in Sibson's home town of Leicester, was added to by the fact it happened in the very first round; it was not, however, his first fight outside his homeland.
He based himself in London and became known as a bit of a party animal with lots of people around him.
The Commonwealth title was his at light heavyweight when he beat Gary Summerhays, back home in Lusaka in 1979. He was ready for a world title shot; Muhammad Ali said so after sparring him in London during a visit!
On November the 28th, 1980, it came. He faced Matthew Saad Muhammad in San Diego. Mwale faltered. Mwale was stopped in the 4th round with his opponent noting his inability to take a body shot. Mwale was sanguine about the loss, at the time stating, "When you lose, you don't start talking rubbish. I am a boxer and I lost. There are no excuses."
Mwale got back to winning ways straight afterwards including a defense of his Commonwealth title. It got him yet another world title opportunity when on the 2nd October 1982, in Las Vegas, he faced Eddie Mustafa Muhammad. Mwale faltered again and was stopped in the 4th round; again.
Mwale regrouped after his second world title disappointment but he was never to challenge for a world title again. He managed 10 straight victories afterwards before his career began to seriously falter. Of his last 12 scraps, he lost 5 of them.
At the tail end of his career this included a shot at the WBC International title when he was up against the Ghanaian, Ray Acquaye. At the age of 38, this was the last chance, so he trained like a leopard, as his nickname suggested. Mwale got an 8th-round knockout in Lusaka. It was 1991 and Mwale, perhaps arrogantly, expected to win the Zambian Sportsman of the Year award for that win. It went to their athlete Samuel Matete. That headstrong Mwale came back with a vengeance and he tore up his prize, a certificate of merit in front of the entire audience. Later on, he was, again to apologize, but he pointed out that, having won an international honor he felt that he deserved the top prize.
Mwale was still an active fighter with ambition and in August 1993 he went after the Zambian light-heavyweight title, held by Mike Chilambe. He lost the fight in the 8th round, later claiming he was drunk, demanding a rematch and getting one. That leopard who had trained hard for the international title came back and he trained hard, but Chilembe was to shine again and won convincingly with a points win on 2nd April 1994. Mwale retired from the ring.
Devastatingly, in 1999 he was diagnosed with Parkinson's Disease, believed to have been due to his boxing career and taking blows to the head. It is the same disease the man who came to London and sparred him after his own career had ended, Muhammad Ali suffered from. The similarities stop there as Mwale became destitute, dependent upon the charity of others and his government. Six years after his diagnosis, Mwale passed away in Lusaka. It was 28 years after turning professional.
Noted for his patriotism and for his striking ability to take Zambia with him in his heart and with his fists wherever he went, he was a national symbol for many at home and for those of us abroad who saw him. A fitting national hero for a turbulent time. In November 2008, the WBC announced plans to construct a boxing school in Lusaka in his honor and on the 24th of April 2013, Mwale's remains were exhumed from Lusaka's Old Leopard's Hill Cemetery and reburied at and Leopards Hill Memorial Park, a resting place befitting a Zambian hero. Remembering him and his effect on the national consciousness, President Levy Mwanawasa remarked "Lottie was not only a father and husband, but a national hero and his death is a big blow to the nation."
Contact the Feature Writers