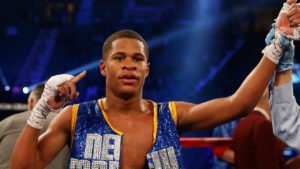 By Anthony "Zute" George
Devin Haney, 22-0, 14 KO's, is a top prospect with great potential. Whenever you have a fighter of such ilk, opinions are inexhaustible. Ideas range from anointing the kid a plaque at the international boxing hall of fame, to the old man rhetoric of 'this kid is nothing compared to the fighters of my day.' Neither rhetoric has any desirability, nor are they in keeping with any reality because there is no possible way to fully evaluate Devin Haney, or any fighter, until they have a full career.
All we can do is sit back and watch, and only evaluate on a fight by fight basis. Early returns on Devin Haney are promising, however. A San Francisco product who now resides in Las Vegas, Haney appears to have all the ingredients to be unique: desire, good looks, strong backing, and already a decent amount of experience. Indeed, 'The Dream' has already tasted how capricious boxing fans and pundits can be.
After his tougher than expected fight with Mason Menard, the returns on Haney were lukewarm at best, in his last contest, Haney won via a knockout of the year candidate against Antonio Moran, and now everyone has Haney winning a world title in the near future.
That near future begins on September 13th, when Devin Haney headlines a card at the Madison Square Theater, in New York City. His opponent is Zaur Abdullaev, 11-0, 7 KO's. Zaur is a prospect in his own right, and he is a formidable inside fighter who has power in both hands. With a nice short, crisp left hook being his best punch. This will be his first fight in the United States.
There is no doubt that Devin Haney is being matched against an extremely onerous opponent for his New York City debut. After all, The Big Able can be a laborious opponent in it of itself. Headlining such a card comes with a lot of pressure. Just ask Anthony Joshua.
Not only does Haney have to win, but he also has to look impressive. He is always being compared with Teofimo Lopez, and he can surpass Teofimo in some eyes with another devastating win in September. If Haney just wins, he may lose all the stock he won with his last knockout. If he loses…there already have been a ton of upsets in 2019 and this appears to be a more even fight than most of those upsets.
Haney also must draw fans to the arena and eyeballs to DAZN's streaming service. Matchroom Boxing and DAZN are churning out a stupendous promotion for this New York City card. Which features a wonderful female fight between Amanda Serrano and Heather Hardy, Daniel Roman and Murodjon Akhmadaliev set forth to do battle for the WBA and IBF versions of the super bantamweight title, Michael Hunter will continue to try and put a big footprint on the heavyweight division, and Wesley Ferrer takes on Lethal Larry Fryers in a fight that has a chance to be the fight of the night.
While Devin Haney has a tremendous supporting cast behind him, he must take care of his own business, and do so in spectacular fashion, if he wants to continue to be the kind of prospect with spectacular social media buzz, as well as star power.
Stay tuned..
Check out "Zutes Boxing Talk", which airs every Wednesday live from 7PM to 9PM ET. The show is dedicated to discussing the sweet science straight up with no twists. "Zute" has interviewed boxing legends such as Carlos Palomino, Mike McCallum, Pernell Whitaker, Jeff Fenech, Buddy McGirt, Mark "Too Sharp" Johnson, Marvin Camel and Eddie Mustafa Muhammad. As well as today's stars like Danny Garcia, Sergey Kovalev, Regis Prograis, Teofimo Lopez, Andy Ruiz, JR. and Gary Russell, JR.
Follow the link to listen live or catch archived shows
Contact the Feature Writers