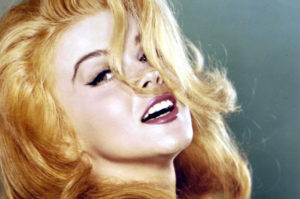 By Geoffrey Huchel
I remember when I was first saw Ann-Margret on screen. My middle school music class was doing a screening of the musical BYE BYE BIRDIE. At the time, I couldn't exactly tell you what the movie was about, but I do remember the young actress catching my eye with her striking beauty, and since that day, I've been a fan of the famed singer and dancer, whose career has spanned six decades.
Ann-Margret Olsson, known simply as Ann-Margret is a Swedish-born, American actress, born on April 28, 1941. From a young age Ann-Margret had a natural ability for dancing. She took her first dance lessons at Marjorie Young School of Dance. While a teenager she appeared on the Morris Sachs AMATEUR HOUR, Don McNeill's BREAKFAST CLUB, and Ted Mack's AMATEUR HOUR. She attended New Trier High School in Winnetka, Illinois, and continued to star in theater.
Music:
Ann-Margret began recording for RCA Victor in 1961. Her first recording was "Lost Love" from her debut album And Here She Is: Ann-Margret. In the late 1970s and early 1980s, she had hits on the dance charts, the most successful being 1979's "Love Rush", peaking at number eight on the disco/dance charts. In 2001, she recorded the album God Is Love: The Gospel Sessions. The album went on to earn a Grammy nomination for best album of the year in the gospel category. She was nominated for the Best New Artist Grammy in 1962. She recorded a holiday album in 2004 titled Ann-Margret's Christmas Carol Collection.
Film/TV:
In 1961 Ann-Margret was signed to a seven-year contract at 20th Century Fox. She made her film debut in a loan-out to United Artists in POCKETFUL OF MIRACLES (1961), with Glenn Ford and Bette Davis. It was directed by Frank Capra. Her next role was as "bad girl" Emily Porter in Rodgers and Hammerstein's STATE FAIR (1962), opposite Bobby Darin and Pat Boone. She guest-starred as Ann-Margrock, an animated version of herself on a memorable episode of THE FLINTSTONES (1963). Her next film BYE BYE BIRDIE (1963) made her a major star. She starred as Kim, the all-American teenager, who is chosen to kiss rock singer Conrad Birdie during his farewell television performance before being drafted. The musical co-starred Dick Van Dyke, Janet Leigh, Bobby Rydell and Jesse Pearson. Ann-Margret earned a Golden Globe nomination for Best Actress in a Comedy or Musical. Her success in BIRDIE led to her landing on the cover of Life Magazine and was asked to sing at John F. Kennedy's private birthday party at the Waldorf-Astoria. Ann-Margret starred opposite the legendary Elvis Presley in the comedy musical VIVA LAS VEGAS (1964). Following VIVA LAS VEGAS, Ann-Margret appeared in over a dozen films throughout the 1960s, including THE PLEASURE SEEKERS (1964), KITTEN WITH A WHIP (1964), THE CINCINNATI KID (1965), opposite Steve McQueen, STAGECOACH (1966), and MURDERER'S ROW (1966). She appeared as herself in an episode of HERE'S LUCY (1968).
In the 1970s Ann-Margret balanced her musical performances with dramatic films that played against her alluring image. She co-starred opposite Jack Nicholson and Candice Bergen in the drama CARNAL KNOWLEDGE (1971), earning an Oscar nomination for her performance. She starred as Nora in the Oscar nominated musical TOMMY (1975), with Roger Daltrey, Oliver Reed and Elton John as The Pinball Wizard. She won a Golden Globe for Best Actress in a Musical or Comedy and received an Academy Award nomination. Other notable films she co-starred in during the 1970s include JOSEPH ANDREWS (1977), THE LAST REMAKE OF BEAU GESTE (1977), the horror/suspense thriller MAGIC (1978), with Anthony Hopkins and a cameo in THE CHEAP DETECTIVE (1978). Ann-Margret was an early choice to play Sandy Dumbrowski in the 1978 film GREASE (1978). At 37 years old she was ultimately deemed too old to convincingly play a high schooler. Ultimately, Olivia Newton-John got the role instead and the character was renamed Sandy Olsson (after Ann-Margret's surname) in her honor.
Ann-Margret starred in the 1982 comedy LOOKIN TO GET OUT, opposite Jon Voight and Bert Young and played the mother to a six year old Angelina Jolie. The same year she starred opposite Walter Matthau and Dinah Manoff in the comedy I OUGHTA BE IN PICTURES. Next, she starred in two TV movies, WHO WILL LOVE MY CHILDREN (1983), and the remake A STREETCAR NAMED DESIRE (1984). These performances won her two Golden Globe Awards and two Emmy nominations. She starred opposite Gene Hackman in the drama TWICE IN A LIFETIME (1985). Her next film was 52 PICK-UP (1983), with Roy Scheider. She co-starred opposite Elizabeth Ashley in the NBC 2-part series THE TWO MRS. GRENVILLES (1987), also starring film legend Claudette Colbert. It earned Ann-Margret another Emmy award nomination, this time for Outstanding Lead Actress in a Mini-Series or Special.
She starred in the groundbreaking TV movie OUR SONS (1991), opposite Julie Andrews as mothers of sons who are lovers, one of whom is dying of AIDS.
Her next film was Disney's NEWSIES (1992), with Christian Bale, Robert Duvall and Bill Pullman. She starred in the mini-series QUEEN (1993), with Halle Berry, Patricia Clarkson, Tim Daly, Ossie Davis and Danny Glover. She reunited with Walter Matthau for the hit comedy GRUMPY OLD MEN (1993), also starring Jack Lemmon. She starred in three TV movies, SCARLETT (1994), NOBODY'S CHILDREN (1994) and FOLLOWING HER HEART (1994). She returned for GRUMPIER OLD MEN (1995), the equally successful sequel, co-starring Sophia Loren. She played Margaret, the mother to Cameron Diaz's character in the sports drama ANY GIVEN SUNDAY (1999). She guest-starred on an episode of TOUCHED BY AN ANGEL (1994), and three episodes of THIRD WATCH (1999). She played Cinderella in the NBC mini-series fantasy THE 10TH KINGDOM (2000), also starring Kimberly Williams-Paisley, Dianne Wiest, Scott Cohen and John Larroquette. She appeared opposite Tim Allen in THE SANTA CLAUSE 3: THE ESCAPE CLAUSE (2006), as Sylvia, the mother of Carol/Mrs. Claus, played by Elizabeth Mitchell.
Her next film was the hit comedy drama THE BREAK-UP (2006), with Vince Vaughn and Jennifer Aniston. She appeared as Martha in Disney's OLD DOGS (2009), a comedy starring John Travolta, Robin Williams and Kelly Preston. She won another Emmy for Outstanding Guest Actress in a Drama Series for her performance in LAW AND ORDER SVU (1999). In the past few years, Ann-Margret appeared in RAY DONOVAN (2013), GOING IN STYLE (2017), THE KOMISKY METHOD (2018), and HAPPY (2017).
Essential Ann-Margret:
BYE BYE BIRDIE (1963)
VIVA LAS VEGAS (1964)
CARNAL KNOWLEDGE (1971)
TOMMY (1975)
GRUMPY OLD MEN (1993)
GRUMPIER OLD MEN (1995)
Contact the Feature Writers