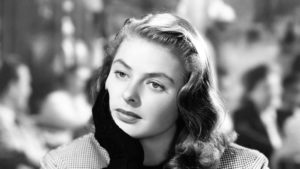 By Geoffrey Huchel
Oscar winning actress Ingrid Bergman was born on this day in 1915, in Stockholm, Sweden.
Ingrid Bergman was one of the greatest actresses of Hollywood's Golden Era, whose career spanned five decades. In addition to film, Bergman worked in the theatre and made several appearances on television.
She is best remembered for her starring role in the Oscar winning CASABLANCA (1942), with Humphrey Bogart. Her notable films include DR. JEKYLL AND MR. HYDE (1941), FOR WHOM THE BELL TOLLS (1943), GASLIGHT (1944), SPELLBOUND (1945), THE BELLS OF ST. MARY'S (1945), NOTORIOUS (1946), JOAN OF ARC (1948), ANASTASIA (1956) and MURDER ON THE ORIENT EXPRESS (1974).
Bergman won 3 Academy Awards for acting- two for Best Actress (for ANASTASIA and GASLIGHT), and one for Best Supporting Actress (for MURDER ON THE ORIENT EXPRESS). Bergman also won an Emmy and a Golden Globe for her performance in the TV movie A WOMAN NAMED GOLDA (1982), as well as Golden Globe wins for THE BELLS OF ST. MARY'S and ANASTASIA.
Sadly, Bergman also died on this day in 1982, her 67th birthday in London, England of breast cancer. She had 4 children, including actress Isabella Rossellini.
Contact the Feature Writers