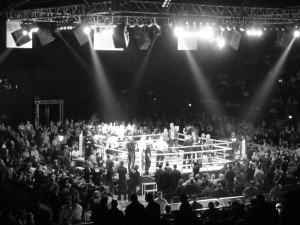 By Anthony "Zute" George
In boxing, the heavyweight picture is as convoluted as a Terrence Malick film. Right now, we see a division with more questions than answers. Who is the real champion, what in the world is a super champion, a gold champion, where does lineage all fit in, would lineage even be a thing is Tyson Fury stayed retired, who indeed is the best heavyweight today? That last question is the one that truly matters. The one that would make it all understandable. The one with the biggest if attached to it.
In boxing, one would think the best fighting the best, champions fighting champions would be obligatory; indeed, that is what the fans covet, and it appears that is what most boxers desire; to test their skills against the best. However, often, we are deprived of these desires because of men in suits, who appear to have too much control. Only when these top heavyweights fight each other will we have a clear heavyweight champion and a much more marketable product. The good news is that we appear to be getting there, albeit in a crawling manner.
Before we address that, let us take a look at the heavyweight cast, which is loaded, contrary to popular belief. Anthony Ruiz, JR., who upon first look presents as a guy who the brunt of many jokes, but if you ever happen to watch him, you will see a very talented pugilist with some of the fastest hands in heavyweight history, who could fight in close, from distance, and can take a hell of a punch. Deontay Wilder, undefeated and one of the hardest punchers in boxing history.
Tyson Fury, a giant of a man, six foot nine with an eighty-five-inch reach, who is light on his feet and is one of the best lateral movers in heavyweight history. Dillian Whyte, a well-rounded fighter with one punch stopping power, Joseph Parker, a fine pugilist who proved he is a fighter, against Dillian Whyte in a classic fight that nobody talks about. Luis Ortiz, a well-disciplined boxer from the complex Cuban style, who can also crack. Then there is Anthony Joshua, who is not nearly as talented as he has been marketed; his style is as creative as a podcast host or scribe making an Andy Ruiz, JR. fat joke, but he is as strong as anyone and packs a wallop when he hits you.
There is also young talent in this division, guys like Joe Joyce, Adam Kownacki, Agit Kabayel, Trevor Bryan, and Michael Hunter, who deserve a look, as well as an opportunity, both by promoters and fans. Grizzled veterans like Alexander Povetkin, and Dereck Chisora, who despite what some of us think of them, they feel they are still worthy of a shot and are always upset minded. There is also a wildcard in the heavyweight division today, Oleksandr Usyk. The wonderful cruiserweight king who possess with all-world boxing skills. To think the heavyweight division is anything but deep is not looking at it through an objective lens.
With that said, I can understand why some people can get disenfranchised with the heavyweights because there are times when it feels like the suits are doing all that they can to keep these fighters from facing each other, rather than getting them in the ring. But have no fear boxing fans, that is about to change. I think.
The first fight set that can clear up the confusion is the rematch between Deontay Wilder and Luis Ortiz. An intriguing fight, that if Wilder should happen to lose, shakes things up like a great movie plot twist. The first fight between these two was marvelous, with Ortiz taking the lead and hurting Wilder, only to see "The Bronze Bomber" rally back and win by stoppage. This fight also exposed plenty of boxing pundits for me. As many in boxing used Luis Ortiz as a pawn to criticize Wilder, as this King Kong Monster who nobody, especially Wilder, wants to fight. Well, after Wilder plowed Ortiz into submission, he went from King Kong to King Geritol.
If Wilder wins, then it appears that he and Tyson Fury will have their much-awaited rematch early in 2020. Yes, Fury has a September date with Otto Wallin, but that fight presents as more of a Fury showcase than a competitive battle. All fights present some danger, but there does not seem to be much with Wallin, as the only real intriguing thing about him is he is a southpaw, like King Kong, or is it Old Man River?
The other big heavyweight fight that everyone is craving to see is the rematch between Andy Ruiz, JR. and Anthony Joshua. Andy, who seems to be the chief obstacle in getting a secure date for the fight, is now posting on Instagram that he will be fighting AJ on December 7th in Saudi Arabia. If everything plays out, the winner in Saudi Arabia and the winner of the Wilder and Fury rematch should be set to face each other sometime in the Summer of 2020. Then all the hot prospects and grizzled veterans could try and take down the winner of that anticipated round-robin.
Easy right? Yes, I do know better. But at some point, a fluke is going to happen in boxing, and we will get exactly what we have our hearts set on. Could this block of heavyweight fights be it?
Stay tuned…
Check out "Zutes Boxing Talk", which airs every Wednesday live from 7PM to 9PM ET. The show is dedicated to discussing the sweet science straight up with no twists. "Zute" has interviewed boxing legends such as Carlos Palomino, Mike McCallum, Pernell Whitaker, Jeff Fenech, Buddy McGirt, Mark "Too Sharp" Johnson, Marvin Camel and Eddie Mustafa Muhammad. As well as today's stars like Danny Garcia, Sergey Kovalev, Regis Prograis, Teofimo Lopez, Andy Ruiz, JR. and Gary Russell, JR.
Follow the link to listen live or catch archived shows
Contact the Feature Writers