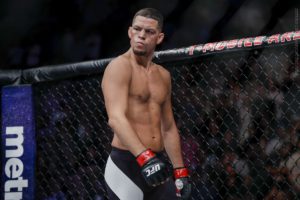 By Rich "Lite It Up" Lopez
The past UFC 241 was quite a success and provided some thrills as well. The event was held at the Honda Center in Anaheim, California and the event was sold out. The main event was a rematch between Daniel Cormier Vs Stipe Miocic and the fight lived up to the hype. Miocic got his revenge and stopped Cormier in the 4th round to regain the heavyweight championship. Also fans were treated to a slugfest between Joel Romero and Paulo Costa in the middleweight division. Costa walked away with a split decision victory in a fight that lived up to the hype. To top it off, the biggest highlight of the night was the co-feature between Nate Diaz Vs Anthony Pettis. This fight also had a lot of buzz but more importantly, we were curious on Nate Diaz's return to the octagon. With so much talk of Diaz's return, you would think he was the main event of the card.
Nate Diaz, 20-11, of Stockton, California, is a fan favorite in the MMA world. When Diaz fought Conor McGregor in March of 2016, he shocked the world by submitting McGregor in a rear-naked choke in the 3rd round. However it was not a surprise that Diaz defeated McGregor because McGregor moved up to welterweight to challenge the bigger Diaz. UFC had McGregor hyped up so much to make you believe he was unbeatable. Both fighters would have a rematch in August of 2016. McGregor did fight better the second time around and won a close split decision but I believe Diaz won the fight though. From there, Diaz took a long break and decided to come back from a three year layoff against Pettis. When the fight was announced, it was nice to hear that Diaz was coming back but the question remained: Would it be too long of a layoff? We have to remember Pettis was on a good run and most recently moved up to welterweight to knockout top contender Stephen Thompson.
For the Diaz Vs Pettis build-up, Diaz looked in great shape but with such a long layoff, I was not sure he could pull off the victory against a dangerous opponent for his comeback fight. Once again, Diaz defied the odds. After a slow start in the Pettis fight, Diaz picked up the pace and got in his groove. He completely dominated Pettis to win a unanimous decision. In the stand up, in the clinch, and on the ground, Diaz was simply too much for Pettis. Diaz nearly stopped Pettis in the 3rd round, but to Pettis's credit, he hung in tough. It was such a great comeback for Nate Diaz.
The welterweight division is loaded with good talent with fighters like: Kamaru Usman, Tyron Woodley, Colby Covington, and Jorge Masvidal, just to name a few. With Diaz back in the mix, the division just got better. In Diaz's post-fight interview after his win, he called out Jorge Masvidal. Now that would be a hell of a fight and one worth watching.
Diaz is brash and has adopted the "I don't give a damn attitude," which has made him a popular figure in the MMA world. Some people love or hate him because of his personality. Me on the other hand, I respect the guy. He talks tough but backs it up in the octagon. Win, lose, or draw, he always provides action packed fights and gives everything he has. Diaz is entertaining and I can't wait to see him fight again with the best welterweights in the division.
Welcome back to the UFC Nate Diaz!
Contact the Feature Writers