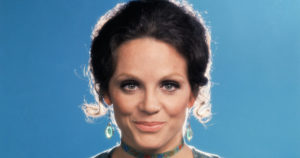 By Geoffrey Huchel
Actress Valerie Harper has died at the age of 80 after a long, but brave battle with cancer. Harper was best known for playing Rhoda Morgenstern on the hit series THE MARY TYLER MOORE SHOW (1970) and its spin-off RHODA (1974).
Valerie Harper was born on August 22, 1939 in Suffern, New York. She began her career as a dancer on Broadway, making her debut in the musical Take Me Along in 1959. Harper went on to perform in several Broadway shows, including Wildcat and Subways Are For Sleeping.
Throughout her remarkable six decades long career she appeared in numerous television series and movies including LOVE, AMERICAN STYLE (1969), COLUMBO (1971), FREEBIE AND THE BEAN (1974), THE LOVE BOAT (1977), VALERIE (1986), A FRIEND TO DIE FOR (1994), MELROSE PLACE (1992), TOUCHED BY AN ANGEL (1994), THAT 70S SHOW (1998), SEX AND THE CITY (1998), DESPERATE HOUSEWIVES (2004), HOT IN CLEVELAND (2010), 2 BROKE GIRLS (2011), CHILDREN'S HOSPITAL (2008), and most recently THE SIMPSONS (1989) and AMERICAN DAD (2005). Harper reunited with Mary Tyler Moore for the TV movie MARY AND RHODA (2000), depicting their iconic characters later in life.
Harper won a Golden Globe for Best TV Actress for RHODA, as well as 3 Emmys for Outstanding Performance by An Actress in a Supporting Role in Comedy for THE MARY TYLER MOORE SHOW and an Emmy for Outstanding Lead Actress in a Comedy Series for RHODA.
Contact the Feature Writers