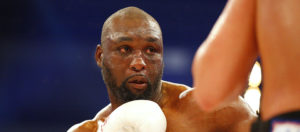 By Donald "Braveheart" Stewart
We all know the dangers of being hit consistently in the head right? We have all read what happens when a boxer leaves the ring and is not well – OK? We do realize that this is one of the most dangerous sports and as soon as you can, you should leave it. Don't we?
Can someone tell Danny Williams, 53-27, 40 KO's?
As we are serenaded by Roy Jones, JR. at the Sergey Kovalev/Anthony Yarde weigh in and thankfully realize that at least he is singing and not fighting, I am casting my mind back to a fight in Scotland when Danny Williams climbed in the ring to fight a man who is a lightweight for a World Boxing Union (WBU) heavyweight title. The man he faced, Lee McAllister knocked Williams down, had put on a shed load of weight for the fight and is due this weekend to fight back down at close to his normal weight. Williams lay on the floor at the Ballroom in Aberdeen and looked like his dancing days were over.
They weren't. He got up, conceded defeat and then took on another fight.
Why?
Williams is a former two-time British heavyweight champion – 10 years apart – former Commonwealth Games bronze medalist and Commonwealth champion. A man who shocked the world by beating Mike Tyson and then got a shot at the WBC belt against Vitali Klitschko and going at least 8 rounds, his legacy should be assured.
Enough already! That is enough! What a career? It's a bit of an involved story but here we go…
He turned pro in the 20th Century; in 1995. Promoter Frank Warren compiled a 15 fight winning streak by having Williams on undercards of bigger fights. His first title fight, against Julius Francis for the British and Commonwealth titles, he lost on points.
Francis vacated the Commonwealth title he held and in went Williams in on the 19th December 1999 and won it. His first belt.
When he fought Mark Potter for the Commonwealth and British title in Wembley in 2000, Williams dislocated his right shoulder; he beat Potter with one arm by knockout!
In 2001, he moved promoters and went across to the good old USA for a hook up with Don King; it lasted less than a year and he fought no one of note.
He then in 2002 went on to win the Lonsdale belt outright as British champion by winning it and then defending it successfully on three occasions.
His next scheduled fight, which would have catapulted him onto the big stage, against Corrie Sanders didn't happen as he dropped out due to it being Ramadan. Williams is at least a man of great faith.
In February 2003, Williams tested his faith as a fighter when he was in the ring for the European title in Germany, but was stopped in the sixth round by Sinan Samil Sam. In 2004 he got back with Frank Warren and defended his titles before losing them to Michael Sprott in a controversial points loss.
In July 2004, at the Freedom Hall State Fairground, Louisville, Kentucky, Danny Williams had the fight of his career. He survived a first round onslaught from Iron Mike Tyson, before dropping Tyson in the 4th and watching Tyson, who had a torn ligament in his knee, give up.
In December it was WBC time and Vitali Klitschko. It was more hope than any form of expectation that we all watched on as Williams was outclassed and Klitschko stopped him in the 8th.
OK – Enough!!! Made a splash, got the world title fight, reasonable career – retire…
Williams then came back and went on the comeback trail. He then went round the British fighters by regaining his Commonwealth belt against Audley Harrison on a split decision, retained it against Matt Skelton and then lost it to Skelton, then lost rematch to Harrison.
The British title came back to him when he beat Scott Gammer in Wales on the 2nd March 2007. The win against Gammer came after he had trained himself using notes on a piece of paper he had been given by Joe Dunbar, who had worked with Lennox Lewis. All adds to the story…
So… a bit of a comeback and we all loved the stories. Enough – now – stop!!!
He watched his fight with Gammer on tape and decided…
To fight on…
To be fair to Williams his next four were three wins and a no contest…
It was then that things began to shore up for Williams and life as a journeyman beckoned.
On the 2nd October 2009 he took part in the Matchroom big event, Prizefighter, a knockout format where you needed to win 3, 3 x 3 minute round fights to win as you went from Quarter Final to Semi Final to Final. Williams lost in his first fight.
He then climbed in a ring against Derrick Chisora for the British title and promised this would be his last fight – hallelujah!
He was knocked out in the second round.
He spent a year out – it was time, he had been to the top, returned, tried his hand at the new formats, been part of the reemergence of British boxing – all good? …
He came back …
The Baltic League of Professional Boxing gave him a licence and he was back. The British Boxing Board of Control refused to give him one as they were concerned about his declining boxing ability. No wonder…
He then found himself in Romania, Poland, Hungary and the Czech Republic among other places on the map. Williams eventually was telling people that he came to hate the sport and feared for his life in the ring.
The circus started to get less and less watchable…
In 2011 he was stopped by Manuel Charr, withdrew from a fight with Alexander Ustinov because of a viral infection, fought former NFL footballer, Leif Olve Dolonen Larsen and was stopped in the 2nd round. Afterwards he was going to retire… Have we heard that before?
Rumors went around he was moving down to middleweight, a fight for the UBO European title was called off when he fell in the shower, he fought for the Baltic Boxing Union belt, and lost, fought for the WBO European belt and lost to Christian Hammer. He then refused to take a drugs test as he was going to retire anyway… I think the phrase here is that things got hinkey…
In December 2012 he was back in Russia losing, again, 13 days after he had fought and lost, and then in 2013 in an unlicensed "exhibition" bout he faced Mairis Breidis in Latvia and was stopped by the cruiserweight in 2 rounds.
That unlicensed habit resurfaced in London when he announced a farewell to his British fans by facing English hard man, Dominic Negus and stopped him in 4 rounds. Cheerio then, all done?
No.
28th April 2018, in Hungary, wins the Global Boxing Federation (GBF) world heavyweight title. July last year, he is in Aberdeen for that fight with McAllister – WBU heavyweight title – lost it.
It was reported after the fight that Williams had commented, "I have wanted to retire for a long time, but this is the end. There have been times when going into a fight, and I am in the changing room and have actually been scared. Not because I thought I was going to lose, but because I thought I was going to die. But I pushed through it and done my job. My reason for continuing to box was because I wanted to see my girls in private school away from the mad people I grew up with in South London. I had people bringing guns to my house, but my daughters are grown up now. They were the reason I was boxing. I got my oldest daughter through private school and my youngest daughter is 14 now and has one more year. This fight will pay for that so there is no reason to fight anymore. So it is goodbye. It is a massive relief that I have retired. My career has been really up and down. Things like beating Mark Potter and becoming the only fighter in the history of boxing to win a fight with a dislocated shoulder – that cannot be taken away from me. Nor can being second only to Henry Cooper in title defenses."
Of future plans outside of the sport he said, "I am going to do some bodyguard work in Nigeria. It is a very risky job as I will have a gun with me – I have a gun licence. I am definitely, totally finished with boxing."
Surprise, surprise…
He didn't retire.
His last fight, having toured Europe to get fights was in the east. He had been getting most of his fights by being the can do journeyman that will face eastern Europeans wherever and whenever. On the 5th July we, in the UK were saddened to see him slumped, once again, after being heavily knocked out in Almaty against a 5 fight novice, Ruslan Myrsatayev. It needs to stop was the rallying cry.
They say that in death the last thing to go is your hearing. Danny Williams' career was effectively over a long time ago – can he hear our howls of pain and hang up the gloves now?
Contact the Feature Writers