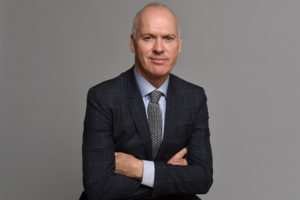 By Geoffrey Huchel
Ringside Report celebrates the 68th birthday of Golden Globe winner and Academy Award nominee Michael Keaton by looking back at the legendary actor's career, and the roles he is most remembered for.
Michael Keaton was born Michael John Douglas on September 5, 1951 in Coraopolis, Pennsylvania. His career began in television, appearing shows such as MISTER ROGERS NEIGHBORHOOD (1968), MAUDE (1972), MARY HARTMAN, MARY HARTMAN (1976), THE TONY RANDALL SHOW (1976) and FAMILY (1976). He first achieved major fame after his performance in the comedy THE NIGHT SHIFT (1982) and followed-up a year later in the starring role in the comedy MR. MOM (1983).
Throughout the 1980s and 1990s Keaton turned in memorable performances in BEETLEJUICE (1988), THE DREAM TEAM (1989), PACIFIC HEIGHTS (1990), MY LIFE (1993), THE PAPER (1994), MULTIPLICITY (1996), JACKIE BROWN (1997), and JACK FROST (1998). Keaton's other notable credits include: **LIVE FROM BAGHDAD (2002), CARS (2006), TOY STORY 3 (2010), THE OTHER GUYS (2010),*** BIRDMAN OR (THE UNEXPECTED VIRTUE OF IGNORANCE) (2014), *SPOTLIGHT (2015), THER FOUNDER (2016), SPIDER-MAN: HOMECOMING (2017), AMERICAN ASSASSIN (2017), and DUMBO (2019).
Keaton's most well-known role may be as the Dark Knight, which he portrayed twice, in Tim Burton's BATMAN (1989) and its sequel BATMAN RETURNS (1992). Keaton's performance in the role has earned widespread acclaim from both critics and audiences. His portrayal of Batman is my personal favorite.
*Oscar Nominee: Best Performance by an Actor in a Leading Role
**Golden Globe Nomination: Best Performance by an Actor in a Miniseries or a Motion Picture Made for Television
***Golden Globe Winner: Best Performance by an Actor in a Motion Picture-Comedy or Musical
iframe width="560″ height="315″ src="https://www.youtube.com/embed/4Lbp9AExqKs" frameborder="0″ allow="accelerometer; autoplay; encrypted-media; gyroscope; picture-in-picture" allowfullscreen>

Contact the Feature Writers