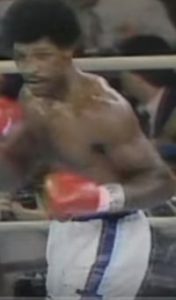 By Donald "Braveheart" Stewart
Johnny Davis, 15-11, 5 KO's, was no knockout specialist, despite coming from a knockout part of the world and growing up on a farm. Idyllic though it might have been, for the man who became the Hempstead Hammer, when he left the farm at 18 years of age it was to pursue anything but farming.
11 years on and he was to enter the ring in Atlantic City and take on Michael Spinks for the WBA light heavyweight championship of the world. He had long left the plough behind.
Prior to turning professional Davis had a great amateur career including two notable wins against Gerry Cooney. The word title fight was only his 17th in the pro ranks but he had proved himself ready for such a challenge; on the way he had beaten the likes of Dwight Braxton.
Unlike now, when Davis fought the bright lights may have been available in Atlantic City but not the riches. He was still mowing lawns for a living, putting some of that farm boy charm to good use as he made his way in the pro ranks. When asked about the support he had from the sport he loved and he and his brother had entered, he remarked that if he had depended upon boxing to make a living, "I'd have starved to death."
The transition that he had made to the boxing world was not a difficult one for him as he once remarked that "Being born in the country, all you are is a fighter. You got to fight to survive, especially with your father when he wants you to go out in the fields and work."
It was through his brother, Eddie, that Davis became a fighter. Eddie, already a boxer, needed a sparring partner and his brother was pitched in. Eddie took him out in half a minute and Johnny decided he needed revenge so worked hard to get better.
He improved so much that he got to the semifinals of the 1976 Olympic trails but lost – to Leon Spinks.
Davis was a natural fighter, not just to make ends meet but also in the ring and had studied his opponents well. He was a gift to the media of the time as there was a natural quick wit. A treat for the newspaper men of the day, though not much exists in the digital archives, what there is shows off his ability to downplay the tasks ahead of him but keep people onside enough to know he was a serious boxer.
It's just as well because the reputed riches gathered by Gerry Cooney, who he beat twice in the amateurs, when he fought Larry Holmes is a far cry from the mean amounts Davis got to take home. Cooney was making Millions and Davis could only dream of amounts like that.
In fact his first year as a pro he only fought once and earned a reputed $75 for his trouble. It is no surprise that both he and brother Eddie were struggling in the early years and came close to quitting quite a lot. That background in the farm came back to help them as Johnny would often reflect on his father's advice that "anything worth having is worth waiting on."
His fight for the world title had also not been a smooth one as he was due in June 1982 to take on Spinks but that was scuppered by an ankle injury. By the time the fight came round he was more than ready. "There is nothing that can match up with a championship fight," he said at the time. "You will see everything Johnny Davis has to offer. This is it. This is everything, to fight for the championship."
What we saw lasted 9 rounds and ended with Davis being stopped. Despite his bold claim that he would not be beaten by the Spinks family, after losing to one in the Olympic trials, he had been.
Davis never fought for another world title belt and had never really fought for belts before it. It's easy to dismiss him on the basis of the record he presents on paper but with his last seven fights recorded as losses, they make his career stats look a lot less impressive than they ought to.
His final seven contests did include, on the 21st May 1987, a loss to Michael Greer on points for the WBC continental Americas cruiserweight title so people still rated him!
There was also a loss in 1983 to Dwight Muhammad Qawi on a split decision. It was their third contest and whilst nobody would have it way up there as one of the big trilogies of the Twentieth Century it is notable because of the ways in which these contests were decided.
The last by split decision, the middle one lost by majority decision 2 years earlier! The trilogy had been set up in 1978 when Davis had won by split decision against him over 6 rounds. It would appear that anything above 6 rounds against Qawi was just too difficult!
Qawi was to go on and fight and win the cruiserweight title against Spinks and then lose it to Evander Holyfield so given one win and two losses this kid appears to have been better than average and more than you could handle in a square ring!
Contact the Feature Writers