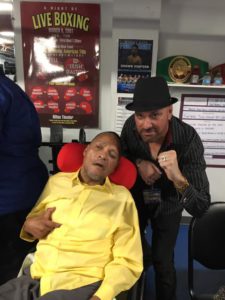 By "Bad" Brad Berkwitt
The word legendary today in sports and entertainment is truly overused and not the case!
However, in the case of this three time champion in three different weight classes from Junior Welterweight, Welterweight and Junior Middleweight winning his first title at the age of 17, the word "LEGENDARY" is spot on!
In my 44 years around boxing from being a fan, to fighting as an amatuer and covering it through my articles, interviews and The "Bad" Brad Berkwitt Show I feel Wilfred Benitez was the greatest defensive fighter I have ever seen in the ring!
His Boxing IQ was off the charts…
So to see him in this state, breaks my heart and is why, I will never tolerate anyone calling a fighter a "Bum"….
"El Radar" we the boxing fans salute you Champion for the many thrilling bouts you gave us!
This picture was taken last night at Vince Hudson's 2019 Chicago Boxers Reunion at Montell Griffin's Windy City Gym in Chicago…
#Fuggedaboutit
#TheBadBradBerkwittShow
Contact the management team