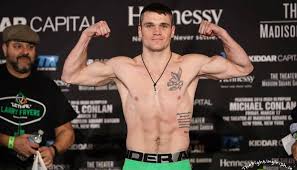 By Anthony "Zute" George
Lethal Larry Fryers is a significant reason why I will never give up on boxing. His story is much greater than his record, 11-1, KO, although his record is more than respectable. Larry is the consummate professional who respects the sport and all those around him. His hard hat approach comes as natural as a Sonny Jurgensen spiral, and so far, that has paid fantastic dividends for him. Fryers was born in Ireland and now resides in New York.
Fryers has always been matched tough, and he has never been one to shy away from a challenge. If you ever speak with Larry, you will know that the best fighting the best is always on his mind. Indeed, that is a noble motto, but not always the most advisable. This is why most people advised Larry not to fight Charles "Mr. Hollywood" Natal back in December of 2017. But Larry believed in himself, and fought the highly touted Natal, defeating him in a flawless six-round decision. Such a stellar performance should have put Larry on the map immediately, however, in this sport we call the sweet science, often the people around you could ruin even the most gifted of pugilists.
Larry's management team was that of a shipwreck, leaving Larry to fend for himself. Larry explained that being your own manager is not any fun, as valuable time is taken away from the essentials, such as training. Larry found out that negotiating in front of a computer could be mentally draining, an extra headache in a sport of many migraines. Therefore, when Larry Fryers signed with Vinny Scolpino and Vic Weinstein, it was like Mia Wallace getting an adrenaline shot from Vincent Vega. Everything you hear about Scolpino and Weinstein suggests they are the epitome of good boxing managers. They have changed Larry's career.
Upon signing with his new managers, Fryers landed a fight right away on the undercard of a substantial Top Rank Boxing card in Madison Square Garden; the main event featured Terence Crawford and Amir Kahn. Fryers was matched up tough against southpaw Dakota Polley, which is typical. Fryers won in what was the best fight of the night, which is typical. In his last match, Larry tasted the canvas twice in the first round against Bryan Abraham, a replacement fighter with dynamite in his hands. Fryers bounced back late in round one and proceeded to take Abraham out in round two. Ever the classy professional, Fryers went out of his way to make sure that the fans gave Abraham a resounding ovation for his efforts.
Larry Fryers' next test is this week at the Madison Square Garden Theater on September 13th. Once again Larry is matched up tough on a high-profile card.
Wesley Ferrer might indeed be Larry's toughest opponent to date. Ferrer, a Brooklyn resident, with a record of 13-1-1, 7 KO's, is a pugilist who did not start boxing until the age of fourteen, a more advanced age than what is typical. Wesley went on to have a solid amateur career, winning the Daily News Golden Gloves Championship in the process.
Like Fryers, Wesley has hard some hardship in his career. He had a draw with Will Madera on the same card that Larry excelled against Natal and suffered his first loss in his very next fight against Steven Ortiz, as he dropped a majority decision. Ferrer's blemishes cannot be attributed to a lack of talent, however. As he has a plethora of talent. Wesley can box, he can fight, he has fast hands, and he likes to switch stances. If he can put it all together, he can be a contender. A win over Fryers would be his second in 2019, and, among other benefits, a major confidence builder. This makes this fight so intriguing; it is matching up two talented guys who cannot afford to lose. The fans certainly cannot lose with this one.
A fight of this nature would only be seen by the eyeballs of those who purchased a ticket to see it in the arena, in years past. Thanks to fantastic streaming services, such as DAZN, boxing fans will be able to feast their eyes on some hard, honest, pugilism. Indeed, Larry Fryer and Wesley Ferrer square off on a card that is loaded with fight of the night candidates on September 13th.
When I asked Larry to comment on this fight, he said, "It's going to be all action, from my side anyway, may the best fighter win." Typical Larry Fryers.
It should be a great fight. If you cannot get to the Madison Square Garden Theater, make sure you catch it on DAZN.
Stay tuned…
Contact the Feature Writers