[AdSense-A]

Loading ...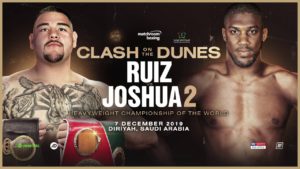 By Rich "Lite It Up" Lopez
In the buildup for the first fight between Andy Ruiz, JR and Anthony Joshua, Ruiz was telling everyone he was going to win the fight and many hardcore boxing fans knew he was a live underdog. Many boxing fans felt Joshua was the best heavyweight in the division which is why he was a big favorite in the fight and many expected him to win easy. Andy Ruiz was a late replacement for Jerrell Miller, because Miller failed a drug test. Ruiz made the most of the opportunity and put the boxing world on notice. He scored one of the biggest boxing upsets of the year back on June at Madison Square Garden in New York. He went out there and stopped Anthony Joshua in the seventh round. By doing this, Ruiz won the WBA, WBO, and IBF titles. Most importantly, he became the first boxer of Mexican decent to become a heavyweight champion, which was a big achievement.
Since the victory, Ruiz has become a huge celebrity and is now famous. He is almost recognized anywhere he goes. Ruiz has definitely made the most out of his success and is enjoying the moment. For Joshua, it's his first loss and now we will have to see what he is made of. Since a rematch clause was in place, there were a lot of negotiations where the fight will take place. After some going back and forth between all the parties, the fight will land in neutral territory at Diriyah in Saudi Arabia on December 7th. This week both fighters got together for a three country press tour to promote the fight and made stops in Saudi Arabia, New York, and London. The Ruiz Vs Joshua rematch is being called Clash on the Dunes.
Now that the stage has been set, what should we expect in the rematch?
Did Joshua take Ruiz lightly in the first fight? Joshua said that Ruiz beat him fair and square in the first fight but most recently he stated Ruiz caught him with a lucky punch. As we know in boxing, there is no such thing as a lucky punch. Ruiz simply beat up and dominated Joshua. Joshua's big moment in the fight was when he dropped Ruiz in the 3rd round, but Ruiz took the shot well and got up. Joshua should not make any excuses and should get himself well prepared for the rematch. He should be hungrier this time around. A second loss for Joshua can be a major setback for his career.
As for Andy Ruiz, he should train harder and be in better shape. I'm sure he knows this as he expects a more dangerous Joshua the second time around. Ruiz has stated he wants to keep the belts and look to remain as a champion. Ruiz does not want to make the mistake of taking Joshua lightly otherwise he can become another Buster Douglas. If you remember Buster Douglas shocked the world when he defeated Mike Tyson in 1990 but his heavyweight championship was short lived. Douglas was on top of the world for eight months and then he was knocked out by Evander Holyfield. Douglas did not take the fight seriously and was out of shape.
There can be different outcomes for this fight. I do believe Joshua will be better prepared for this fight physically. Mentally? That we are not sure of as Joshua was stopped for the first time and we don't know how he will come back. Styles make fights and I truly believe that Ruiz has Joshua's number. My prediction for the fight will be that a healthy and mentally well prepared Andy Ruiz should stop Anthony Joshua once again in the rematch in the mid-rounds.
So what do you think? Repeat for Andy Ruiz or Revenge for Anthony Joshua?
Contact the Feature Writers