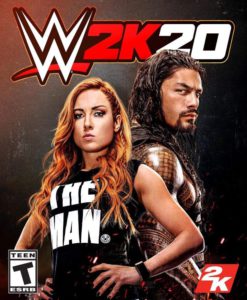 Leati Joseph " Joe" Anoa'i more commonly known by his ring name Roman Reigns is an American wrestler, actor, and former football player. He is a member of the famed Anoa'i wrestling family and is currently signed with the WWE.
The Big Dog is the cover star of WWE's gaming series, Roman shares the cover with Becky Lynch.
In this edition of the WWE video game, players can create a new player or take a WWE superstar and journey with them.
The 2k Towers edition will have a unique set of matches, have different challenges and would allow many modifications.
The game will follow Roman Reigns' journey through his early days in the WWE, which will include his shield days, and his battles with John Cena, The Undertaker and Brock Lesnar and more.
Players will get to live out all the important matches Roman Reigns has been a part of and will journey with him to the top of the WWE, they will win championships and be a part of all the key elements of roman's journey.
The Special feature will be a live-action introduction from Roman Reigns himself before every match.
After it was announced that Roman Reigns will be the cover star of the game, Roman Reigns said " As a gamer myself, being on the cover of WWE 2k20 alongside 'The Man' Becky Lynch and joining the likes of Dwayne " The Rock" Johnson and John Cena is a huge career and professional milestone for me.
All the matches Roman Will be a part of are:
● Roman Reigns and Seth Rollins vs. Team Hell No
● Roman Reigns vs. Randy Orton
● Roman Reigns vs. Daniel Bryan
● Roman Reigns vs. Big Show
● Roman Reigns vs Bray Wyatt
● Roman Reigns vs. Sheamus
● Roman Reigns vs. Triple H
● Roman Reigns vs. AJ Styles
● Roman Reigns vs. Rusev
● Roman Reigns vs. Braun Strowman
● Roman Reigns vs. The Undertaker
● Roman Reigns vs. John Cena
● Roman Reigns vs. The Miz
● Roman Reigns vs. Samoa Joe
● Roman Reigns vs Brock Lesner
● Roman Reigns vs Drew McIntyre
WWE 2k20 will release on Tuesday, October 22, you can pre-order the game now to avail special features.