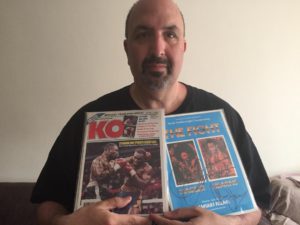 By Anthony "Zute" George
For those boxing fans who grumble about how nobody fights each other anymore, they must not be aware of Shawn Porter. Porter has made a career out of being in tough fights and has always come to fight. At the very least, we should all acknowledge and appreciate that in the present day. Porter will face his toughest challenge September the 28th against Errol Spence, JR. A fight that I think he gets knocked out in, but will no doubt be a tough out.
Speaking of Errol Spence, JR., could someone tell me how it is possible some people do not appreciate this kid? Indeed, he was a no-win situation against Mikey Garcia, but he dominated that fight from start to finish. If you remember Spence, JR. went to foreign territory to defeat a tough Kell Brook; who earned a tough victory against Porter. Somehow, people do not remember that. To watch Errol and to not recognize him as a great talent is just not in keeping with reality. With that said, he can only be special is he tests himself against the best of his day. He takes another step in that direction Saturday night.
Speaking of great talent, exactly who is Terence Crawford fighting next? We know he is set to headline a card December 14th at Madison Square Garden, but who will be serving as the B side? None of the options seem appealing. Egidijus Kavaliauskas is who I am hearing will be the chosen one. Egis is a nice fighter, but he does not pose much of a threat for Terence. While Crawford might be the best fighter today, he cannot keep having these nobody cares fights. I know I should not say that given recent events, but how many Otto Wallin's does Top Rank really think they have up their sleeve?
Speaking of December 14th at Madison Square Garden, we do know that Richard Commey is slated to defend his IBF lightweight championship against Teofimo Lopez. This is a wonderful match up that should produce a heavy dose of fireworks. I am not sure why this is not going to be a main event; as it is scheduled to be the co-feature of the Crawford showcase, but let us not quibble about that.
So, here we have two cases of today boxers trying to fight the best and unify belts, as the winner on December 14th is believed to be fight Vasyl Lomachenko the next time out for the unified lightweight championship, and the aforementioned fight between Spence and Porter will partially unify the welterweight title. Yet all I see on social media is how these guys do not want to fight each other and there are too many champions. Yet, not that long-ago Crawford unified the 140-pound division, Usyk unified the cruiserweight division, a portion of the light heavyweight division should be unified soon, and, save for some of its financial woes, the WBSS have been a great vehicle for matching up champions. On the contrary, when I started watching boxing, when there was only the WBA and the WBC, the only undisputed champion was Vito Antuofermo. A few came after that, but none, with the exception of Marvelous Marvin Hagler and Michael Spinks, held on to that prestige very long during that era. But we will never let facts get in the way of a good old man groan.
Speaking of Vito Antuofermo, here is a guy who, in my opinion, won more rounds against Hagler than any fighter I saw, certainly more than Leonard and Duran, defeated Emile Griffith, Deny Moyer, Eugene Hart, Bennie Briscoe, Willie Warren, and the pesky Hugo Corro. Certainly, a guy who represented his era with pride. You know, the same most great champions in any era do. Which is all they can do.
Contact the Feature Writers