Loading ...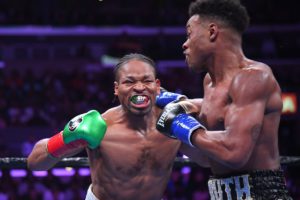 By Vinny "Glory Days" Lucci
Sifting through the debris from fallout of last weekend's firestorm of welterweight unification match where Errol Spence, JR. left the Staples Center double belted is an arduous task as the war of attrition was a win/win for boxing. Nobody felt cheated, not even the Shawn Porter camp.
If you were hibernating on board a luxury cruise ship in middle of Atlantic and out of internet range Spence, JR. raised his record to an unblemished 26-0, 21 KO's while adding the WBC title to his IBF belt while leaving Porter in the rearview mirror. There was no rematch clause.
Premiere Boxing Champions hosted on FOX Sports PPV haven't released the tally yet but are hopeful they surpassed the 300+ thousand buys it did with Errol's last defense against Mikey Garcia. Both champions entered ring on equal bank accounts being guaranteed 2 million dollars
apiece plus percentages. The winner would have the added luxury of staying aloft the PPV world where there is scant room for enough champions to flourish.
This was without question the hardest fight of the year to score and will be up for consideration for "fight of the year" candidate. One judge had Porter ahead by 115-112 margin while the other two went 116-111 for Spence, JR.
Ringside Report had the fight even after 10 rounds going five rounds each. The game changer came in round 11 where Errol was able to get some extension on his left hook and dropped Shawn like a tripod on glove and one knee. In slow motion the replay showed a hideous jaw contortion that fans adore as the punch strafed its target with military precision. This gave the IBF champion a two point lead going into final round. While Porter continued to fight gamely he clearly was off his momentum and allowed his adversary to add yet one more decisive point giving him a three point lead.
While Porter's fan base may be fooled into thinking he out worked Spence, JR. they need to revisit the fight without the urgency of live action. Errol threw 745 punches to Shawn's 744! The deciding factor was Spence landing 44% at 221 punches landed against Porter's 25% at 172 landed. In Errol's last fight against a shell shocked Mikey Garcia he threw over 1300 punches. This time around Shawn as expected withdrew his plan to outbox his opponent after the first round and got inside the pocket hoping to go for broke on every exchange winning new fans in the process.
By smothering Errol's punches and clinching inside the gates he successfully negated the necessary leverage Spence, JR. needed for his game changing missiles but in the process of fighting in frenzy he kept himself off balance as well missing three out of every four punches thrown.
Both men easily made weight the day before yet still were ripped and looked like true welterweights when they entered the ring. In some parting shots Porter took full credit for promoting the bout and pumping up PPV numbers. Spence, JR. in typical unfazed fashion suggested it didn't matter as Shawn was now off the PPV radar. Prefight conference where Shawn boasted he would shock the world and win by KO, Spence drolly said, "You fight like your drowning and don't know how to swim."
What's next for both boxers is still tantamount to pure speculation. Porter asked for rematch at final post fight press conference and let his muddled voice die off with the shutting down of microphones. Surprisingly both fans and media aren't demanding a sequel when bigger game prevails. It was hoped that WBO champion Terence Crawford would get the winner but he seriously is unrealistic about the promotional waters in which he navigates. His promoter Bob Arum of Top Rank is a selfish sort and likes to promote from within his own stable and has been known for decades of being difficult to work with. He happily promoted Manny Pacquiao into corners with rematches against Juan Manuel Marquez and Tim Bradley and allowing unknown Jeff Horn to dictate terms where Manny was forced to fight in Horn's native Australia and was robbed in hometown decision. In between were unnecessary bouts against the likes of Brandon Rios and Jessie Vargas. It is unlikely that Arum will allow the unification before he cashes in with some easy defenses orchestrated by WBO first regardless of Terence's best intentions to make bout happen.
Pacquiao who holds the WBA title has always been game to tangle with anyone and recently removed Keith Thurman from his cherished belt at 40 years of age. He has expressed interest in making fight with Errol a blockbuster in 2020 and now is also aligned with PBC promotions. Errol knows with two belts and proper connections he is now in driver's seat and intends on making Crawford wait. On a personal note as a fan and scribe who has witnessed Manny give his heart and soul to the game I'm hoping he picks an easier foe to ride off into the sunset against and retires as an active champion.
Enter Danny Garcia. The former champion literally entered the picture after scorecards were read to announce publicly he wanted next honor at challenging for Errol Spence. JR.'s twin belt collection. While there was talk of Danny fighting Mikey Garcia at 147 pounds the bout was never signed. This one is a no brainer for Spence, JR. camp as Danny's best days were at Jr. welterweight and is terribly flat footed for a boxer whose moniker is "Swift." After fighting the perpetual motion of fireplug Porter, Garcia's offense will look like slow motion allowing Errol the precious punching room he was denied against Shawn. Again, since he is also promoted under PBC promotions it's just a matter of preparing contract.
The Vinny Factor:
The other side of coin has Shawn Porter still bursting with pride and in need of a new mayhem dance partner. Had he been the one who dropped Spence, JR. in the 11th he might have bragging rights to demand rematch but now must face reality check. Porter hasn't stopped any welterweight of note since talented Paulie Malignaggi five years ago. He then lost his title to Kell Brook in his next defense and allowed Adrien Broner, Adrian Granados, Keith Thurman, Danny Garcia and Yordenis Ugas to all go the 12 round distances with a loss to Thurman and a highly questionable win over Ugas.
No longer in position to bargain and once again without a title Porter becomes a high risk low reward adversary because of his windmill style of leading every combination with his forehead. The rematch both he and Thurman need to once again climb back into title contention is against each other.
Kenny Porter has done a superb job of getting his son into pristine fighting condition but has failed him miserably on basics. Shawn could benefit immensely from a second trainer who could get his left hand jabbing inside and out of pocket while breaking the horrible habit of squaring up inside the same real estate making him prone to balance issues where he tends to throw arm punches because of it. Porter has a huge middleweight frame and should be using his shoulders, not his head as body armor. Learning to turn his opponent into punches inside the trenches could be all the game changes this hell cat ever needs. Watch a video of the great Roberto Duran taking on the bigger Iran Barkley and you can envision how rough Shawn is around the edges for such an accomplished fighter.
Stay tuned the best is yet to come.
Contact the Feature Writers