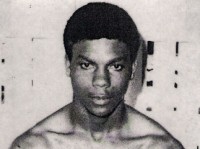 By Donald "Braveheart" Stewart
Growing up in Scotland Africa had an exotic ring to me. I never thought I would ever visit but occasionally we had visitors from that beautiful continent to our shores. As a child I was taught not about the truth of the United Kingdom's shameful colonial past but the myth of its glory. There was, literally, a whitewashing of that history for our young people.
It left a distant relationship between us and the continent that infected our views over years until we grew up enough to be able to question things. That superiority of thought from which we managed to eventually escape, made the occasional African fighter an enigma. Whilst racist South Africa was a pariah, we sought to "help" former colonies to achieve greatness because we thought we were doing them some good though we still thought that we were the better in the relationship, through the development of the Commonwealth.
Sometimes though, they didn't need our help.
Patrick Ford, 19-4, 12 KO's, was one such boxer who emerged as the man most credited with putting Guyanese boxing on the map.
His professional debut was in April 1976 against Roy Smith, and he continued until his retirement in May 1987 with a win against Albert Browne by unanimous decision. In a sense boxing was in his family as his brother, Reginald, was to represent Guyana at the 1980 Commonwealth Games in Nigeria in boxing.
His pro career started well enough at home in Guyana as well as in Nigeria and Trinidad and Tobago with no fewer than 16 straight wins. His first real battle with the sport must have come in 1979 when he fought Cecil Fernandez and subsequent to that fight, Fernandez died as a direct result of injuries sustained in that fight. It happened just after Ford had won the WBC FECARBOX title against Enrique Solis.
Ford didn't stop but went on in 1980 to win the Commonwealth featherweight title, against Eddie Ndukwu in Ndukwu's home country of Nigeria, before presenting himself on the 13th September 1980 for the first of two world title fights. Held in San Antonio, Texas, Ford was in the ring with Salvador Sanchez who beat him by majority decision.
In 2007 talking to Scoop Malinowski he spoke of both his world title fights. Of the first he remarked, "Sanchez was a tremendous fighter. I would say an all around fighter. He was known as a legend, prior to me fighting him (in September 1980 in San Antonio, Texas)… I had already fought for four titles and won all four of them… I was ranked #5 in the world with five fights. I was Guyana champion, Central America champion, British Commonwealth champion and the Caribbean champion… They did not really respect me because I did not fight here.
I fought in Africa, but I never had a fight in America. What is surprising is I used to train in America and go to Guyana to fight. I used to train amongst some of the best fighters, Cubans, in Miami. I was at the Fifth Street Gym. So when I went to fight Salvador Sanchez, the odds were 45-1. My first sparring that week it went down to 10-1. At fight time it was even – Sanchez didn't have no odds over me. Plus, I didn't think he could beat me. If you look at that fight, I beat Sanchez for at least nine or ten rounds. I know I won them rounds, I don't know how they took them from me. And I went there to prove our country, even though I was the first Guyanese to fight for the world title, we gonna have people coming behind me. It was history. It was a historic event. I was 24, he was 21. We had a good fight. I'm sorry about what happened to him but we never know the future." Sanchez died in an automobile accident in Mexico and many thought Ford won that first fight and it is hard to argue with them, Ford was excellent in that ring.
Of the second, in that 2007 interview when he fought Eusebio Pedroza in Panama on the 14th February 1981, when he was seeking to win the WBA featherweight title and there was no love lost that Valentine's Day, but it was also no massacre, he told his interviewer, "The Pedroza fight was an error. I told my managers that I was really going to lightweight, the full lightweight. And they say okay. And so I start to operate like a lightweight. And then they come back with Pedroza and I have to lose 13 pounds in six days. Now I didn't know this. For me to lose 13 pounds I had to purposefully lose about 24 pounds, for me to lose 13 pounds. Because as you know, you lose four pounds, then you put on two or two and a half or three. And I have to lose so much. And it got to me. By the third round I was tired. I fought him 13 1/2 rounds. And then the exhaustion tool me out. But I proved I can come to Panama, in your homeland, in your country, in your house, and fight you. I wasn't scared of nobody."
Undoubtedly, he was the best boxer Guyana ever produced. Like so many boxers the era in which he boxed did not suit him totally as he got world title fights against two guys seen by some – not all – as two of the greatest Featherweight boxers ever. Ironically given where we are now, he was also unfortunate that there were only two world titles over which to fight!
Ford then lost his next two fights, retired, came out of retirement in Guyana, won three fights but never saw himself box outside of his home country again. Winning his last few fights was enough and when he retired the first time he did so because of a broken hand, whilst his return was clearly not to get back to the heights he had managed before.
His second retirement was spent in the gym as he trained boxers at Gleason's Gym in Brooklyn thereafter, having migrated permanently in the 1980s.
In 2011, aged only 55 years old, following a heart attack, Ford died of complications and left the gym for good. His world title attempts may have got the attention of the hard core boxing fan but for the Guyanese people, Ford will remain a hero for the way he managed to put their flag in a ring, their anthem in arenas and the sport of boxing on the curriculum of their hearts. He may never have won a world title, but he put Guyanese boxing on the map and under the Golden Arrowhead, pointing the way for many others to follow. On his death the President of the Guyana Amateur Boxing Association (GABA) Steve Ninvalle commented that he idolized Patrick Ford, remembering Ford as "fearless and as the epitome of a good fighter."
Contact the Feature Writers