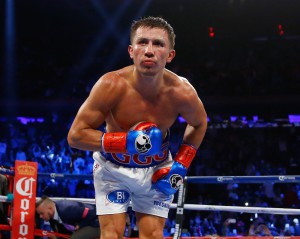 By Anthony "Zute" George
Gennady Gennadyevich Golovkin, "GGG", has been at the top of the boxing world for a long time. In that time, he has shown us that he is willing to be a fighting champion and has showcased supreme power during his reign. However, lately, there have been questions that this great middleweight has been slowing down, or even being at the end. Now, do not get me wrong, I firmly believe "GGG" defeated Daniel Jacobs and Canelo twice; the fact that only one out of six possible scorecards read in "GGG's" favor in their two fights is a boxing travesty that has been swept under the rug, like so many others over the years, but the question that Golovkin may not be the same is a valid one. His last fight with Steve Rolls was not a good measure to answer that question.
"GGG's" lack of crunching power in those three fights are most alarming, it appeared that after he knocked Jacobs down, his ability to hurt a top tier fighter was sapped from his impressive toolbox. Indeed, virtually all fighters' knockout percentages take a dip when they step up the opposition, but in "GGG's" case it is glaring. And odd at the same time, because when a fighter takes a step to that other side of their career, the power typically stays with them. George Foreman is a prime example. Roberto Duran was a fraction of a shell of himself when he faced Ray Leonard for the third time, but he still possessed enough power in his right hand to open up Ray's face in that fight. And, if Nigel Benn is going to go through with his comeback at 55 years old, does anyone think his great power will remain retired?
"GGG", however, is a complete fighter and he out skilled Canelo in both fights, he just got shafted on the scorecards. But if GGG wants to stay on top, he has to be able to hurt his opponents too. On October 5th at Madison Square Garden, we will get a taste of what GGG has left, as he faces a tough opponent. Sergiy Derevyanchenko is not only a challenge for phonics, but he is also more than capable of defeating a "GGG" who is not on top of his game anywhere. He will prove tough even if "GGG" still has plenty left in the tank. Sergiy sports a record of 13-1, 10 KOs. His one loss was a split decision to Daniel Jacobs. The contest is for the vacant IBF middleweight title, the fight can be seen on the DAZN streaming app.
There is much more at stake for "GGG" than just another championship, however. He needs a dominant performance to stay relevant. It appears the third fight with Canelo is not on Golden Boy's agenda, but there are plenty of other options for "GGG" to be relevant and earn substantial paydays. At age 37, just how many of those paydays remain for the future Hall of Famer? He has to first get passed a very tough Ukrainian fighter to focus on the next step.
Stay tuned…
Contact the Feature Writers