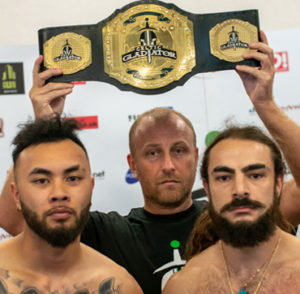 Bash Entertainment | CXF
Liam Letoi vs. DavidRoberts
Bash Entertainment | CXF
Krzysztof Kulak vs. Christian Aguilera
Bash Entertainment | CXF
Michael Quintero vs. John Pottero
The OFFICIAL WEIGH-IN took place today for tomorrow's CELTIC GLADIATOR LOS ANGELES professional MMA show at Burbank Marriott Events Center, located on 2500 N. Hollywood Way, Burbank, CA 91505.
Here are the OFFICIAL WEIGHTS:
David Roberts 178
vs. Liam Letoi 178
Christian Aguilera 174.6
vs. Krzysztof Kulak 173.6
Selah Williams 177
vs. Daniel Hernandez 179.4
Artur Arutyunyan 125.6
vs. Ali Nazari 125
Michael Quintero 230.6
vs. John Pottero 254
Celso 125
vs. Lance 125
Moudy 155
vs. Bejzian 155
Tickets to CELTIC GLADIATOR can also be purchased at the venue the day of the event.
All bouts are subject to change.