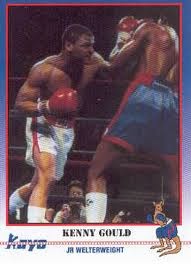 By Daniel "The Boxing Guru" Sisneros
Kenny Gould was an outstanding amateur boxer who won the Bronze medal at the 1988 Olympic games. He opened his professional career on Dec. 3, 1988 with a 2nd round technical knockout over 20 fight veteran Harlen Holden. He ran his record to 16-0, 8 ko's before losing his first fight against Anthony Bryant. He avenged that loss with a unanimous decision victory in his next fight. He was victorious in his only World title attempt stopping Derrick McGuire in round 10 to win the vacant IBO Welterweight title.
Kenny's last pro bout was a win against David Gonzalez (35-2-1) taking a unanimous 10 round decision. A shoulder injury finally put a halt to the career of this talented boxer. Gould finished with a winning record of 26 wins, 2 defeats, winning 15 by knockout.
Purchase Dan's Hit Boxing Book Mat Tales: True Stories From The Bizarre, Brutal World Of Pro Boxing by Clicking the Image to ORDER it Now.