[AdSense-A]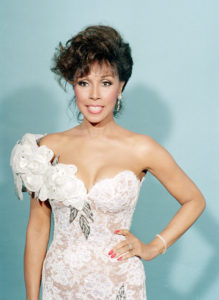 By Geoffrey Huchel
Ringside Report is sad to announce the passing of Diahann Carroll, the actress and TV trailblazer who broke barriers as the first black woman to star in a nonservant role in a TV series, after a battle with cancer, in Los Angeles.
She was born Carol Diahann Johnson on July 17, 1935 in the Bronx, NY. Aside from her TV and film career, Carroll starred on the Broadway stage, in shows such as the musical House of Flowers (1954), No Strings (1962), Agnes of God (1983), Sunset Boulevard and A Raisin in the Sun (2014). In 1962 she won the Tony Award for Best Performance by a Leading Actress in a Musical for No Strings, making her the first black woman to win for that category.
She rose to stardom in performances in some of the earliest major studio films to feature black casts including CARMEN JONES (1954) and PORGY AND BESS (1959). Her other film credits include GOODBYE AGAIN (1961), THE SPLIT (1968), CLAUDINE (1974) and EVE'S BAYOU (1997). She earned an Oscar nomination for Best Actress in a Leading Role for her performance in CLAUDINE.
Carroll was cast in JULIA (1968). The groundbreaking series is notable for being one of the first series to star an African American woman in a non-stereotypical role. Carroll played Julia Baker, a young woman working as a nurse and a widow (her husband died in Vietnam) trying to raise her young son. Carroll won a Golden Globe for Best Female TV Star for her performance. Carroll's extensive TV credits include THE ELEVENTH HOUR (1962),THE LOVE BOAT (1977), ROOTS: THE NEXT GENERATIONS (1979), SISTER, SISTER (1982), THE COLBYS (1985), DYNASTY (1981), A DIFFERENT WORLD (1987), TOUCHED BY AN ANGEL (1994), STRONG MEDICINE (2000), GREY'S ANATOMY (2005), and WHITE COLLAR (2009).
Contact the Feature Writers