[AdSense-A]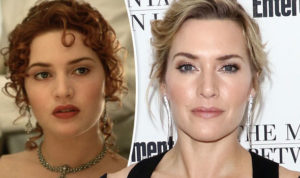 By Geoffrey Huchel
Happy Birthday, Kate Winslet!
Ringside Report would like to celebrate Oscar winner Kate Winslet's birthday by looking back at her career and some of the amazing performances she brought to the screen through her dedication and depth to each character.
Kate Winslet was born on October 5, 1975 in Reading, Berkshire, England into a family of actors. Both her parents and grandparents were involved in stage and theatre work. Kate became interested in acting at a young age and she followed in her family's footsteps, appearing in the stage productions Nativity, Alice's Adventures in Wonderland, The Lion, The Witch and The Wardrobe, Peter Pan and The Jungle Book.
Winslet made her mark in the 1990s making her film debut playing a teenage murderess in Peter Jackson's HEAVENLY CREATURES (1994). She received high praise for her performance, leading to the role of Marianne Dashwood in the drama SENSE AND SENSIBILITY (1995), also winning rave reviews and her first Oscar nomination. Another high-profile role for the actress was Rose DeWitt Bukater in the blockbuster disaster drama TITANIC (1997). The film gained her international fame and another Oscar nomination.
Throughout the 2000s, Winslet's career continued to flourish. She starred as a young Iris Murdoch in IRIS (2001), earning another Oscar nomination. She starred opposite Johnny Depp in the drama FINDING NEVERLAND (2004). The same year she starred opposite Jim Carrey in ETERNAL SUNSHINE OF THE SPOTLESS MIND, earning another Oscar nomination for her portrayal of Clementine Kruczynski. She also starred in the romantic comedy THE HOLIDAY (2006), the drama LITTLE CHILDREN (2006), and reunited with her TITANIC costars Leonardo DiCaprio and Kathy Bates for the powerful drama REVOLUTIONARY ROAD (2008), earning another Oscar nomination for her brilliant performance of April Wheeler. Winslet finally won the Oscar for Best Performance by and Actress in a Leading Role for her portrayal of Hanna Schmitz in THE READER (2008).
In recent years Winslet turned in memorable performances for the HBO miniseries MILDRED PIERCE (2011), for which she won a Golden Globe, the comedy/drama CARNAGE (2011), LABOR DAY (2011), DIVERGENT (2014), INSURGENT (2015), THE DRESSMAKER (2015), STEVE JOBS (2015), WONDER WHEEL (2017) and THE MOUNTAIN BETWEEN US (2017). Look for Winslet in BLACKBIRD (2019) and upcoming AVATAR 2 (2020).
Contact the Feature Writers