Loading ...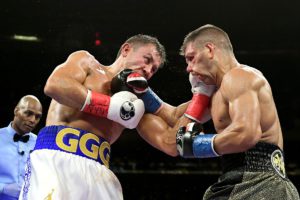 By Anthony "Zute" George (At Ringside)
Photo by Steven Ryan/Getty Images
On a night that was desperate for some good ol honest competition, because the rest of the card reeked of gross mismatches due to overly safe matchmaking, Gennady Golovkin and Sergiy Derevyanchenko slung leather, in a fight of the year candidate, in front of a raucous Madison Square Garden crowd, as well as for millions of fans watching on the DAZN streaming app. The results were not as popular as the contest, however, as "GGG" won a close, but unanimous decision, scorecards read 115-112 (twice), and 114-113 for Golovkin. Ringside Report scored the fight even at 114-114 apiece.
Golovkin looked good early, knocking Sergiy down in the first round and having a sharp second round. For a while, it looked as if the fans were in for another quick, one-sided fight, although this time it would not have been because of soft matchmaking. But the tide turned in Sergiy's favor in round three. He began ripping "GGG" with solid shots both upstairs and to the body. Sergiy swept rounds 3-5 on Ringside Report's unofficial scorecard. Round six was a tough round to score, as two out of the three judges scored it for Sergiy, but "GGG" began, as well as closed the round well. Derevyanchenko had a strong middle stanza of round six. Round seven was another tough, close round, although all three judges gave it to "GGG". Rounds eight and nine were split by the judges as well.
Round ten was a solid candidate for round of the year. Sergiy was rocking "GGG's" world with hard hooks, but "GGG" fought back well in spurts, at the close of the round, the Madison Square Garden crowd was ballistic. In what some may feel might be an odd decision, judge Frank Lombardi scored round ten for "GGG". It did not appear the comeback moments "GGG" had were enough to secure that round for him. Round eleven was a clear Sergiy round, and round twelve was won out by Golovkin, a good comeback round for him after eating a whole lot of leather in rounds ten and eleven.
The fans loved and appreciated both fighters when the bell sounded but did not have as a joyous response when the decision was announced. It was a close fight with at least four difficult rounds to score. Such a fight will have varying opinions and will typically be a split decision. On this night it was unanimous for the house guy; therefore, it is natural, but not necessarily warranted, that the R-word was all over social media after the fight.
The true story of this fight was that both guys are made to last. "GGG" has a cast-iron chin, and he desperately needed it on this night, while Sergiy has great convalescent powers. Not only did he have to respond all night to "GGG's" thudding power punches, but he also had to deal with a nasty cut on his right eye that he suffered in round two from a butt. There was a conference call between Sergiy and the medical before virtually every round after he suffered the cut.
There are no losers in this fight, an overused cliché, but on this night that cliché fits like a glove. A boxing glove, as both men represented this great sport proudly. Any other narrative on this fight may suggest you missed the point of this great sport. The card was bill as The Big Drama Show, and there was plenty of it in this main event. So much so nobody should mind if they do it again. With the victory, "GGG" improves to 40-1-1, 35 KO's, while Derevyanchenko falls to 13-2, 10 KO's.
In other action, Israil Madrimov stopped Alejandro Barrera at the 2:36 mark of round five. Madrimov impressed with his power, as well as his ability to switch from orthodox style to southpaw. He knocked the game but outclassed Barrera in the first round from the righty stance, with a short, crisp left hook; but switched to southpaw shortly after and remained in that posture for the majority of the fight. At power, Barrera's power shots were not finding their mark from the southpaw stance, at least not as well as when he fought righty. However, by the fifth round he was pot shotting his opponent while fighting southpaw. Madrimov improves to 4-0, 4 KO's and should be one to reckon with in the 154-pound division, but we will only learn more about him once he faces better competition. Barrera falls to 29-6, 18 KO's.
Ivan Baranchyk showed he belongs on the top tier of the 140-pound division, as he had a dominant showing against Gabriel Bracero. Baranchyk dropped Bracero in the fourth round, and the bout was halted at 1:30 of that round. Baranchyk improves to 20-1, 13 KO's, while Bracero falls to 25-4-1, 6 KO's. Ivan's only loss was to the superstar Josh Taylor, who is on a slightly higher tier than most 140-pound competitors.
It took Ali Akhmedov, 16-0, 12 KO's only 44 seconds to stop Andrew Hernandez, 20-8-2, 9 KO's in a Super Middleweight fight.
Brian Ceballo, 11-0, 5 KO's, disposed of Ramal Amanov, 16-1, 5 KO's at the 1:20 mark of round three. Ceballo is a rising star, who brought a whole lot of fans to cheer him on. He should be ready to face next level competition in his next fight.
In a middleweight fight Kamil Szeremeta 21-0, 5 KO's punished Oscar Cortes 27-5, 14 KO's for virtually every second of their fight. It was mercifully stopped at the :45 second mark of round two.
If one just read Marcus Delgado's, 6-1, 5 KO's, TKO victory over Joseph Ward at 1:00 of the second round, they would put it at the top of the upset of the year list; Ward was making his pro debut, after having a fantastic amateur record. However, Ward's loss was attributed to a knee injury he suffered in the fight. The official decision was that Ward suffered from a self-inflicting injury, warranting a technical knockout win for Delgado. Lou DiBella, Ward's promoter, balked at the decision and he plans to appeal it on Monday, as he feels the decision should be changed to a no-contest because the injury occurred within four rounds. DiBella could be heard telling ringside reporters, "The kid was dominating, his knee gave out."
In a super middleweight fight, Nikita Ababiy 7-0, 6 KO's faced off against Isiah Seldon 13-3-1, 4 KO's. Ababiy fought as if he had the car doubled park out on the busy Manhattan streets, as he took out Seldon at the 1:45 mark of the opening round.
Contact the Feature Writers