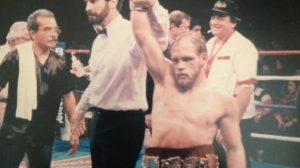 By Donald "Braveheart" Stewart
With a nickname like "The Bulldog", you might have expected that he would embody the true English spirit of Churchill, the man with whom that dog is largely associated with, but this guy was as Canadian as they come.
Scotty "The Bulldog" Olson, 34-4-2, 25 KO's, was an active flyweight between 1990 and 2002. A Gold Medalist at flyweight at the 1986 Commonwealth Games in Edinburgh – one of the poorest organized and promoted in Commonwealth Games history. Olson was then one of a highly successful group of amateur Canadian boxers when he almost got a medal at the 1988 Olympic Games in Seoul but lost at the quarter final stage to the guy who went on to win silver – Michael Carbajal – no disgrace there.
This is story of chance coincidences.
The fight against Carbajal in the Olympics was the first of two fights they had; Olson got his chance of revenge in the professionals. Unfortunately…
He began boxing after having tried out at a number of sports but his height – he never got above 5 foot – meant he was not seen as a future champion in any of the sports he found himself decent enough in. It was a chance meeting at a shopping mall in his hometown of Edmonton with the Canadian lightweight Al Ford which set him on the pathway of pugilism.
Once he retired Olson then went on to train All Ford's son – another coincidence. Asked about working with Ryan, Al's son, Olson remarked to an interviewer, "Ryan Ford contacted me and asked me to help him out. What a blessing that was. This kid wants it. He wants it so much. He has a wonderful wife and two beautiful kids. He trains so hard and listens to things that I say. I refine things for him and know for a fact that I am an asset. It has been a nicer feeling to be part of somebody else's success. It has been more satisfying than any wins I have had."
A wonderful sentiment and one that he had to work hard to get for himself. In another interview, sometime later, he reflected upon how he broke the news that he wanted to become a boxer to his mother, "It wasn't just no. It was 'hell no'. If you are a mom and you have a son who has limited athletic ability, the last sport you would let him try is boxing."
It was not an opinion that was to last as his family soon realized his seriousness and the ability that, despite his size, he possessed. The support he got encouraged him to miss school lessons to improve his technique and his prowess, spending hours on the bag rather than in lessons. When his mum found out she was less than impressed. Scotty and his mom made a deal; he would go to school, and she would support his boxing career.
In 1985, when he was only 17 years old, he was spotted by legendary Canadian boxing coach, Russ Anber. It was Anber that gave Olson his nickname which stuck beyond his amateur career and well into his professional one.
Professionally he was to find greater success as he went on to become the IBO world and USBA champion in his time in the ring. He was also for many, including us over here, the face of Canadian boxing, though he never paid us a visit in the UK.
Of course, people can associate the fair country of Canada with Lennox Lewis, Razor Ruddock and now brown facing Prime Ministers but in an amazing career, Olson was the guy most thought represented them at home and abroad.
He turned professional in and his first fight, against David Long in Indianapolis he won on points; his `last in 2002 when he lost the Canadian super bantamweight title fight against Steve Molitor, at home in Edmonton when he got stopped in the 5th round.
In between Olson became the IBO champion at flyweight from 1994 when he won it against Roger Espanola in Edmonton to 1998, after defending it in 1995 against Jorge Luis Roman – on points, keeping it in 1996 when he fought Jesus Zuniga – ended up a technical draw, then once again keeping it in a draw against Rudy Idanjo when the score cards gave him a draw by split decision.
In 1997 he got the chance to avenge his Olympic defeat to Michael Carbajal but lost when he was knocked out in the 10th round in a battle at light flyweight for the IBA title. Things had come full circle for him but he was just unable to get it over the line in terms of revenge.
In 1997 he was back at the Convention Centre in Edmonton to stop Jack Russell for the IBO belt. It as retained one more time in 1998 when he stopped Luis Aberlardo Briones in the 3rd round.
Olson then had a 3 year lay off, perhaps due to a back injury he got in the latter years of his career but when he came back he won once and then in the fight for the Canadian super bantamweight title lost when stopped in the 5th round.
For the whole of his career, not unlike many professional boxers, weight was an issue. He would claim that at time he was so drained that he fought at close to only 40% of his capacity. If he had gone a weight up we can only imagine… That back injury was one more in a list as he had broken his hand four times and been in surgery with it six times!
In 2015, Olson was due to face his biggest foe as he awoke in the early hours, ill. Just how ill was to become obvious as he collapsed, his heart and his breathing stopped. His wife and the kids came to his rescue, the kids being sent to call the emergency services, Fiona, his wife being
instructed on how to keep her husband alive. Thanks to the 911 operator talking her through things Scotty was in good enough shape before the ambulance and team arrived to shock him back to life twice in the house and twice again in the ambulance itself. Olson two stents put into his blocked arteries before ending up in a coma for three days. We are used to hearing of boxers after a fight ending up in a coma, but here was a retired fighter ending up in a comatose state.
At the age of 47 Olson miraculously awoke with all of his abilities intact, considering he was without oxygen for 15 minutes, apart from his memory of what happened! Fortunately, the memories he has left the Canadian public with, have lasted long into the warmth of knowing you had a championship boxer who was as big a little guy as the biggest of guys waving their flag, with the courage to win titles, bring home medals and make his people proud.
Contact the Feature Writers