Loading ...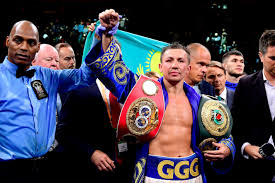 By Vinny "Glory Days" Lucci
Every wave that crashes violently on the shore goes back out to sea as meek as a lamb. Sometimes boxing matches end on same peripheral where the carnage was so intense heading to final bell that the silly need for braggadocio and scream of rematch would just be hallow echoes.
Last Saturday night Madison Square Garden was temporarily transformed into the Roman Coliseum as fans were privileged to witness a truly rare display of gladiators fighting hurt in a desperate bid to deny each other victory. The combatants Gennady Golovkin and Sergiy Derevyanchenko waged war within the confines of ring with both fighters' futures at stake.
When the unanimous decision was read aloud with scores of 115-112 (twice) and 114-113 for new IBF Middleweight champion Golovkin there was a cross current orchestration of cheers mixed with boos, yet every eye witness conceded the outcome was razor thin and could have gone either way. My scorecard had the bout for Golovkin 115-112 with sympatric ear to fans who whined it could have been a draw.
In capsule the first round Gennady took a commanding two point lead with a knockdown and followed up the second by opening a sickening Frankenstein like gash of Sergiy's eyebrow. The third belonged to the former champion as well having pressed forward landing the better power punches of round.
Derevyanchenko storms back winning the next three rounds by getting in close and finding a place for his jab on Gennady's forehead and then mixing up a brutal body attack that showed "GGG" grimace perhaps for first time in his career.
Round seven went to Golovkin in an evenly contested battle of wills but his adversary looked worse for wear after eating several overhand rights that left his eye seeking attention from ringside physician. Round eight again goes to Golovkin as Derevyanchenko keeps coming forward after being rocked backwards by power punches. If you are scoring alongside, you don't award rounds for taking punishment with style.
Just when it appeared that Gennady was once again setting pace his Ukrainian tormentor dug deep and stormed back sweeping next two rounds with nonstop effective aggression which had this scribe wondering why the hell "GGG's" once feared body attack had once again abandoned him. It was nonexistent in two bouts with Canelo Alvarez but rediscovered last time out against Steve Rolls four months ago leaving the Canadian face first on canvass and down for the count in the fourth round.
The eleventh round once again saw a swing in both tempo and control as Gennady summoned the inner strength if not experience to keep Sergiy off balance and in self- preservation mode reestablishing command of the ring. The tempo now reduced to a sluggish pace as war of attrition had taken much out of both warriors.
In the twelfth round finale Golovkin's established proper distance to making his punches more accurate outside the pocket as both men desperately tried to summon a free spirited knockout punch on unsteady legs. Just before the final bell rang Golovkin got off two meaningful uppercuts which put exclamation mark on the round.
Immediately afterwards both boxers were too arm weary to hold their arms aloft in symbolic victory as this turned out to be more "big drama show" than Golovkin was counting on. It's not that the media underestimated Derevyanchenko but many wondered aloud if Golovkin at 37 has forever crossed over into the grey zone that eclipsed his prime.
After a long illustrious run as middleweight champion he has regained a belt raising his record to 40-1-1, 35 KO's going 21-1-1, 17 KO's in title fights. Derveyanchenko saw his modest record drop to 13-2, 10 KO's going 0- 2 in title fights.
The aftermath produced some amusing post fight press comments as the air about the dais lingered with both praise and venom as Sergiy's promoter Lou DiBella of DiBella Entertainment insisted that Gennady is an all-time great but was clearly beaten 8-4 in rounds and claimed he was not being biased in scoring. Lou, don't quit your day job! To even whisper that it was that one sided for challenger is delusional. DiBella asked for an immediate rematch if Canelo Alvarez trilogy didn't materialize siting his boxer deserved it on merit as if this was the Boy Scouts. What he never explained is what strings he pulled to get Sergiy a fight with Daniel Jacobs for vacant IBF title with a ledger of only 12 bouts without a contenders name upon it. After suffering a loss to Jacobs how the hell did a close decision win over a boxer named Jack Culcay earn his protégé' another crack at vacated IBF belt? Inquiring minds want to know.
Manager Keith Connolly responded to the loss as if decision was on par With Wilfredo Gomez over Rocky Lockridge back in 1985. He dismissed the knockdown and cut with middle school inspired excuses. I suppose it's to be expected as the team was hoping on cashing in on Gennady's age factor fearing the window has now passed or heaven forbid might actually have to earn his next title shot.
Of honorable mention referee Harvey Dock was almost an invisible man controlling the war zone without making his presence known. Sergiy's cut man Mike Basil also did an outstanding job of controlling the horrific mutilation on eye lid that sent Derevyanchenko to hospital immediately after bout for what will surely be forty plus stitches. The New York State Athletic Commission determined incorrectly that cut was from an accidental head butt. Replays in slow motion revel it was a left hook with mean intentions that caused the wound.
Punch stats supplied by "Compubox" had the Golovkin landing 243 out of 720 thrown. Derevyanchenko landed 230 out of 738, but did manage to land 47 more power punches than the winner. That translates to Gennady making Sergiy miss 508 punches compared to him missing 477.
Gennady acknowledged his adversary was as tough as expected and said he had a bad day albeit he thought he controlled bout. He went on to answer proposed question if he was still interested in third fight with Alvarez after Canelo walked away from signed contract with an emphatic yes. His promoter Eddie Hearn of Matchroom Sport was total class in focusing on the win and refusing to take the bait at the negativity thrown in the winner's direction.
Golovkin's laid back trainer Johnathon Banks said he knew the bout would unfold like Arturo Gatti Vs Micky Ward but the plan was to use movement to control the ring. He voiced displeasure in his charge taking unnecessary punishment and said that was not what they trained for. His failure to redirect Golovkin on a different course of action like pivoting behind steady jabs, going to body more frequently or tucking his forehead behind his gloves left me wondering if perhaps this isn't a match made in heaven and someone more notable like Virgil Hunter or Teddy Atlas might be better suited for Golovkin's last run at closing out hall of fame career.
Stay tuned, the best is yet to come…
Contact the Feature Writers