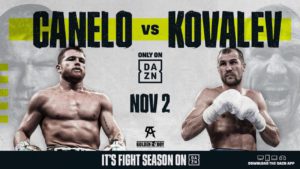 By Vinny "Glory Days" Lucci
Robert Frost once penned in a 1920 poem, "Some say the world will end in fire, some say in Ice," while contemplating the rapture. Eerily many boxing matches over the last century have evoked the same chilling speculation of mythic proportions as to whether which of the two combatants could override the scales of fate bringing forth a cataclysmic destruction of the other.
The Event:
On November 2nd Kathy Duva and Oscar De la Hoya from Main Events and Golden Boy Promotions respectively will promote the second WBO light heavyweight defense of Sergey Kovalev as he prepares to take on the formidable challenge of Canelo Alvarez at the MGM Grand Garden in Paradise, Nevada. Event to be hosted on DAZN live stream subscription service and surprisingly there isn't a catch weight or rehydration clause.
The Stats:
The champion originally hails from Kopeysk, Russia, and now resides in Fort Lauderdale Florida. Known as the "Krusher" for his heavy handed power the orthodox boxer stands an even 6' tall within a lean frame yielding a 72" wingspan. With a ledger of 34-3-1, 29 KO's this will be Kovalev's third fight under the tutelage of the venerable Buddy McGirt whose job it is to get the champion more serious about his training camps and stretch out his boxing abilities when he tires or is hurt. Sergey is 15-3, 12 KO's in title bouts at 36 years of age.
The challenger needs no introduction the world over and has become the poster boy for boxing. Currently the WBC Middleweight champion having been recently stripped of his newly won IBF belt for failure to defend against number one contender Sergiy Derevyanchenko aims for bigger game. The reckless WBC has made a proclamation anointing Canelo Alvarez it's "franchise champion" allowing him to bend their rules as he seems obsessed with becoming a Mexican Legend on par with his countrymen's immortals rather than just being the people's champion. The orthodox fighter stands a bullish 5'8" with a 70 ½" reach and is known as a murderous body puncher with an iron jaw. His ledger reads 52-1-2, 35 KO's but has a storied history of steroid use in the past and by pleading guilty served six months of a one year suspension. At 29 he has spent half his life in the ring having turned pro at the implausible age of 15 in the Guadalajara region of Mexico.
Previous Bout:
The champion just defended his title in August against hard hitting mandatory contender Anthony Yarde at the Traktor Sport Palace in Chelyabinsk Russia stopping his inexperienced challenger by KO in the eleventh round. Yarde had the champion out on his feet in the 8th round but failed to produce the stoppage allowing Kovalev to catch a second wind. Sergey boxed well throughout keeping the puncher off balance but ate several grenades along the way.
The challenger last fought in May at the T-Mobile Arena in Paradise, Nevada in a unification match with IBF champion Daniel Jacobs winning a an uninspired UD that easily could have been a draw or swung the other way by a point. Never in the bout did Canelo fight with the same sense of urgency that he had in his previous two bouts against WBA super middleweight champion Rocky Fielding and WBA/WBC middleweight champion Gennady Golovkin.
Styles:
Kovalev is a stand up boxer in classic Eastern European style that comes forward flat footed on nimble footwork. He retreats in same fashion using a heavy stick for a jab to establish both space and pace within the round. He is heavy handed in both mitts for this era but does not wield the same kind of one punch power that Archie Moore, Michael Spinks and Bob Foster possessed. His lantern jaw was once thought to be made of iron but recently has shown some chinks as well as an inability to absorb brutal body blows.
Regardless of his social status among both media and fans Canelo is the most improved established boxer over the past year after long being thought of as a flat footed counter puncher with lethal power in either hand. His ability to get inside the pocket and unleash two fisted body blows has served up thirty five picturesque knockouts. Along with rival Gennady Golovkin his uppercut is best in the business while both chins are made of Kevlar. His trainers Eddy and Chepo Reynoso have upped his game adding more lateral movement, punching angles and speed making him a more complete fighter than thought possible.
Vinny Factor:
One can consider the Vinny Factor like the homily after the gospel as we try to delve behind the murky boxing scene to bring as much clarity to the handicap as possible. Since this fight was signed there has been a huge backlash of fans amid scores of internet sites vocalizing how much they would love to see Kovalev take Alvarez down off his Asgardian throne simply based on the perception he has become a pampered Prima Donna whose promoter protects him in and out of the ring.
Oscar De La Hoya and Bernard Hopkins of Golden Boy Promotions would have you believe that their golden goose is preparing to tackle boxing's Mount Everest in the guise of jumping yet another division and calling out light heavyweight champion Sergey Kovalev. Nothing can be further from the truth. Fact is Canelo has entered ring at 175 pounds or more ever since 2005 and confirmed by Jim Lampley on now defunct HBO Boxing. So much in fact that Alvarez had it written into contract that his official ring weight could not be disclosed to public.
His last two opponents were taller and bigger men. It's no secret that Daniel Jacobs rehydrates into a cruiserweight while Rocky Fielding stood and inch taller than Kovalev and had a 5" reach advantage.
Add to the exaggerated equation that at 36 years of age Kovalev is well past his prime regardless of recapturing his belt and hasn't appeared super human since stopping Jean Pascal four years ago. Consider he allowed himself to be manhandled, bullied and fouled into submission in rematch with Andre Ward in 8th round two years ago. Last year he lost his belt for a second time against Eleider Alvarez by TKO in seven after it appeared he simply ran out of gas after cruising on auto pilot first six rounds. Add Anthony Yarde to the trifecta in his last bout where he was one punch away in round 8th from losing title a third time.
When Canelo enters the pocket he will focus on the body and begin to chop down the tree. Trainer Buddy McGirt will then implore Kovalev to box and move on old legs that got him into trouble in the first place. Abraham Lincoln was once quoted, "Give me six hours to chop down a tree and I'll spend the first four sharpening the ax." The words of wisdom apply. For too many years Kovalev did not make best use of former trainer John David Jackson who the champion told me in an interview (Archive Vinny's Views: November 8, 2016) that Jackson pretty much allowed him to do whatever he wanted to do, give advice and work the mitts. That whimsical devil may care attitude has most likely short changed the champion when he needed to dig down from within the confines of his own soul and resurrect victory from the jaws of defeat. A motivated Alvarez will come on like a chainsaw with the singular purpose of making Sergey's third reign as ephemeral as the second.
What to look for Fight Night:
After an entertaining first half Canelo will shift into a higher gear the moment he senses Sergey short of breath or cramping up. The less the champion can extend the jab and circle ring the more likely he will be stopped.
Fight Significance:
"A." While the timing may be right for Alvarez to social climb his way to a first round entry into Boxing Hall of Fame it still none the less is an intriguing matchup of stars, styles and intangibles.
Odds:
Vegas early odds have installed Canelo Alvarez the favorite at -450 with Sergey Kovalev at +325
RSR Prediction:
Canelo Alvarez by S.O.S. (stoppage or scorecards)
Aftermath:
This time around the aftermath is really an afterthought. Should Sergey Kovalev upset the Golden Boy Promotions applecart it will send shockwaves throughout the boxing universe that would dwarf the upset of Andy Ruiz, JR. over Anthony Joshua even though the odds aren't nearly as long. In that case scenarios look for De La Hoya to pull out all stops and demand an immediate rematch. If Alvarez becomes the WBO light heavyweight king don't expect a rematch or a fight with winner of October 18th title unification between rivals Artur Beterbiev and Oleksandr
Gvozdyk any time soon.
Stay Tuned…
Contact the Feature Writers