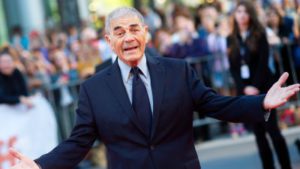 By Geoffrey Huchel
Ringside Report pays tribute to Oscar-nominated film and TV star Robert Forster. The prolific and beloved actor died Friday at his Los Angeles home after a battle with brain cancer. Forster starred in the Quentin Tarantino flick JACKIE BROWN (1997), earning an Academy Award nomination for his role as bail bondsman Max Cherry.
Forster was born on July 13, 1941 in Rochester, New York. In his early years, Forster completed his Bachelor of Arts in history in 1964 at the University of Rochester. After initially intending to study law, her decided to become an actor. Forster's career has spanned five decades in over 100 TV and film productions.
His television credits include NYPD (1967), BANYON (1971), NAKIA (1974), POLICE STORY (1973), MAGNUM, P.I. (1986), HOTEL (1987), JAKE AND THE FATMAN (1987), MURDER, SHE WROTE (1984), WALKER, TEXAS RANGER (1993), REAR WINDOW (1998), FASTLANE (2002), KAREN SISCO (2003), HEROES (2006), BREAKING BAD (2008), DIVORCE (2016), and TWIN PEAKS (2017).
His film credits include REFLECTIONS IN A GOLDEN EYE (1967), THE STALKING MOON (1968), JUSTINE (1969), PSYCHO (1998), ME, MYSELF & IRENE (2000), MULHOLLAND DR. (2001), LIKE MIKE (2002), CHARLIE'S ANGELS: FULL THROTTLE (2003), SURVIVOR (2015), LONDON HAS FALLEN (2016),and ACTS OF VENGEANCE (2017).
Forster's final role was in EL CAMINO: A BREAKINGBAD MOVIE (2019), reprising the character of Ed the "Disappearer" from the BREAKING BAD series. The movie was released on the day of his death.
Ringside Report sends our condolences to the Forster Family in their time of grief.
Contact the Feature Writers