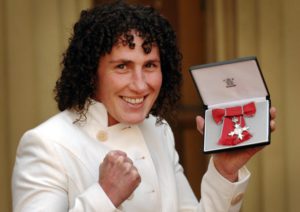 By Donald "Braveheart" Stewart
"I wish I hadn't been the first in the boxing … I've been damaged." 5 -time world champion boxer, Jane Couch MBE, 28-11, 9 KO's, in 2019, quoted in an interview with the Guardian Newspaper.
"…many women suffer from premenstrual tension which makes them more emotional and more labile and accident-prone. They are too fragile to box and they bruise easily." Bernard Buckley the British Boxing Board of Control' s solicitor in fighting Jane Couch's right to box.
Once granted her right to box, it was then claimed by the British Medical Council that this was a "demented extension of equal opportunities."
There is something about having a book out – particularly an autobiography that gets you a whole load of publicity. For Jane Couch, this is one woman who deserves not just the attention without a book but also the respect of us all.
There are a number of female boxers in the UK and Ireland – Katie Taylor, Nicola Adams and Terri Harper – who owe more than they can explain to the former world champion. Her legacy is such that when Nicola Adams won Gold at the London Olympics in 2012, she referenced Couch. In order to legitimately fight in her own country Couch took the British Boxing Board of Control to court. By doing so she blazed a trail and is one that she wishes she hadn't.
This is not because she regrets fighting to win the right to box. It is not because she regrets that she fought for women's rights. It is because she was damaged in that legal process and it hurt on the inside far more than it did on the outside.
When she began her boxing career, in the United Kingdom, Couch was shunned and mocked in equal measure in the media.
By the end of her career we at least did something to try and right that wrong as we awarded her the MBE (Membership of the Order of the British Empire in 2007) for services to boxing. The road to such an award and recognition was long and tough. She won that court case way back in 1998. What made it worse was that she was already an internationally famous boxer, feted by the USA and throughout Europe but at home, she was nothing more than a freak. She was glorified in fights, fighting in front of thousands across the globe but in Britain, shamefully, we shunned her.
She came late to the game and started boxing at 26, after a teenage career of being involved in the wrong type of fighting. Her debut fight lasted until the second round when in Wigan, clearly under the radar she beat Kalpna Shah. There were another three fights in the UK before the
exile and the long road back.
By her fifth fight she had won the WIBF light welterweight title by beating Sandra Geiger of France on points in Copenhagen in Denmark – she couldn't fight in the UK legally. Before that fight she trained for nine months and had to spar with men like Glenn Catley and Dean Francis.
In that Guardian interview she remarked, "They were all good with me but they still hit me. They'd be no good to me if they didn't. They taught me to fight back when you're hurt."
In a number of interviews to promote her book, as well as in print, the gulf between her battle and that of her opponent was never more so obvious than the fact that the president of France had turned up to present the French fighter with the belt after the fight. Couch's win scuppered that!
We had a new world champion and what did we do? Ignored it – no word in the written press, no radio coverage and no pay per view deals imminently tabled; she made about £200.
She then had to go to New Orleans to defend it. With what? Pennies and dimes? She got to New Orleans after her recovery from the fight with Geiger after which a broken jaw, shattered cheekbone, fractured eye socket, cracked ribs and a missing tooth had to heal. She defended with Angelo Dundee and Matthew Saad Muhammad in her corner. It was the beginning of friendship with boxers that endured. Marvin Hagler, Lennox Lewis, Frank Bruno, Ricky Hatton and now Tyson Fury have been vital in her sanity.
She defended against Andrea DeShong with a 7th round stoppage, then in Mashantucket 5 months later against Leah Mellinger on points. In October 1997 she was to lose the title against Dora Webber in Lula on a split decision before re-matching and losing on points in Atlantic City. It must have been a dark time for her.
She dreamed though of coming home to Britain and making a defense. She dreamed of winning a world title against anyone in her hometown of Fleetwood or close by at the mecca of all things lit up, Blackpool. Couch was discovered by a couple of lawyers, Sarah Leslie – who died of breast cancer aged 42 – and Dinah Rose. They took on her case and brought her home. They completely beat up the Board in a courtroom because they were seriously underestimated and patronized; even disgracefully slurred and attacked.
Couch won and thought the fight was over, Dinah Rose knew differently. They had won on the basis that as a double world champion, the Board were stopping her trading rather than on the basis of sex equality. Rose told Couch after the victory, "'I don't want to tell you this, but your fight's just beginning."
Couch continued to be ridiculed but now people knew where to find her. She ended up on daytime TV on the end of phone ins about her being a freak. She ended up in her boxing gear alongside people dressed for an occasion.
Her real career saw her back in the ring in 1999 to fight twice for world titles. Firstly, in February she beat Marischa Sjauw on points for the IBF super light and WIBF light welter titles. In October she got her lightweight title back and the WBF version against Sharon Anyos. In 2000 she put both on the line against Galina Gyumliyska and won by stopping her in the 6th round. She was now fighting in the UK and winning, defending titles at home. She lost the WIBA super lightweight title by being knocked out in 2002 in Waco against Sumya Anani, got the WBF light welterweight title in a points win against Borislava Goranova and retained it against Brenda Drexel in 2003.
Couch's toughest fight was against Lucia Rijker in Los Angeles in 2003 when Couch got through ten tough rounds with a perforated eardrum before it ended in a loss but a massive amount of respect gained.
Her title hunt was not over – in 2004 she beat Jaime Clampitt for the IWBF super light title on points, then defended it again on points in a rematch.
By 2005 things were not going so well and being beaten for WBC and IBA lightweight titles in Lemoore by Jessica Rakoczy by being stopped in the 6th round in July, the WBA and WIBF super light titles in Paris against Myriam Lamare by being stopped in December and then in 2007 losing to Clampitt in Mashantucket on points when fighting for the IWBF super lightweight title which saw the slowdown gaining momentum. 2006 was the year Holly Holm beat her on points for the IBA super lightweight title and all told that was a fantastic career with so many world title fights that anyone should be proud. And pretty well off. As we say in Scotland, aye right…
Her last fight was stopped when she took on Anne Sophie Mathis in 2007, on the 8th December.
She formally announced her retirement about a year later; in 2016 she was inducted into the Women's International Boxing Hall of Fame in Fort Lauderdale. In between then and now she has battled her own issues of mental health and panic attacks, making these public now to try and help others. Selfless is not a word, nor a sentence, but something that Couch embodies. She now takes the medicine, talks in therapy and listens to others. It's a story of some courage and one which all Olympians could do with referencing. Couch was a pioneer. Perhaps the British Boxing Board of Control owe her more than a vote of thanks…
Contact the Feature Writers