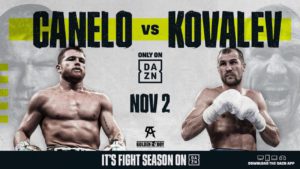 By "Bad" Brad Berkwitt
On November 2, 2019 at the MGM Grand in Las Vegas Nevada, current WBO Light Heavyweight Champion Sergey Kovalev, 34-3-1, 29 KO's will defend his title for the third time in 2019 which is very impressive for a current day champion. He takes on multiple belt holder in various weight classes, Canelo Alvarez, 52-1-2, 35 KO's, who is moving up to light heavyweight.
Is this a case of taking on too much by Canelo? Like maybe the bigger man almost always beats the smaller man? Knowing Oscar De La Hoya, he will have his "Golden Goose" come fight night with every advantage he can going in! If only Oscar promoted like he fought, but after all these years, we will never see that out of him!
Kovalev for sure, has the power edge, but Canelo is the all-around better boxer. If Alvarez stays away from the power of Sergey, has a very good chance of taking a points win. If he can't, we may see for the first time Alvarez stopped.
Leading up to fight night, Canelo's odds continue to get slightly worse according to SportsBettingDime.
After opening at -450, he's down to -380. If this trend continues, there will be value on Alvarez in short order. While a little slower than he used to be, he'll have a significant speed advantage over the heavier Kovalev.
He's also never been stopped and always receives favorable judging in Las Vegas. Canelo will land at a higher volume and take this fight by decision.
This no doubt will be a very interesting fight…