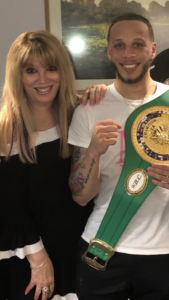 By "The First Lady of Boxing" Jackie Kallen
It's always great when you can write about something—or someone—close to your heart. Mykquan Williams, an incredible prospect at 15-0, 7 KO's is exactly that. I'm proud to say that I manage this outstanding young man and I believe in my heart that he will soon follow in the footsteps of Thomas "Hit Man" Hearns and James "Lights Out" Toney and add the title "World Champion" to his name.
I first met Mykquan when he was a 14 year-old amateur. I was at a banquet in Connecticut when top trainer Paul Cichon introduced me to Mykey and said that one day he'd be calling me about this young man. Sure enough, shortly before Mykey turned 18 and decided to go pro, Cichon called and I flew back there to sign him to a contract and join what was to become Team Williams.
Soon after, we signed a promotional contract with Lou DiBella and the journey began. Along with Hector Rosario and Alexis Figueroa in the corner, we began to develop Mykey's career. His pro debut was at Foxwoods Resort, where he has fought most of his fights. He has built a strong following there and is a crowd favorite. His nickname is "Marvelous" and he has proven to be every bit of that.
It helps to have a gifted trainer like Cichon. Not only is he a great teacher, he is an equally good person. He treats his fighters like family and is a pleasure to work with. As a fight manager, it makes my job much easier when I can work with a trainer like Cichon. Team Williams is a well-oiled machine.
A beloved face in the Hartford area, Mykey is active in the community. He has given away backpacks to kids before the school year begins two years in a row, and is a solid inspiration and role model to young people everywhere. At only 21 years old, he has a long prosperous career ahead,
With a solid 45-13 record as an amateur, Mykey was a 5-time National Champion. He made the transition to the pros seamlessly and is now headlining cards. He has so far won the WBC USNBC Silver super lightweight belt and the WBC USNBC super lightweight belt. He is now ranked #5 in the USBA.
Thursday night in Brooklyn, Mykey takes on his toughest test so far when he fights Tre'Sean Wiggins, 11-4-2, 6 KO's in the main event at the Generoso Pope Athletic Complex. Wiggins is a scrappy competitor who comes to fight Mykey is prepared to hand Wiggins his first loss after Wiggins has won 6 out his past 7 fights. I can't see anything or anyone stopping the "Marvelous" Mykquan Williams train.
The next few fights after this one should have Mykquan fighting in the national spotlight and climbing in the world ratings. It is such a pleasure to watch this young men progress and take every step up the ladder. He has the three most important ingredients: Innate talent, discipline, and heart. Add loyalty and dedication to the package and you have what it takes to become a world champion.
I am honored and blessed to be a part of Team Williams.
Contact the Feature Writers