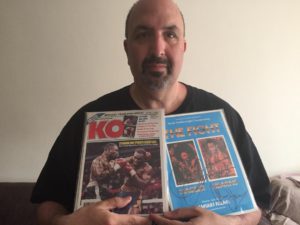 By Anthony "Zute" George
It is never easy when a boxer loses their life as a result of injuries sustained in a fight. Patrick Day is indeed another one of those tragedies you never fully recover from. Personally, I never know what to say when someone passes, if I say nothing, it might be taken the wrong way, if I do say something, I am afraid it may just throw salt on the wounds that loved ones suffer from. And can words ever indeed be a healer? If they can, I am deeply sorry this happened to such a brave, fine young man, and my heart goes out to his family and friends.
Speaking of expressing words, whenever a boxer dies, it causes panic and scrutiny reigns supreme. Should boxing be banned? What can we do to prevent this from happening again? Valid questions that have some substantial responses. But, at the same time, we have to face the reality that boxing is a profession that will have people dying on the job. Much like a police officer and a firefighter, sometimes there is nothing you could do to prevent deaths from happening.
That is why we should respect boxers so much. A harsh reality that might be better off unsaid. But I take pride in trying to state what others might shy away from. Of course, unlike boxers, police officers and firefighters have pensions and certain financial protections for the loved ones they leave behind. But let us save that topic for another day.
Speaking of shying away, is everyone off of the Oleksandr Usyk Kool-Aid already? I would be the first to admit some of the ice cubes have melted after his underwhelming heavyweight debut. But we also have to realize that he is not going anywhere either. Also, Usyk was impressive in the sense that he beat up a guy he was supposed to, which does not always happen, and he did it in front of a packed, raucous crowd. Say what you want about Usyk now, the guy is still a ticket seller. We also cannot get too crazy about the quality of the opposition. At least I cannot because I have a rule to never criticize a fight that involves a replacement fighter. Fighters should never be expected to face a top guy when the boxer they were preparing for pulls out. If they do, great for us, but we should not expect it. If King Kong does not show up, Godzilla is not likely going to ask for Mechagodzilla, but that inferior giant crustacean instead, to save the date.
Speaking of heavyweight debuts, do we remember who Evander Holyfield faced in his? Yes, the most dominant cruiserweight champion ever laced up the boxing gloves against James "Quick" Tillis for his first heavyweight fight. Indeed, Tillis was once a formidable contender and will forever be the man who first took Mike Tyson the distance, but he was way on the other side of his prime when he fought Evander in 1988. Not many people were anointing Evander as the all-time great that he became after his heavyweight debut. So, is it too much to ask that we relax on Usyk a bit, and just let it play out?
Speaking of too much to ask, is it too much to ask that we have a unified heavyweight champion by next June? Also, if that ever happens, can we treat whoever the champion is with respect, like someone who really accomplished something difficult? Instead of regurgitating, these guys are nothing compared to the heavyweights of the past. Do you think that could be possible? Because if you indeed blurt out such nonsense, you are essentially calling these fighters bums in a non-direct way- to convince me otherwise, you must write a dissertation about how calling a fighter a bum, and saying they are nothing compared to the past, are not apples and apples. They indeed are. So, it is great to say we respect all fighters, but it means nothing if we do not really appreciate all fighters for what they do. Just saying.
Speaking of unified champions, what a great fight between Artur Beterbiev and Oleksandr Gvozdyk. Now, it is only a partial unification, but that does not take away from the fact that it was a great boxing match. A contrast in styles that fit like a glove for all to watch. When I saw it, I did not think that these guys were nothing compared to the great light heavyweights of the past. Instead, I thought of how great it was to see the tradition of that great division carry on. A division that has had a great history of all-time great fights. We saw another one on Friday night.
Speaking of the light heavyweight division, have I mentioned that it is my favorite division? It is a division where you can be a bomber, like Bob Foster, or a great boxer, like Harold Johnson. It is a division that has seen some great displays of heart, need I say, Matthew Saad Muhammad. It is a division that has seen great boxers become sluggers, see Eddie Mustafa Muhammad against Marvin Johnson, and sluggers rely on boxing skills, such as Sergey Kovalev's comeback win against Eleider Alvarez. It is a division that has seen all-time greats compete but never win a world championship such as Sam Langford, Gene Tunney, and Ezzard Charles.
It saw an awkward kid from Saint Louis, in Michael Spinks, become the first of its kind to win the heavyweight championship of the world, years later, converted southpaw Michael Moorer accomplished this same feat by defeating none other than Evander Holyfield for the heavyweight title. Then there was Archie Moore, a man who not only had one-hundred thirty-five knockouts, but he was able to persevere during a gross time of mob-controlled oppression. You know, the good ol' days. I can go on and on…perhaps another time.
Stay tuned…
Contact the Feature Writers