[AdSense-A]

Loading ...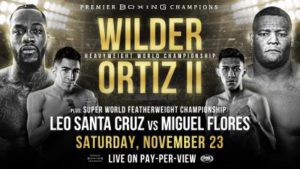 By Vinny "Glory Days" Lucci
Ralph Waldo Emerson once penned. "Once you make a decision the universe conspires to make it happen." John Lennon had an alternative vision immortalizing the lyrics, "Life is what happens to you while you are busy making other plans."
The Event:
On November 23rd Premier Boxing Champions presents undefeated WBC Heavyweight Champion Deontay Wilder defending his title for the tenth time against number three contender Luis Ortiz. This will be a rematch of their classic first encounter back on March 3, 2018 that ended with a 10th round TKO. The event will be hosted at the MGM Grand Arena in Paradise, Nevada, and shown exclusively on FOX Sports PPV.
The Stats:
Deontay Wilder is an American fighter from Tuscaloosa, Alabama, who sports an impressive undefeated record of 41-0-1, 40 KO's and fights from orthodox stance. At 33, he has an extraordinary physique standing 6' 7" tall with an 83" wingspan. Wilder weighed in for his last fight at 223 lbs. last May, but still resembles the forward basketball player he dreamed of being back in high school. His sobriquet of "Bronze Bomber" took a back seat to crowd favorite "Bomb Squad" after igniting audiences by shouting it after delivering one thrilling knockout after another. Only two opponents ever heard the final bell.
The challenger Luis "King Kong" Ortiz stands 6' 3" with a 78" reach. The southpaw boasts a handsome ledger of 31-1-0, 2 NC, 26 KO's. The two no contests were originally ruled TKO'S but both were overturned before Ortiz rose to prominence. Luis hailed from Camaguey Cuba and has been able to maintain title threat status at forty years of age. His record shows a workmanlike progression up the ranks where he fought the caliber of competition where he was favored to win yet was able to hone his skills. With the lone loss on resume courtesy of Wilder, Ortiz prepares to do battle with destiny as well as "Father Time".
Styles:
The champion at his best comes forward behind telephone jab seeking to launch a right hand cruise missile he has aptly named "Bomb Squad." When unleashed if it fails to separate his adversary from gravity he becomes the worst version of himself unveiling a sloppy amateurish aggression where his stance is squared up inside the pocket allowing every punch in his arsenal to become leathered slaps without his body weight behind it. Often he has broken his hands hitting incorrectly bending the wrist backwards instead of turning his punches over. He has also incurred bicep tears where he bragged it was because he punched with inhuman strength failing to realize that such an injury is very rare for a boxer and his condition was due to poor technique. What he does own which can't be measured until proven under the baptism of fire are not only a suspect chin but the heart and intestinal fortitude of an outstanding champion where he has denied 42 opponents the vanity of having their hands raised in victory. His will to win and the intangibles of self-preservation alongside greatness cannot be denied by even his sternest detractors.
The challenger fights from a southpaw stance and boxes to a comfortable rhythm where he doesn't challenge his own gas tank. Every facet of the game he does exceedingly well but there isn't a single attribute that stands out per say like the jab of Larry Holmes. One of the reasons he has been a gatekeeper of this era is the lack of bonafide talent in the division. At 40 he needs to step up the pace if he has any hopes of upsetting the odds. This is one fight where playing chess will not benefit the outcome.
Previous fight:
The champion looked absolutely sensational knocking out Dominic Breazele at the two minute mark of first round at Barclay's Center, Brooklyn New York back in May. The challenger matched the champion's height and reach but truly got under his skin with prefight predictions of knocking him out. His only previous loss was a seventh round TKO to then champion Anthony Joshua three years ago. The KO has become a highly recommended visit to YouTube for fans to behold as Wilder shot a lightning bolt of a straight right hand behind a wicked jab in the blink of an eye.
The challenger last fought in March at Barclay's Center winning a UD over rugged Christian Hammer in ten rounds. Two judges awarded Hammer a single round as Ortiz used the evening to keep active and rust off while keeping in the hunt for this rematch.
What to look for fight night:
The gentlemen are well acquainted and have tested each other's mettle with several swings in action. Last time between ropes Wilder saved his body the arduous punishment of a title fight by ending matters in two minutes of first round and reminded Tyson Fury fans why he is number one. He will wisely look to keep Ortiz and bay with his 5" reach and speed while changing up gears early and often.
Ortiz will characteristically box his way into the later rounds hoping to drag the champion into deep waters and drowning him late. If he gets his man hurt he must find a way to finish him as convincingly as the lesser known names on his resume.
The Vinny Factor:
There is more to be lost by indecision than no decision at all. In this clash of titans both combatants should be motivated to plan a course of action that is predicated on setting up the knockout. While most of fandom will admit to the challenger being the more complete fighter it is the champion who has had to deal with the most diversity weathering more storms and fighting better competition. Historically Wilder is more opt to produce a KO in later rounds so be prepared for an all action fight where Ortiz has his back to the wall with no promises of another chance at history.
Odds:
Vegas has installed the champion the favorite at -750. The challenger is listed at +525.
RSR Prediction:
Deontay Wilder is fast approaching his peak and has tightened up his defense and shortened his stance just enough to hide the nuances of previously looking vulnerable. If he is as focused as his last bout he will bring closure to the contest by KO in less time than it took twenty months ago when the betting public first smelled upset.
Aftermath:
Deontay Wilder has casually mentioned he won't be trading leather much longer. Waiting in the wings is the winner of December 7th rematch between WBA/IBF/WBO champion Andy Ruiz, JR. and former champion Anthony Joshua. There is also the resurrected train wreck Tyson Fury who is sidelined for now after suffering a tremendous gash on right eye brow from a left hook from unknown Otto Wallin last month in route to a UD. For now the media is in the dark about Fury's timetable to return. Beyond that ladies and gents Deontay simply has nothing left to prove after silencing most of his critics.
Should Ortiz pull off the upset the sky will be the limit for a trilogy with Wilder or unification with Ruiz, JR. Joshua victor.
Stay tuned…
Contact the Feature Writers