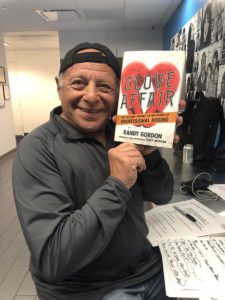 Exclusive Interview by Anthony "Zute" George
Commissioner Gordon is a title that is synonymous with DC Comics. However, for avid boxing fans, it is a phrase that is also identifiable with another special man. Indeed, Randy Gordon was also a very successful, as well as honorable, commissioner. Long before he took on the role of the New York State Athletic Commissioner, Randy G. was a boxer, a boxing journalist, a television announcer, and Editor-in-Chief of The Ring Magazine. Randy writes about his many boxing hats, as well as all the special relationships built on his journey, in his sensational book, Glove Affair: My Lifelong Journey In The World Of Professional Boxing. Randy stopped by Ringside Report for a chat about all his grand accomplishments.
Glove Affair is a book that has many insatiable boxing nuggets. Among them is The Commish's first-ever top-ten list ranking the best heavyweight boxers of all time. Randy tells of the origins of his list; as a young man discovering that the great champion Rocky Marciano died in a plane crash. Marciano's death brought great sorrow for Randy, but that tragic event also revealed some traits from Randy that would help him get to the top of every mountain he climbed- gumption and being proactive. How so, you ask? Read Glove Affair to find out.
Ringside Report will not reveal Randy's top ten all-time heavyweight's either-again, read the book. With that said, the top ten in Glove Affair is not Randy's actual top ten list. What's that you say? As Randy explained to us, "It is very close to being my top ten, but it is really not. It is the major mistake in the book because I was experimenting with a bunch of new word processing apps. When it comes to the apps, I am more or less a dinosaur, and they would ask me to send it to them in this format, and that format, and I was experimenting with a whole bunch of different lists. I was putting Muhammad Ali number one, and this guy number two, and that guy number three, and then I would take out one of those guys, and I would put in somebody else. And I actually sent off the wrong list to the publisher, and never caught it. The list that is in there is not my actual list. Close, but no cigar." Randy also explained that he plans to write another book, titled Glove Story, that will dedicate a whole chapter to various boxing lists, including the top twenty heavyweights of all-time.
When creating any boxing list, criteria should be meaningful and adhered to. For Randy's list of heavyweights, his criteria was as follows, "There was no real formula that I used. Yes, I will go with the records, but, to me, it's almost like eye candy, (for example) could the best of Joe Louis beaten the best of Sonny Liston? To me it is not just the records; it is, 'do I think the styles would have matched up,' As we know, styles make fights. I kind of put that fight on in my head."
During his career of working in boxing, Randy had a unique style that translated to a no-nonsense approach, but through a welcoming personality. This combination allowed him to build trusting friendships with some genuine boxing legends. Mike Tyson was one of those legends, and the chapters of Glove Affair that focus on Iron Mike are enthralling, must-reads. I asked Randy if we really saw the best Mike Tyson there was, or was that version of Tyson taken away from us do to all of the outside travesties attached to Tyson, "I think we saw a great deal of the best of Mike Tyson. The best that I think that he could be. In the Tyrell Biggs fight and the Carl Williams fight, we saw an incredible fighting machine. But the one question that we always had with all the fighters is, 'well, they can dish it out, but can they take it?' When Sugar Ray Leonard was coming up, they would say, 'well, he certainly has the foot speed and the hand speed, and the punching power, and the combinations, but what will happen when this Pretty Boy gets punched in the face, is he going to fold up? What happens if he gets cut?' Well, I think we saw this Pretty Boy reach way down, especially in the first Tommy Hearns fight…we found out that night what Sugar Ray Leonard was made of, I never thought that Tyson was made of the same thing," was Randy's reply.
Randy touches on a fighter's ability to come from behind, and how we never saw that crucial element from Mike Tyson. According to Randy, Tyson was the consummate front runner and never figured out how to be anything else, much like the classic game, Mike Tyson's Punchout, "If you remember the game, when you first started playing it, you couldn't beat that Tyson. But the more you played him, and the more you watched, you started realizing, 'well, don't do this, try to fight him like this,' and you would make the Mike Tyson Punchout go deeper into a fight, and once he went deeper into a fight, he'd fold up." Randy explained.
Before you get to the meats and bones of Randy's exhilarating page-turner, you are treated to one of the most original, yet simple, covers of all time with Glove Affair, "When I started to write the book, I said, 'I am going to call it Glove Affair,' I did not even have to stop to think about it. Then I started to picture two boxing gloves in the shape of a heart. I took two red boxing gloves that I had, and I placed them on the floor, I sent that picture to the art department… they did about six different covers, as soon as I saw this one (the one used), I said, 'that's it. That's the cover.'" While Randy had his vision for the book cover immediately, other very important people were not as convinced. "My literary agent and my attorney/agent hated it," Randy explained.
Eventually, the cover grew on them.
One idea that everyone seemed to love right from the start, was getting Tracy Morgan to write the foreword. "Tracy met Gerry Cooney a couple of years ago at a Knicks game," Randy explained, Gerry Cooney, of course, is Randy's great friend and co-host of the long-running SiriusXM radio show At the Fights, "Gerry invited Tracy on the show, so he came up to the studio, and because he is such a fight fan, he knew me, as if we had been friends for years. He came on the show many times.
I told him, 'I am writing a book that's just about done, and I didn't have a guy to write the foreword.'" Randy felt Tracy would be a great candidate to write the all-important foreword to the book, and with Morgan being a frequent visitor of At the Fights, he saw the perfect opportunity to ask him. "At first I thought he was going to say no, but he goes, 'are you kidding me? I would love to. I can tell you so many things about you.' I couldn't believe he knew so much about me." Tracy did such a fantastic job with the assignment that it brought Randy G. to tears when he first read it.
Randy was well prepared for scribing Glove Affair, as he had a great career as a journalist, which was his path to becoming the Editor-in-Chief of the historical, The Ring Magazine. Along with boxing historian Bert Sugar, Randy was at the helm during one of the most successful runs of the cherished boxing magazine. Randy's proudest piece as a writer, was one of true grit, "I wrote an editorial in 1985, called, Murder, Plain and Simple." Randy wrote the editorial the day he heard that boxer Billy Collins died. Collins was a victim of one of the most heinous acts in boxing history when the padding was taking out of Luis Resto's gloves, Billy Collins' opponent, in a fight in 1983. Randy said, "We are not sure who did it, but somebody did it. I wrote, 'Billy Collins is in paradise for eternity, but the people who took the padding out of his (Resto's) gloves, one day, they will spend eternity burning in the fires of hell." Randy's editorial was so powerful, that it helped open up the case against both Luis Resto and Panama Lewis, Resto's trainer. Both men did time behind bars and will never be able to obtain a license in boxing again.
Resto's assault on Collins took place at Madison Square Garden in New York City. Years later, Randy became the New York State Athletic Commissioner, in Gotham. Gordon's tenure as commissioner was handled with impeccable competence that oozed with integrity. Randy felt one of the most substantial things he did during his time as commissioner was, "at a luncheon for Muhammad Ali, attending by thousands of people, he was being given a humanitarian award, and they asked me to present the award."
On that day, "The Greatest" and "The Commish" joked with each other about how many of the politicians who were attending the event were so inept at boxing knowledge, that they could not even pronounce Ali's name correctly. Randy said that when it was his turn to speak, Ali jibbed at him, saying, 'let's see if you can pronounce my name Commissioner.' Randy, containing his laughter, went up and said, "Muhammad, it was back in 1967, when an eighteen-year-old high school kid from Long Island, who was a big boxing fan, and a big fan of yours, was enraged, when you did not step forward for induction.
And the New York State Athletic Commission yanked your license, not allowing you to make a living. And Ring Magazine took you out of their ratings, where they called you Cassius Clay. That eighteen-year-old kid called up the New York State Athletic Commission and the commissioner said what you did was unconstitutional…well here we are, 1992, that same eighteen-year-old kid stands in front of you, as the commissioner in New York. I can't undo what the commissioner did back in 1967.
And the same kid is the former Editor-in-Chief of Ring Magazine, I cannot undo what they did to you back in 1967. But I will tell you if it was reversed today, and you did the same thing, and I was in either position, I would not only not take you out of the ratings, I would not take your license. I would put you on a pedestal for standing up for your beliefs. You are the Greatest of all Time. A thousand people stood on their feet and cheered. Ali got up, took my hand raised it in the air. He gave me a hug and said, 'I love you, man.' That made us the closest of friends. That had to be the proudest thing I had ever done as commissioner."
Randy was also very proud that he had "an open commission. I opened the doors to everybody." Randy also opened up his heart in Glove Affair. He speaks of his time at The Ring, his relationships with such boxing people as Jim Jacobs, Bert Sugar, Gerry Cooney, Joe Frazier, and so many more. Randy's relationship with the late referee, Wayne Kelly, was an especially visceral segment in the book. I got to know Mr. Kelly briefly, and I can tell you he was the salt of the Earth. It was hard to keep back the tears reading that chapter. Randy said to me that was the hardest chapter to write.
As a finished product, Randy is incredibly proud of Glove Affair, as he very well should be because it is a fantastic read. "The feeling of having it published was such a feeling of finality for me. I had been working on it for years, never thinking that I ever was going to finish it. It is one of the proudest moments of my life."
Randy has indeed had a life where there is plenty to be proud of. After you finish reading Glove Affair, you can listen to Randy with Gerry Cooney, on SiriusXM At The Fights, every Monday and Friday. Randy is also very busy hosting Randy's Ringside on Facebook Live. And now Randy and Gerry can be heard calling boxing action on UFC Fight Pass. In between all that action, Randy is working on another boxing book, Glove Story, as well as a non-boxing book called Black Widow, which tackles the subject of women who prey on older rich men and try and steal their fortune from them.
Randy's journey in boxing is indeed an affair to remember. An affair that is far from over.
Stay tuned…
You can order your copy of "Glove Affair" by clicking HERE.
Contact the Feature Writers