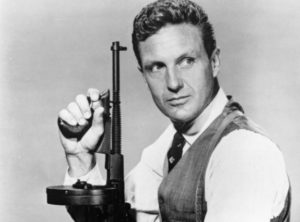 By Geoffrey Huchel
Some actors are known for a specific thing- a popular TV series, a blockbuster movie, their fashion savvy or a beloved role that defined their career. Some are known for their distinct voice. Robert Stack was one of those actors. I remember being a kid listening to him narrate the eerie stories profiled on the television series UNSOLVED MYSTERIES (1987). Not only did some of the stories creep me out, but it was Stack's deep and commanding voice as he told these stories that gave me the chills. And I wouldn't have it any other way. His charisma and bravado were major components to the show's premise, style and long-running success. Surely, Stack will be remembered for his hosting duties UNSOLVED MYSTERIES, but he is also known for other TV and film roles that made him a Hollywood legend.
Robert Stack was born Charles Langford Modini Stack on January 13, 1919 in Los Angeles, California. Before he became an actor, he achieved minor fame as a sportsman. He was an avid polo player and shooter. At age 16 he became a member of the All-American Skeet Team. He set two world records in skeet shooting and became National Champion. In 1971 he was inducted into the National Skeet Shooting Hall of Fame.
Prior to starting a film career Stack took drama courses at Bridgewater State University, a liberal arts school located 25 miles southeast of Boston. His first film was FIRST LOVE (1939), an Oscar nominated comedy musical costarring Deanna Durbin. The following year he starred in the drama THE MORTAL STORM (1940), with James Stewart and the musical A LITTLE BIT OF HEAVEN (1940). Stack returned to star opposite Deanna Durbin for the comedy drama NICE GIRL? (1941). He continued turning in performances in films throughout the 1940s including TO BE OR NOT TO BE (1942), with Carole Lombard, MEN OF TEXAS (1942), FIGHTER SQUADRON (1948) and A DATE WITH JUDY (1948), with Jane Powell and Elizabeth Taylor.
The 1950s was another busy decade for Stack as he starred in over a dozen films including THE HIGH AND THE MIGHTY (1954), with John Wayne, GOOD MORNING, MISS DOVE (1955), with Jennifer Jones, WRITTEN ON THE WIND (1956), with Rock Hudson and Lauren Bacall, THE TARNISHED ANGELS (1957), again starring opposite Rock Hudson and Dorothy Malone and THE GIFT OF LOVE (1958),with his WRITTEN ON THE WIND costar Lauren Bacall. Stack was nominated for an Academy Award for Best Actor in a Supporting Role for his performance in WRITTEN ON THE WIND.
In the 1960s he starred in the Oscar nominated disaster movie THE LAST VOYAGE (1960), with Dorothy Malone, George Sanders and Edmond O'Brien. Soon after, he began working regularly on television. He was cast on the popular crime series THE UNTOUCHABLES (1959-1963). Stack played Special Agent Eliot Ness, who led his team of incorruptible agents who battled organized crime in 1930s Chicago. Stack won an Emmy for Outstanding Performance by an Actor in a Series. He also made guest appearances on THE LUCY SHOW (1962), THE RED SKELTON HOUR (1951), and THE DANNY THOMAS HOUR (1967). He also starred in the TV series THE NAME OF THE GAME (1968-1971), a groundbreaking series that had 3 rotating stars, who were featured in independent episodes tied together by a common theme. In the early 1970s Stack continued appearing on TV movies and series including THE STRANGE AND DEADLY OCCURRENCE (1974), THE HONORABLE SAM HOUSTON (1975), MURDER ON FLIGHT 502 (1975), POLICE STORY (1973), MOST WANTED (1976), and starred in the feature film 1941 (1979), with Dan Aykroyd, John Belushi and Nancy Allen, and directed by Steven Spielberg.
Stack starred as Captain Rex Kramer in the comedy classic AIRPLANE! (1980), with Leslie Nielsen, Peter Graves, Julie Hagerty and a cavalcade of stars including Robert Hays, Barbara Billingsley and Kareem Abdul-Jabbar. He guest-starred on THE LOVE BOAT (1977) and played Captain Frank Murphy on the series STRIKE FORCE (1981), appearing in 20 episodes.
He played General Stark in GEORGE WASHINGTON (1984) and guest-starred in HOTEL (1983), with James Brolin. Stack was cast as George Lancaster in the TV miniseries HOLLYWOOD WIVES (1985), a three-part adaptation of Jackie Collins' book about a group of wealthy, attractive, snobbish women who are caught up in the low life and high society of Hollywood. The miniseries costarred Candice Bergen, Angie Dickinson, Anthony Hopkins, Roddy McDowall, and Suzanne Somers. Stack made a guest appearance on MURDER, SHE WROTE (1984), starred in the TV movie PERRY MASON: THE CASE OF THE SINISTER SPIRIT (1987) and guest-starred in 5 episodes on FALCON CREST (1981).
In the early 1990s Stack costarred in the romantic comedy JOE VERSUS THE VOLCANO (1990), starring Tom Hanks and Meg Ryan and reprised his role of Eliot Ness for the TV movie THE RETURN OF ELIOT NESS (1991). In the late 1990s and early 2000s he lent his voice for the animated series RECESS (1997), HERCULES: FROM ZERO TO HERO (1999), HERCULES (1998), RECESS: SCHOOL'S OUT (2001), and KING OF THE HILL (1997).
During World War II, Stack served as an Aerial Gunnery Officer and gunnery instructor in the United States Navy.
Stack underwent radiation therapy for prostate cancer in October 2002 and died of myocardial infarction on May 14, 2003.
Essential Stack:
THE HIGH AND THE MIGHTY (1954)
WRITTEN ON THE WIND (1956)
THE TARNISHED ANGELS (1957)
THE LAST VOYAGE (1960)
Contact the Feature Writers