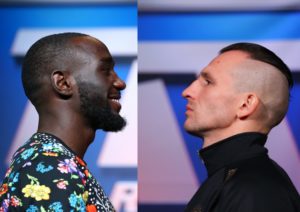 By Vinny "Glory Days" Lucci
It is strongly suggested when attempting to ascend to the summit of Mount Everest that you don't rest on your laurels stopping to admire the view until you actually reach the Valhalla of planet earth.
The Event:
On December 14 Bob Arum of Top Rank will promote his crown jewel WBO welterweight champion Terence Crawford in his 3rd defense of title against mandatory contender Egidijus Kavaliauaskas at the hallowed boxing arena Madison Square Garden in New York City. Event to be televised on ESPN and ESPN Deportes.
The Stats:
The champion known as "Bud" among his loyal legion of fans that emanated from his home town of Omaha Nebraska has usurped every stepping stone placed in his path to arguably hold the prestigious moniker of pound for pound greatest. While he currently is on his sixth world title in three divisions there are naysayers who want him to collect all four belts at 147 pounds as he did at Jr. Welterweight to prove his supremacy. Crawford stands 5'8" with a 74" wingspan and the American boxer owns a stellar record of 35-0, 26 KO's. At 32 years of age Terence is astride his prime with 195 rounds on his ledger. Of special note the orthodox listed boxer can turn up unexpected ambidextrous hell for any opponent by comfortably switching to southpaw with equal aplomb, balance and power.
The challenger is largely unknown and with a difficult name to pronounce has mercifully been nick named "Mean Machine." The Lithuanian boxer hails from Kaunas Lithuania and now calls Oxnard California home. He owns a modest record of 20-0-1, 17 KO's over twenty fighters who never made contender status. Standing an inch taller than the champion at 5' 9" he surrenders a 3'' reach advantage and severely pales in experience having never fought on world stage with zero title experience. With 95 rounds on his ledger over suspect competition he has miraculously jumped to the head of the line over more worthy contenders as the WBO has inexplicably long over looked the boxing landscape. The WBA and WBC both ignore his existence while the IBF ranks him seventh with tons of alphabetical shame of their own. At 31 years of age he is walking a tightrope under respected trainer Robert Garcia where anything but a standout performance may shut the door on what could have been a promising career if not rushed into a title shot with the cream of division.
Previous Fight:
Crawford took on the unworthy challenge of big time "Kahn Artist" Amir Kahn who hasn't been relative on the fight scene 2011 yet shamelessly self-promotes with same gusto of Tyson Fury and Adrien Broner. Reminiscent of Pixar character Buzz Lightyear he falls with style and against Crawford did not disappoint handicappers failing to make it out of round six on a self-induced TKO. Slow motion replays showed over and over Kahn taking a low blow to inside of thigh and claimed it reached center stage. Rather than get counted out he saved his act for another promotion and any suckers willing to pay to see it. All this is no reflection on Crawford who was shifting into higher gears and rapidly approaching "junk yard dog" mode. Sadly this disgrace was also hosted at MSG last April.
Kavaliauskas earned this shot with a disputed draw against a boxer named Ray Robinson in March. The ten rounder was actually an NABF title defense held before Robinson's hometown crowd at 2300 Arena in Philadelphia, Pennsylvania. Hard to even imagine the NABF still exists after the expiration of Tuesday Night Fights back in 1998.
Styles:
The champion is the purest of throwbacks to the glory days of 40's and 50's where fighters lived in the gym, fought often and learned to make adjustments from round to round. His ability to switch stances is surpassed only by his mentality to switch gears from boxing to war veteran and back again. While he yet does not possess the ultimate coveted ownership of Errol Spence JR.'s unified IBF/WBA titles Crawford has raised to every challenge in spectacular fashion. Spence was in a horrific car crash on October 10 in downtown Dallas whereas of this writing he is expected to survive but no formal announcement has been released from his team as to whether his career can continue assuring at the very least if he does comeback such a unification will not take place in 2020.
The challenger is a chiseled compact buzz saw that fires mortars from Henry Armstrong inspired angles and inside the pocket is just as relentless. Mean Machine earned his nickname as a flat footed brawler but makes smooth effortless transitions into firing range with a style perfectly suited to compliment Crawford's artistry. The challenger has terrific balance but tends to lead with his chin and neglects the jab leaving him open to opportunities up the middle.
What to look for fight night:
This should break down into two separate bouts with the first six rounds fought at a wicked pace. The challenger will totally disregard who he has stepped into the ring with and not fight like a deer in headlights throwing all caution to the wind in his usual devil may care style. The punch volume thrown may win the challenger some of those rounds.
The second half of bout the champion's experience at this level will shine through as he finds the proper arsenal to rip the machine up the middle and find the right angles to attack the body and stop forward aggression. In what will be remembered as a good scrap Crawford takes over.
The Vinny Factor:
Several times every year there is a handicap where a promising boxer is rushed to judgment without ever having fought a bonafide ranked contender. Three decades ago it was every champion's option to make a voluntary defense if his mandatory obligation was already met or would be during a twelve month frame. Sadly with four major alphabet organizations means there no longer is a top ten, rather a top forty which thoroughly waters down the rankings with individuals labeled contenders unprepared for task before them.
Odds:
East Coast opened with the champion the favorite at -850, the challenger at +485. Online Betting lists Crawford the overwhelming favorite at 1/20, meaning you'd have to bet 20 to win 1.
RSR Prediction:
Crawford by UD. It's hard to predict a late stoppage since we don't know what Egidijus' chin is made of.
Aftermath:
With his mandatory neatly out of the way and Errol Spence, JR. sidelined for an indiscriminate amount of time it would be wise of Crawford's camp to go after the other big names in division while he waits. A win over Manny Pacquiao would put him on equal playing ground should a fight with Errol ever come to fruition. If Manny is unavailable than the roster of former champions makes for some lovely paydays and more respect. Danny Garcia, Keith Thurman and Shawn Porter are all proven fan favorites that can sell promotions while he waits to fulfill his destiny.
If the challenger gives a good accounting of himself in a strong showing he'll be looking to redeem himself with a comeback against the afore mentioned trio. If he is totally outclassed beyond media's expectations or stopped quickly, he'll return to fighting ten round bouts against boxers you never heard of.
Stay tuned…
Contact the Feature Writers