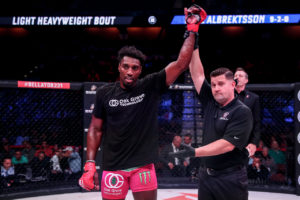 Monster Energy's Phil Davis Scores Dominant TKO Victory Against Karl Albrektsson at Bellator 231 in Uncasville, Connecticut
35-Year-Old MMA Icon from Harrisburg, Pennsylvania, Determined to Reclaim Light Heavyweight Title
Monster Energy congratulates Phil Davis on his dominant TKO victory in the light heavyweight fight against Karl Albrektsson at Bellator 231 on Friday night. In the co-main event at Mohegan Sun Arena in Uncasville, Connecticut, the 35-year-old from Harrisburg, Pennsylvania, maintained the upper hand over his Swedish opponent until ending the bout by TKO in round three.
Also known as "Mr. Wonderful", Phil Davis stepped into the Octagon as a favorite after defeating Liam McGeary via TKO at Bellator 220 in April. And having just signed an exclusive multi-year contract extension with Bellator in August, the MMA icon was determined to keep the wins coming.
But Bellator 231 was no walk in the park for Davis, who trains with Alliance MMA out of San Diego. In round one, "King" Karl Albrektsson (9-3) came out swinging in his first fight on the Bellator circuit, going blow-for-blow against the 26-fight MMA veteran before Davis started claiming the upper hand.
In round two, Davis drew on his versatile fighting skills as a former Jiu-Jitsu world champion and NCAA national wrestling champion. He asserted his dominance when a damaging punch sent the 26-year-old Swede to the canvas, where Davis maintained control through impeccable ground game.
After fully taking over in round three, Davis sealed the deal by stunning his opponent with a swift left to the temple and wrestling him to the ground against the cage. As Davis kept raining punches and hammer fists to Albrektsson's head, the referee called for a TKO stoppage at the 3:06 minute mark.
"I definitely wanted to make sure I stayed on top of him, stayed busy. I couldn't get him to flatten out the way I wanted to, but that's just a testament to how tough he is. Even when he was dead-tired in that third round he did not give up position," said Davis after defeating Albrektsson and ending the Swede's three-fight winning streak at Bellator 231 in Connecticut.
Friday night's victory brings Phil Davis' professional MMA record to 21 wins and 5 losses. With two consecutive TKO victories and a fresh contract extension under his belt, what's next for Mr. Wonderful? Obviously, the former Bellator Light Heavyweight World Champion, who lost his belt to reigning champion Ryan Bader in 2017, wants another shot at the title.
But he also doesn't want to force it. "I want to win fights and make the fans say, 'What the heck is this, he keeps winning, what's going on with this title?'" said Davis at Bellator 231, adding: "My job is simple. Go in the cage, fight, win, and just wash, rinse, repeat."
As a possible next step, Davis used his post-fight interview to call for a light heavyweight Grand Prix tournament: "Put the belt on the line. Put a million dollars on the line. I want to win this thing! We've got enough guys in the stable to make this happen."
Phil Davis is amongst Monster Energy's elite MMA athletes along with Jon Jones, Conor "The Notorious" McGregor, Daniel Cormier, Donald "Cowboy" Cerrone, Dominick "Dominator" Cruz, Chris 'The All American' Weidman, Tyron "The Chosen One" Woodley, Max Holloway, Yair Rodriquez, Jessica-Rose Clark, Li Jingliang, Gökhan Saki, Rose Namajunas, Cris Cyborg, T.J. Dillashaw, Michael Chandler, Quinton Rampage Jackson, Joe Schilling, Rory MacDonald, Gaston Bolanos, and Juan "The Spaniard" Archuleta.