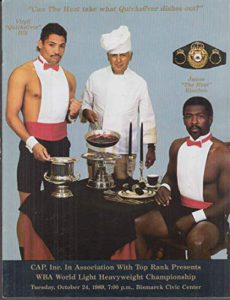 By Anthony "Zute" George
This week was the anniversary of one of Hall of Famer Virgil Hill's best victories, a one-round destruction of James "The Heat" Kinchen in 1989. While Hill was an overwhelming favorite, the quick fashion in which he defeated Kinchen in is a big head-scratcher for me, for various reasons. First, quick knockouts were not the norm for Hill. Then there is the fact that Kinchen was showcased as a formidable opponent, who might not have had any advantages over Hill, but was undoubtedly durable. James had victories over Murray Sutherland, Alex Ramos, Buster Drayton, Frank Minton (twice), and Stacy McSwain, and lost tough decisions to James Shuler, Iran Barkley, and Christophe Tiozzo. It also took hard-punching Juan Roldan nine rounds to stop Kinchen.
Then there is the Thomas Hearns fight. Kinchen lost a 12-round majority decision to Hearns. It was a decision that Kinchen deserved much better from the judges in. James dropped Hearns in the fourth round, and Hearns lost a point in that same round for holding. That is a 10-7 round folks. The fact that none of the judges scored it for Kinchen is more than suspect. Everyone cries a river the size of the Nile for Hearns in the Leonard rematch, but at least one judge scored that fight for Hearns, and it is not a loss on Tommy's record.
Where is the remorse for James Kinchen? He had the same two-point advantage that Hearns enjoyed against Leonard, an advantage that most people thought should have given Tommy the Leonard rematch. But James could not get one judge to vote in his favor.
There were no judges needed when Kinchen faced Hill, however. It was a victory that started making people really believe in Virgil Hill. So much so, when Hill met Thomas Hearns in June of 1991, the consensus was that it was going to be a long night for the Hit Man. Right? Wrong. Hearns, the legend that he is, captured the light heavyweight title by defeating Hill, providing the Hall of Famer his first professional loss.
Boxing fans and pundits will probably explain the odd carousel between Hill, Hearns, and Kinchen by using the old boxing adage, 'styles make fights,' as well as Kinchen probably had a lot more wear on him when he faced Hill. With that said, Hill stopping Kinchen as quickly as he did makes little sense to me. Kinchen bounced back to win two ten-round decisions after the Hill fight, providing evidence that he was not entirely shot. Also, Hill followed up his destruction of Kinchen with twelve-round decisions against David Vedder and Tyrone Frazier. He then stopped the very same Frank Minton in nine rounds and went the twelve-round distance with Mike Peak, a boxer with only fourteen professional fights, before fighting Hearns. Not a great showcase of power. Which was what Virgil Hill was his whole career; great boxer, but he was not the kind of guy who fought like his car was double-parked.
In boxing, common opponents sometimes mean zilch, and there are many examples to look upon in boxing history. But 'styles make fights' has been a more reliable measure over the years. Ken Norton giving Muhammad Ali trouble, but not being able to last long against punchers like George Foreman and Earnie Shavers makes perfect sense if you examine the styles correctly. Yet there is nothing in the matchups and techniques that make sense out of the fact that Kinchen gave Hearns everything he could handle but could not get out of the first round against Virgil Hill.
At least that is how I see it. What are some of boxing's big head-scratchers for you?
Stay tuned…
Contact the Feature Writers