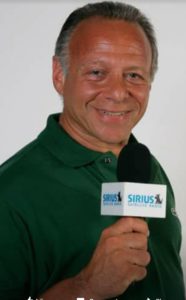 By Randy "The Commish" Gordon
How hot has boxing been since September? Scorching!
Just some of the incredible action we've seen since the kids went back to school are:
Vasily Lomachenko W 12 Luke Campbell
Tyson Fury W 12 Otto Wallin
Errol Spence, JR. W 12 Shawn Porter
David Benavidez TKO 9 Anthony Dirrell
"GGG" W 12 Sergei Derevyanchenko
Artur Beterbiev TKO 10 Oleksandr Gvodzyk
Derek Chisora TKO 4 David Price
Josh Taylor W12 Regis Prograis
The great news is, there's still more to come before we sing Auld Lang Syne to 2019.
Next up is a Light Heavyweight Title fight. On Saturday night, out in the robust, gambling, carousing, nightlife city in the desert which I call Lost Wages, Nevada, a boxing match of major proportions and significance will take place. It'll be a battle for the Light Heavyweight Championship—or a piece of the 175-lb crown, anyway.
On Saturday, it's WBO Light Heavyweight Champion Sergey Kovalev putting his title on the line against Saul "Canelo" Alvarez. It's an intriguing match, to say the least.
The most common response from boxing fans is "Canelo is looking to win a fourth divisional title and is doing so against the most vulnerable of the other light heavyweight champions (Dmitri Bivol, WBA; and Artur Beterbiev, IBF/WBC).
Can Alvarez do it?
Historically, Bob Fitzsimmons won the light heavyweight championship, but did so after a quick stint as heavyweight champion, which followed a period where he reigned as middleweight champ. So, technically, Fitzsimmons, as middleweight champion, did not step up to challenge for the light heavyweight title.
In 1952, Joey Maxim reigned as king of the light heavyweights. On June 25, 1952, Middleweight Champion Sugar Ray Robinson, coming off a third round knockout of Rocky Graziano two months earlier, challenged him for the 175lb belt in the sweltering Summer heat at Yankee Stadium in New York. The 100+ degree heat—it was at least 20 degrees hotter under the ring lights—first wilted referee Ruby Goldstein in the 10th round and had to be replaced by referee Ray Miller, before it melted Robinson, who was unable to answer the bell for the 14th round.
In April 1966, Dick Tiger was dethroned as Middleweight Champion by Emile Griffith. Citing problems making 160 pounds, Tiger decided to move into the light heavyweight division. Because of his vast popularity in boxing circles, Tiger was given a shot—in his first fight at light heavyweight—against titleholder Jose Torres. On December 16, 1966, in his first fight since losing to Griffith, Tiger outpointed Torres in Madison Square Garden to become Light Heavyweight Champion. So, while beating Torres for the title, Tiger did so as a former champion, not as a current champion moving up in weight.
Now, we'll see if Canelo Alvarez has what it takes to beat the bigger, hard-punching "Krusha' from Russia."
Kovalev is 36 and has mileage on him. He was unbeaten in his first 31 fights. Then a complacent attitude and a fast life style—plus some really good fighters—caught up to him. He was decisioned by Andre Ward in 2016, then stopped in a rematch seven months later. After changing trainers, he won two in a row. However, his opponents were exactly that. He was knocked out against tough, unbeaten Eleider Alvarez in August 2018.
After taking off a few months for some soul-searching, Kovalev found his salvation. He also found a new trainer—former two-division champion and IBHOF inductee, James "Buddy" McGirt. Kovalev returned with a decision victory against Alvarez, then faced unbeaten, hard-hitting Anthony Yarde stopping him in the 11th round in August. When the challenge came from Canelo Alvarez, Kovalev did not have to think twice.
"Let's do this," Kovalev said to his longtime promoter, Kathy Duva of Main Events. "Get him. I can beat him."
Now, the fight is hours away. It's Fight Week.
Canelo is 29 and in his prime, maybe not even there yet. He is 52-1-2, 35 KO's and the biggest money-maker in the sport. Why has he chosen Kovalev, and not one of the other two light heavyweight champions? Why not Dmitri Bivol? Why not Artur Beterbiev? Both would have gladly given Alvarez a shot at their respective belts.
Canelo chose Kovalev because he wanted to fight before the year ended, and because Kovalev was ready. Beterbiev and Bivol just fought within the last few weeks.
It also makes business sense for Golden Boy. They've worked with Main Events before and did so successfully. Why not do it again?
Then, there is certainly the "beatable factor." While a hard-puncher, Kovalev can be outboxed, as we've seen Andre Ward do twice and Eleider Alvarez also do. Canelo feels he can do the same.
Should Canelo win, it will give him his fourth divisional title, as he has already won belts at 154, 160 and 168 pounds. Winning his fourth would put him in a select group ever to do so.
History doesn't look favorably on middleweight champion's who move up to fight for the light heavyweight title. Let's see what history holds for Canelo Alvarez on Saturday night.
Nice move by Gervonta Davis in calling out Josh Taylor, saying "I'll knock you out!" The unbeaten (22-0, 21 KO's) former WBA Super Featherweight Champion, who has vacated the title to campaign at lightweight and above, was asked recently to give his opinion of Taylor's victory last weekend over Regis Prograis, Davis merely shook his head and said, "He's good and all, but he can't beat me." He then added, "I'll knock you [Taylor] out." The fact is, neither Davis, or his promoter—Mayweather Promotions—want anything to do with Taylor, the best, sturdiest and toughest 140lb'er in the world.
In fact, the refused to talk about facing Vasily Lomachenko—the unified lightweight champion—earlier this year. So why would they want Taylor? The truth is, they don't.
But calling out a fighter he has little chance of facing anytime soon makes him look bigger in the eyes of his fans. So, Davis has parades in his honor in his hometown of Baltimore and prepares for his next bout in between calling out Josh Taylor. By the way, Davis' next fight is scheduled to take place on December 28 on Showtime. The opponent? Yuriorkis Gamboa. Gamboa, who will turn 38 a few days before the fight, has lost only two career fights, both coming at lightweight. One was to Robinson Castellanos in 2017 and the other to Terence Crawford.
(In 2014). Both stopped him. Castellanos in seven, Crawford in seven. An older, slower, more-hittable Gamboa stands no chance in this one. It truly is head-shaking that Showtime—last year's "Network of the Year"—would stoop to showing this kind of match.
It's 2020, then goodbye: If you want to believe Tyson Fury, he intends to fight three more times—all of them in 2020, then retire. He predicts two of those matches will be against Deontay Wilder. Fury says he'll beat Wilder in the rematch, which will make Wilder desperate for a rubber match. He says he'll beat Wilder in that one, then they both can retire together.
It's nice to dream!
Welcome to the paid ranks: On Saturday's Top Rank show from Reno, Nevada, Xander Zayas made his pro debut. A baby-faced 17-year-old welterweight from Puerto Rico, Zayas became the youngest fighter to ever sign with Top Rank, doing so a few months before his 17th birthday in September. He was an 11-time USA/Puerto Rico champion who has been boxing since the age of six. He had an amateur record of 118-12. At 5'10", he is still growing. Don't expect him to remain a welterweight for too much longer. His mother is 5'11" and his father is 6'1". Oh, he stopped his 1-0 opponent in the first round. He's a fighter to keep your eyes on.
Over this past weekend, Showtime took its cameras and crew down to Philadelphia, PA. The main event was a 154-lb contest between Erickson Lubin and Nate Gallimore. Before the fourth round of the main event, Showtime put its cameras on former world champion Adrien "The Problem Broner. Instead of smiling at the camera and to the large audience watching on Showtime, he threw a two-fisted "Hawaiian Good Luck Sign," as Naval Commander Lloyd Bucher once told his North Vietnamese captors it was called, after they made he and his crew pose for a picture to show Americans just how wonderfully they were being treated.
It boggles my mind why Showtime insists on thinking that their boxing audience wants or even needs to see and hear Broner, among the biggest thugs this sport has ever seen. We were doing just fine watching the fight and listening to Mauro, Al and crew without having to look at the lowlife giving us his vile gestures then laughing about it. You could see Sam Watson, a PBC executive, sitting next to Broner. Watson wasn't laughing. If anything, he was cringing!
PBC on FOX with a goodie: According to Mike Coppinger of The Athletic, the rematch between Tony Harrison and Jermell Charlo for the WBC Super Welterweight Title will take place on December 21. Harrison, 28-2, 21 KO's took the title from Charlo, 32-1, 16 KO's last December in a close, controversial decision in New York. A rematch was scheduled for this past Summer, but was scratched when Harrison suffered an injury in training camp. Their first fight was interesting. The rematch should be even better!
I'll be headed to Easton, PA, this weekend for the birthday party of a longtime, very special friend, who is turning 70. My friend's name is Larry Holmes. Larry's beautiful wife, Diane, is making him the party at their home in Easton. I'll be sure to send birthday wishes from all of you!
Randy "The Commish" Gordon is the Author of the hit book, "Glove Affair". Order your copy by clicking HERE.
Contact the Feature Writers