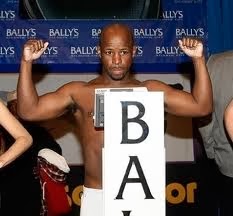 By Daniel "The Boxing Guru" Sisneros
John Brown fought from Featherweight to Welterweight.  At 5′ 4″ he had to overcome his height deficit with aggression and heart.  Because of that he became a promoter's dream and a fan favorite.  He opened his pro career with a 3rd round tko of Martin Rivera in June of 1989.  He lost in his first 5 title fights, but finally earned a belt in June of 2000 with a 12 round unanimous decision victory over Robbie Peden for the NABF Jr. Lightweight Title.
He would fight twice more for World Titles, but lost both of those efforts.  John's last pro fight came on Feb. 11, 2011 where he was stopped by Ricardo Williams Jr. in 6 rounds.  John Brown was all heart for sure.  He ended his professional boxing career at 24-19-2, 11 ko's.
Purchase Dan's Hit Boxing Book Mat Tales: True Stories From The Bizarre, Brutal World Of Pro Boxing by Clicking the Image to ORDER it Now.