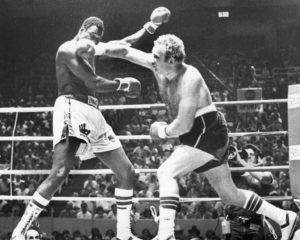 By Donald "Braveheart" Stewart
His final fight was against a British heavyweight legend but his progress to that last fight was littered with the types of names that make legends of the people who fight them. With names like Foreman, Spinks, Norton, Holmes, Lyle, Coetzee and Weaver on the resume you would think there should be states of the Fighting Frenchman who is Scott LeDeux, 33-13-4, 22 KO's. Maybe there is and I missed it and his is a name that boxing fans might miss, but opponents a little less so!
And he was certainly not missed by broadcaster Howard Cosell whose toupee LeDoux knocked off his head in a scuffle after a fight – live on air! LeDeux was upset at the decision loss against Johnny Boudreaux in 1977 and according to ring reporter and legend, Bert Sugar, "He was complaining that the decision was rigged. "Cosell was standing by the ring, giving a post-fight recap when Scott, unleashing all his fury, kicked between the ropes and dislodged Howard's hairpiece — one of the funniest moments in boxing history."
LeDoux was to apologize but his style was one that came forward and offered little by way of an apology. LeDoux was six feet and an inch, with big round shoulders, a mop of curly blond hair and the type of moustache we still associate with the seventies. He was known for his left hooks to the body and again I turn to Sugar who described him perfectly, "He was extremely tough, a plodding fighter. He had the line backer physicality and fought the same way."
Born after the second world war in 1949, LeDoux progressed from boxing into the realms of professional refereeing at wrestling, a ringside commentator for ESPN and then verbal wrestling in fighting politics. He attended the University of Minnesota and in his amateur days he won, twice the Upper Midwest Golden Gloves championships – 1968 and 1973.
He hit the professional scene in 1974, and soon made a name for himself as a knockout artist. He was involved in some controversy in 1975 when his fight with George Johnson was declared a split decision win for LeDoux. The crowd booed and made such a scene they declared it a draw! The crowd were less vocal about the result but not more enthusiastic as they thought Johnson had won it.
In 1976 he was found a little wanting when George Foreman, in the Utica Memorial Auditorium in New York, took on LeDoux and crushed him in a third round knockout. For two rounds LeDoux who was never the most defensive minded of boxers stood tall and fought hard but it was not to be for him as Foreman took him apart in a fight that when it was added to the other three Foreman had that year which made him Ring Magazine's fighter of the year.
Before that fight LeDoux had fought Duane Bobick for the USA Minnesota heavyweight title and lost on a decision, over 10 rounds; 13,789 came to see it
For LeDoux his best was, as someone would say far more eloquently than I, yet to come.
Not long after the Foreman fight he took on future heavyweight king Leon Spinks and drew him over 10 rounds on a split decision in the Aladdin Theatre in Las Vegas. In 1979 he faced Ron Lyle in Caesars Palace and lost a split decision, having dumped Lyle on the canvas in the third, before, in 1979, had Ken Norton in the opposite corner. Again, he was to knock his opponent over – twice in the tenth – and again he got a draw.
He fought for a title once – against Larry Holmes in 1980 when he was stopped in the seventh round when he took a near-blinding blow to his left eye. After the fight in an interview he complained that the fight should not have been stopped. Demonstrating unbelievable bravery he was to comment, when it was pointed out, by reporters in attendance that the doctor at the side of the ring had warned that he could have lost his vision, LeDoux replied, "What's an eye when you've given your heart?" It had been for the WBC version of the world heavyweight title.
He continued to fight afterwards and took on South African Gerrie Coetzee in Johannesburg in 1982, losing in an a eight round stoppage before in 1983 taking on Frank Bruno in Wembley where he hit the canvas in the first and being stopped in the third as he had suffered a very bad cut over his left eye.
It is rumored that he managed an exhibition bout with Ali, sparred with Mike Tyson and Lennox Lewis too, and in 2010, just the year before he passed, he was inducted into the Minnesota Boxing Hall of Fame.
Whilst his sporting career was spotless, entering the realms of sporting politics when he was an elected official for the Minnesota Board of County Commissioners and an appointee as Executive Director of the Minnesota Combative Sports Commission led to a number of accusations regarding his conduct towards, amongst others, promoters, other commission members and even a singer! Seen by some as untouchable, there was even a ticketing scandal involving MMA that saw him violating state ethic rules.
LeDoux was diagnosed in 2008 with Lou Gehrig's Disease or amyotrophic lateral sclerosis, losing his battle in 2011, on the 11th of August. Scott LeDoux leaves behind a legacy, many stories, an annual golf tournament and abiding memories that will live long to remind us of how he fought and gave to the sport he so obviously loved.