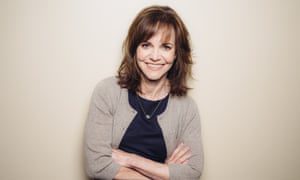 By Geoffrey Huchel
Ringside Report celebrates legendary actress Sally Field's birthday by looking back at her phenomenal career in film and television.
Before becoming a major movie star, the young and fresh-faced actress got her start in television in the 1960s as the boy-crazy surfer girl Gidget in the sitcom GIDGET (1965), which ran for 3 seasons. After GIDGET, she followed up with another starring role on the series THE FLYING NUN (1967-1970).GIDGET and THE FLYING NUN were just the beginning for this future star who would become Forrest Gump's loving mother.
Field made appearances on several series and TV movies throughout the 1960 and 1970s including MAYBE I'LL COME HOME IN THE SPRING (1971), MARCUS WELBY, M.D. (1969), HOME FOR THE HOLIDAYS (1972), THE GIRL WITH SOMETHING EXTRA (1973) and SYBIL (1976). Field won an Emmy for her performance as Sybil, a young woman whose childhood was so harrowing to her that she developed sixteen different personalities. Her performance in SYBIL proved that Field had the acting chops to deliver powerful and heartfelt performances.
Her success in television led to a career shift to feature films. Film is where Field delivered some of her best work in both comedy and drama. She starred in such films as SMOKEY AND THE BANDIT (1977), NORMA RAE (1979), SMOKEY AND THE BANDIT II (1980), PLACES IN THE HEART (1984), PUNCHLINE (1988), STEEL MAGNOLIAS (1989), SOAPDISH (1991), MRS. DOUBTFIRE (1993), FORREST GUMP (1994), THE AMAZING SPIDER-MAN (2012), LINCOLN (2012), THE AMAZING SPIDER-MAN 2 (2014), and HELLO, MY NAME IS DORIS (2015).
Field returned to television in the early 2000s when she guest-starred on the long-running drama series ER (1994) as Maggie Wyczenski, the mother of nurse Abby Lockhart, played by Maura Tierney. She also starred as Nora Walker in the drama series BROTHERS & SISTERS (2006). She most recently starred on the Netflix series MANIAC (2018), with Emma Stone.
Field is a two-time Oscar winner for Best Actress in a Leading Role for PLACES IN THE HEART and NORMA RAE and earned a Best Supporting Actress in a Supporting Role nomination for LINCOLN. She won Golden Globes for her work in NORMA RAE and PLACES IN THE HEART. In addition to SYBIL, she won Emmys for her work in BROTHERS AND SISTERS, and ER.
Contact the Feature Writers