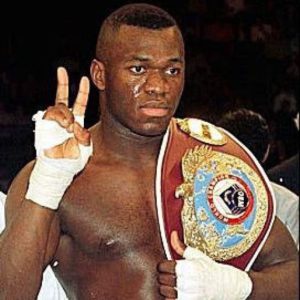 By Donald "Braveheart" Stewart
About a year or so ago, I looked back over the career of one Herbie Hide, and given the fact that Nigel Benn has tried a comeback, we are inundated with sons of boxers making their way – Chris Eubank, JR., Conor Benn, even Steve Collins, JR. I thought it might be time to look back at a man with such a controversial career and an even more controversial life…
The facts are simple, Herbie Hide, 49-4, 43 KO's, was a WBO world heavyweight champion at a time when there were giants in the field, served a prison sentence for drug related offenses, but has seemingly managed to stay out of trouble since getting out of jail.
Long retired, Hide continues to have an involvement in boxing in a Norfolk gym and also through his son who continues to make waves in the amateur game.
The fact is that Hide was not a hugely popular boxer in the UK. Even abroad there was some who found him less than scintillating, before fighting him, Riddick Bowe watched Hide win the British title, and dozed off during the fight! It is wrong though to think that Hide did not leave a legacy.
It's an unfair and trivial fact for a man who fought no fewer than 53 times with only 4 defeats. Born in Nigeria, moved to the UK as a very young child, based in Norfolk, away from the bright lights and big city noise of London he was known as the "Dancing Destroyer". He began a professional journey in 1989 and what followed was a 25th fight, when as an unbeaten challenger, he took the title from a very surprised champion, Michael Bentt one night in 1994; many of us were astonished…
Bentt and Hide did not like each other as evidenced by a fight before the fight, outside of a hotel.
Bowe managed to be awake enough, one year later in the MGM Grand, Las Vegas when Bowe sent Hide to the canvas 9 times during Hide's very first defense of his title. Bowe knocked him out in the 6th round and showed that Hide was not the champion many thought he was not! Hide later admitted that Bowe hit him harder than anyone had.
In 1997 Hide was back for a world title against Tony Tucker in his home town of Norwich. Hide got rid of him in 2 rounds.
Hide got to defend twice in ridiculously mismatched fights – against Damon Reed and Willi Fischer – in 1988 and his boxing legacy rightly suffered. Headlines became more to do with spending £4,000 on special guard dogs than Hide's prowess in the ring. Combined, Reed and Fischer lasted under 5 minutes in the ring with Hide.
In 1999 Hide faced Vitali Klitschko.
In the same year Lennox Lewis and Evander Holyfield were contesting the WBC, IBF and WBA belts, nobody whispered Hide's name as a possible unification contender. Though he was the favorite Hide lost by knockout in the 2nd round to Klitschko.
Hide was now done at elite level again in the heavyweight division.
Hide then went DOWN in weight to cruiserweight and got a WBC international strap, but he was no longer a force.
His colorful lifestyle saw a string of offenses to his name around 2003 onwards until he ended up in prison on drug offenses. Since coming out there have been no other noted offenses or suggestions of continuing on the wrong pathway.
Herbie had all the trimmings of a fighter who should have done well – he was trained by legendary coaches including Floyd Mayweather, SR. It is a memory which, as he has a son – Henry – making his way in boxing that has stuck with him.
Henry glides around a ring at the Norwich Lads Club being watched regularly by his father. His pathway began growing up in Las Vegas whilst being around big name boxers and now around people of a similar reputation now – he has shared time with both Mayweather's and Tyson whilst his brother, Harrison, when he told his dad he wanted to box, as he lives in New York, Herbie organized time with Michael Bentt and Riddick Bowe!
Of seeing the Mayweather's as a template for how he should work with his son, Herbie Hide is brutally honest. As he explained in a local newspaper interview, "I saw the aggravation they had and it was horrible. They used to argue and I used to have to get in the middle of them and I hated it and I said that it would never be like that with us. Right now, I am giving Henry help. When he is ready, if he is going to be a professional boxer I will just stand back. I am not going to be a big part of it because I saw Big Floyd and Little Floyd – they were enemies and I didn't like that, and I will never let that happen to me and my son. I don't want any part of it. I told Henry I am never going to be like that."
Contact the Feature Writers